Typical commuters spend – or should we say waste – a lot of time of their life on the road. Even without the usual traffic jam or the hectic public transportation full of sweaty and smelly commuters, those wasted time could and should be put to better use. That's why telecommuting gains popularity among modern people. Plus, the possibilities of working in your underpants. If you are an iOS user lucky enough to be a full-time telecommuter or to pave your way into one, here are several iOS apps that can help you live a fuller life of telecommuting.
Manage Your Research & Notes
Telecommuting jobs are the type of jobs that can be done remotely and require no physical presence. Most of these kinds of jobs requires heavy materials gathering and processing. You need tools to collect and manage them.
Evernote is a beast that will cover most of your researching needs. Web clippings, PDF collecting, note taking, tag-based searching, sharing and collaborating, and more. We have covered Evernote tips and tricks and external tools to expand it, so I won't talk about it too much here. The bottom line is, you'll survive well with Evernote alone.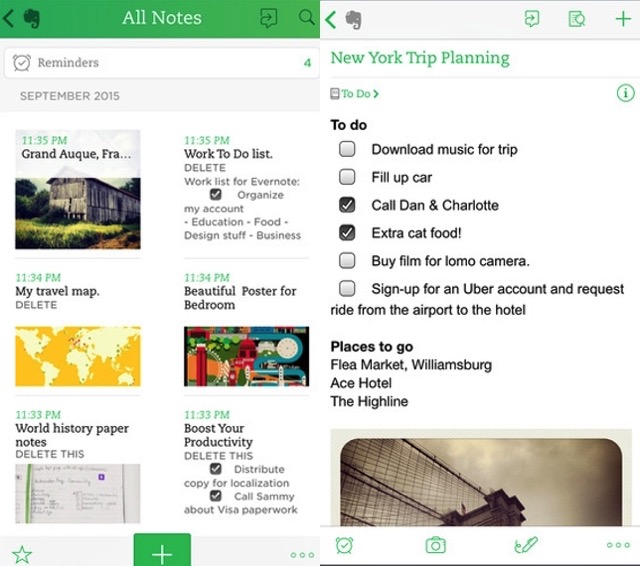 Sometimes you don't need a beast, and a quick, lightweight note taking and organizing tool will do. For this kind of task, Letterspace comes at the top of the recommended list. The most outstanding features are auto organizing notes by Hashtags (#) and Mentions (@), and swipe bar that acts similar to trackpad that will help you move the cursor to anywhere in the text. It also doesn't hurt that the app is gorgeous. Letterspace is also available for Mac in Mac App Store for US$ 9.99 and will auto-sync between the devices.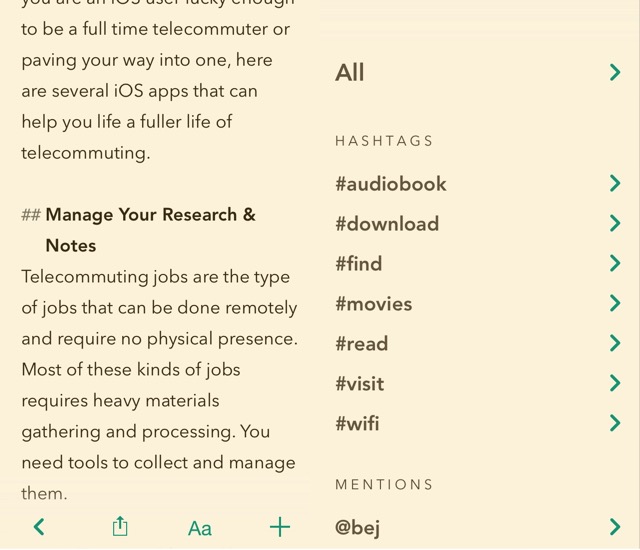 Letterspace used to be free, but now it's not. For those who are not willing to shed some bucks, you have Simplenote as an alternative. After being acquired by Automattic – the company behind WordPress, Simplenote has become more and more powerful. It's available for Mac, iOS, Android, and as web-based service; and will auto-synchronize within all versions. And one feature that I think is the most useful is the ability to go back to the older saved version of a note.
Apple iOS also comes with Notes that can be your choice of simple note taking application.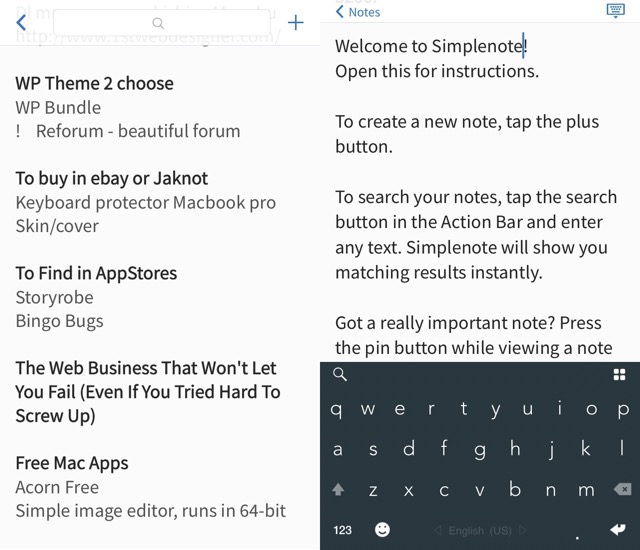 Google Photos needs no introduction. It allows you to store virtually unlimited photos and videos in the Google cloud. It also auto-organizes them, has a powerful search feature (it's Google, duh), lets you create albums, has editing features, and it's also available on any device that have an internet connection. Google Photos is the perfect place to store all of your images that you get from your research.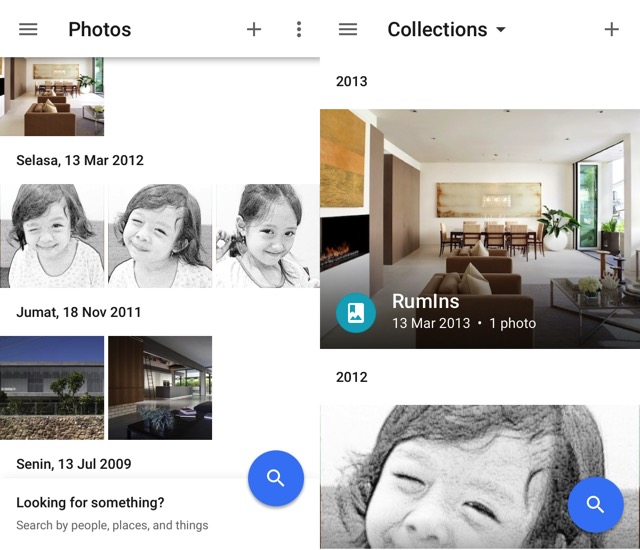 Had not been limited by the storage capacity, Apple's iCloud Photos would be a perfect tool.
And to store and edit everything else, you have Google Drive and Google Docs. I put them together because these two services are mostly interconnected. One advantage of saving your document in the cloud that will be very useful for telecommuter is that you can open and edit your documents anywhere without having to bring your own devices. But the disadvantage is you'll be doomed without the internet connection. Luckily, Google Docs allows you to store your document in your devices for offline editing.
Manage Your Time
Without anybody supervising your work, it's very easy to lose your focus and get sidetracked from what's important. These apps can help you manage your time and work more efficiently.
6. Reminders & Calendars
Apple's iOS comes with Reminders and Calendars that you can utilize to help you manage your time better. The advantage of using stock iOS apps is that they sync flawlessly throughout Apple's environment. You can add a reminder or an appointment in your iPhone, and they will appear automatically on your Mac, iPad, and other Apple devices that connected with your account.
There are countless to-do apps for iOS, and many of them are great. Since it's impossible to list the all here, allow me to recommend these two that I use often. Both Wunderlist and Todoist are available for virtually any platform that you can think of and sync instantly between them, can do sub-tasks and sub-projects, and allow you to share and collaborate on tasks and projects. Both offer more features for those who upgrade.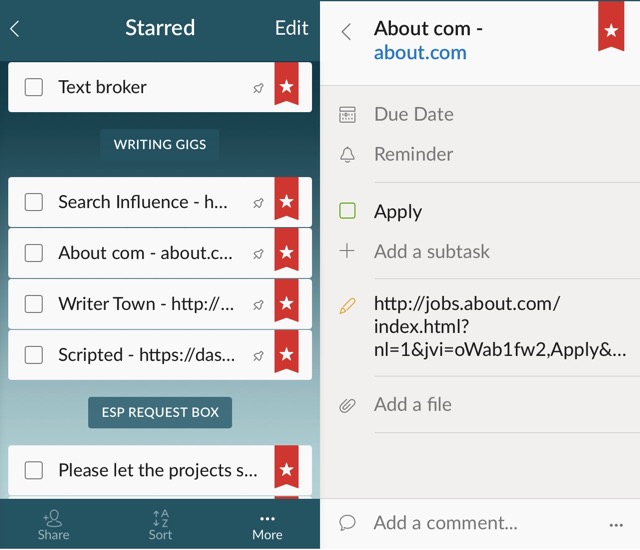 Other free alternatives are Any.do, gTask, and Sunrise Calendar.
Pomodoro is a time management technique developed by Francesco Cirillo to help people to do their job more efficiently. The basic principle is that you work for repeated intervals of 25 minutes, with 3-5 minutes break between the intervals, and 15-30 minutes break after every four intervals. There are several alternatives to the app that help you implement Pomodoro technique, and one of them is the free Pomodoro Pro.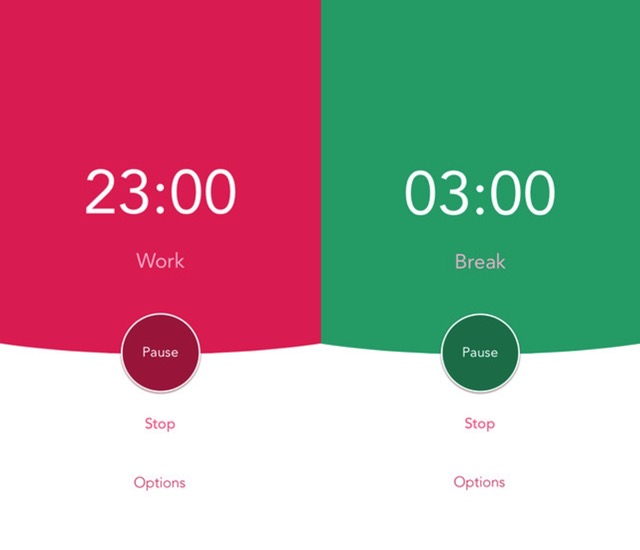 Other alternatives are: Pomodoro Timer (US$ 1.99), and Flat Tomato (Free)
Manage Your Money
Another common problem that most telecommuter has is money management. While some telecommuting jobs come with the steady salary, most of them tend to be freelancing project-based types with no regular income. These apps will help you master the art of money management.
Again, many alternatives to choose from, but I think the one that fit someone with irregular incomes is GoodBudget. It allows you to create "envelopes" for different purposes such as Gas, Electricity, School Fee; and then allocate a different amount of fund for each envelope. You can add funds to the envelopes anytime you have the money so each one of them will stay positive. There's also options to set regular and irregular spending.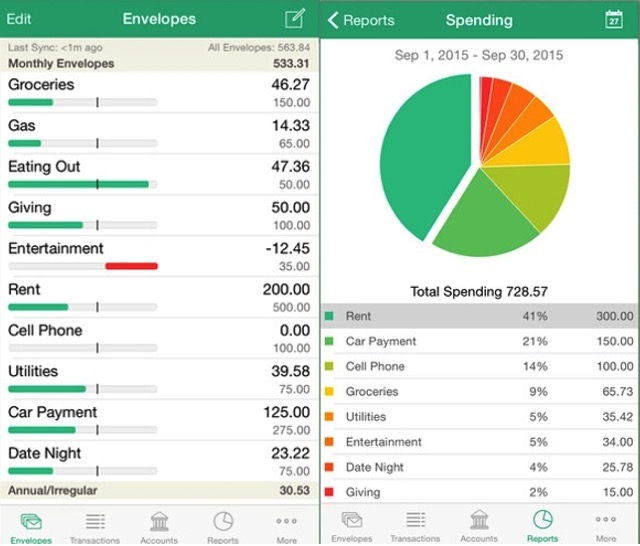 You have to input each expense and income manually, which is a good thing because you will always be aware of your financial condition.
Other free alternatives that you can try are Abukai, Pocket Expense Personal Finance, Unsplurge, and YNAB Classic.
Telecommuting also means that you are not limited by geographical boundaries. You can be someone from the far corner of Asia, and you work for companies (notice the plural form) from United States, Europe, and other parts of the world. If your country uses a different currency than what your companies pay you, you can use the help of currency converter to know how much your payments are exactly. The one that I use is Currency Converter and Amount.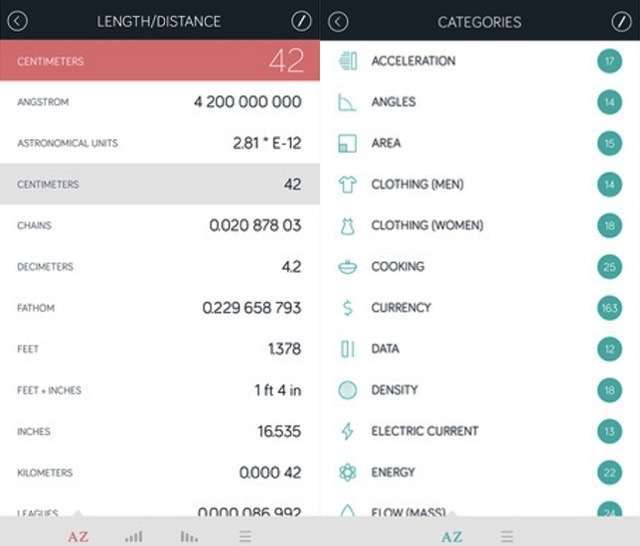 While Currency Converter – as the name suggest – helps you convert currency, Amount is more of a universal converter; from acceleration, angles, area to clothing and cooking.
Manage Your Communication
The good remote working condition requires good communication, especially when the employee and employer are living in different part of the world. We are lucky to live in the era where means of communication are fast, cheap, and in abundant. Here are many ways to communicate for telecommuters.
Maybe the most convenient and quickest way to communicate today is using Instant Messaging. Messages is powerful iOS stock instant messaging app. It allows you to switch seamlessly between your operator's SMS and internet-based messaging. However, the IM part is limited to iOS to iOS devices only. Alternatively, you can use the widely use WhatsApp or its younger but worthy contender Telegram. Both of them allow you to create groups; send texts, emojis, images, voices, videos and other digital files.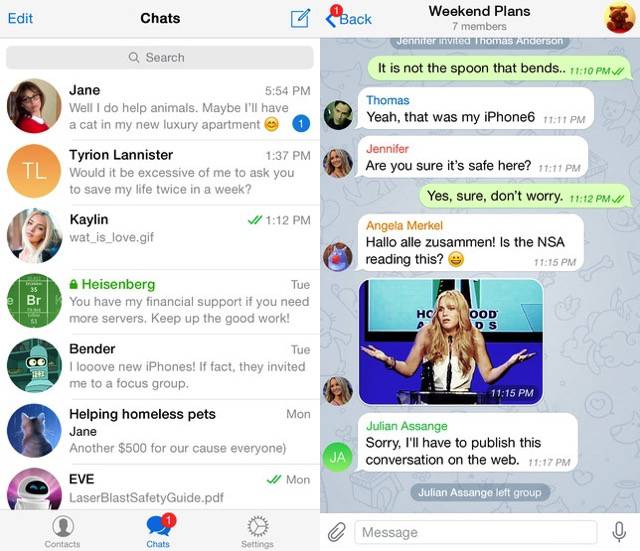 Telegram differentiates itself with its ability to add and send stickers. Other than the mobile version, Messages and Telegram are accessible via dedicated Mac desktop apps while WhatsApp is still limited to the web version.
12. Slack – Free
Slack is dubbed as the next generation of team communication. It gives you real-time messaging, search and archiving, file sending, instant syncing, and other communication features. But the one that makes slack different may be the integration with other tools such as Dropbox, Asana, Google+ Hangouts, Twitter and Zendesk to name just a few.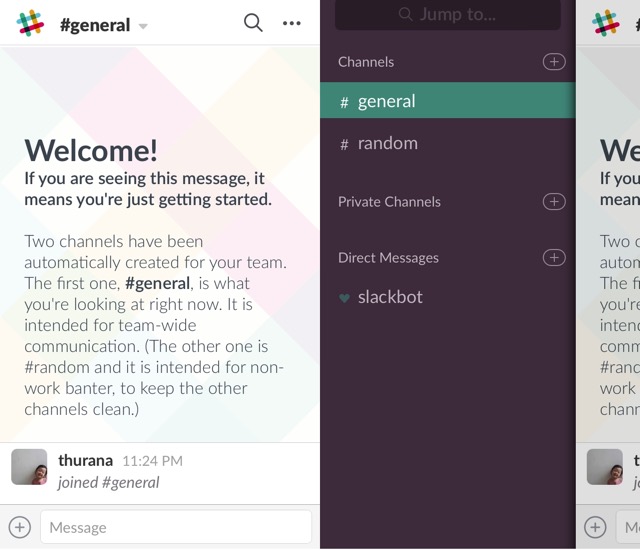 This integration creates "apps within app" environment predicted to be THE next wave in the app business.
13. Quip – Free
Quip is another productivity tool to help you work and communicate within teams. While Slack expands its features by integrating with other services, Quip combines working environment with communication tools in one app. You can create and work on text documents, lists, tables, and simultaneously communicating with other team members.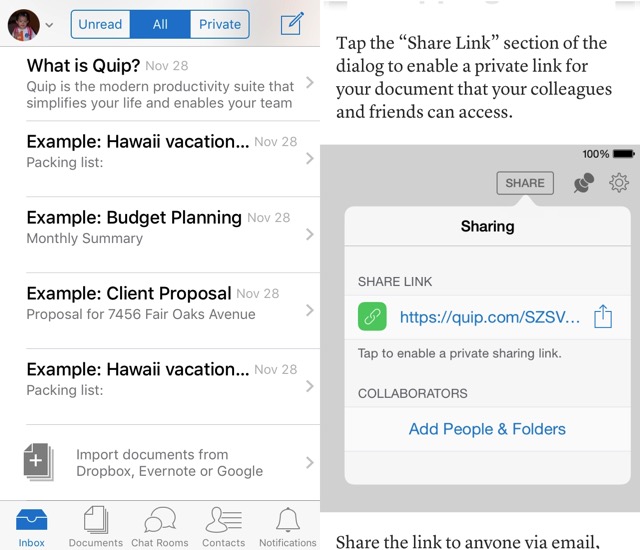 You can invite others to work on projects; you can also share folders and documents easily. Similar to Slack, Quip is also accessible via almost any device.
14. Other More Traditional Communication Methods
Talking about communications, we should also mention the more "traditional" methods: emails, and internet voice and video call services. Both have been discussed heavily since forever, so I won't go through them again here. My choice of email service is Gmail (Free), but I'm using Microsoft Outlook (Free) for the email client; while, for internet voice and video calls, I'm torn between Skype (Free) and Hangouts (also Free).
Manage Your Health and Sanity
15. Various Health Apps
All the money in the world can't buy your health, so do your best to stay healthy. There are tons and tons of health app that can help you to stay fit, from running, biking, jogging, to body-building and pilates. For me, I prefer to do the daily short 7 minutes exercises with the help of 7 Minute Workout or Seven (Free), or even the more intensive Quick 4 Minute Workout (Free).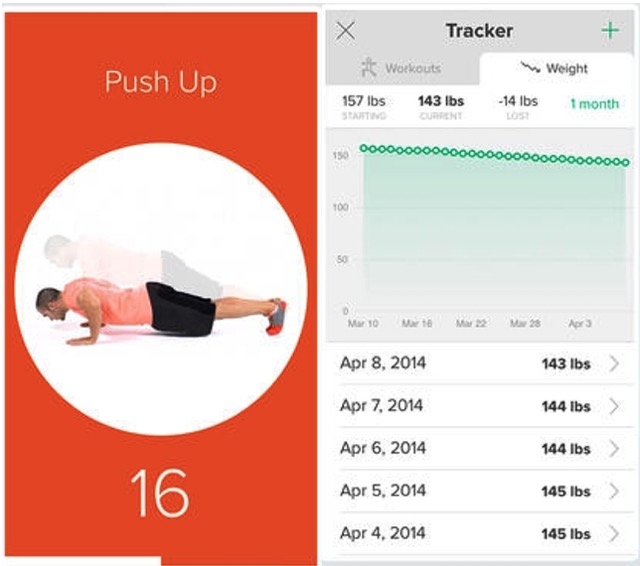 Sometimes, telecommuting is a hard and lonely lifestyle. How do you stay focus after working long hours? You can try meditation. And everywhere I look, I always directed back to Headspace. This meditation app is highly recommended by many as the perfect place to start. The first ten days meditation – Take 10, is free. And you can repeat them indefinitely. But if you decide to continue with the more advanced level, you can subscribe to Headspace to unlock other series.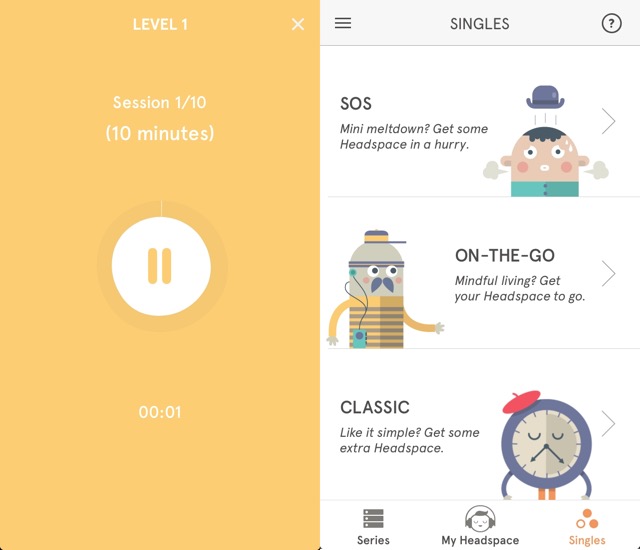 There are virtually unlimited combinations of apps that you could build. The list above is just one example consisting of apps that I use myself and is not exhaustive. You could and should build your own.
SEE ALSO: 15 Chrome Tricks to Boost Your Productivity
So, how do you manage your telecommuting life? What tools that you use? Share them using the comment below.