Instagram has launched IGTV, the social media platform's video hub that will host long-form content created by celebrities and popular creators as well as regular users alike. The Facebook-owned company, which now has over 1 billion users, has introduced IGTV as a standalone app and has also added it as a new feature to the Instagram app.
As reported earlier, all videos shared on the IGTV platform will be vertical and take up your full mobile screen to give users a familiar way of consuming Instagram videos.
Videos on IGTV can be up to 60 minutes in length, however, Instagram has not said anything about the maximum file size or file formats.
Instagram claims that IGTV is just like a regular TV on your smartphone, which starts playing videos as soon as users open the app and where creators act as channels. "You don't have to search to start watching content from people you already follow on Instagram and others you might like based on your interests", read an official blog post.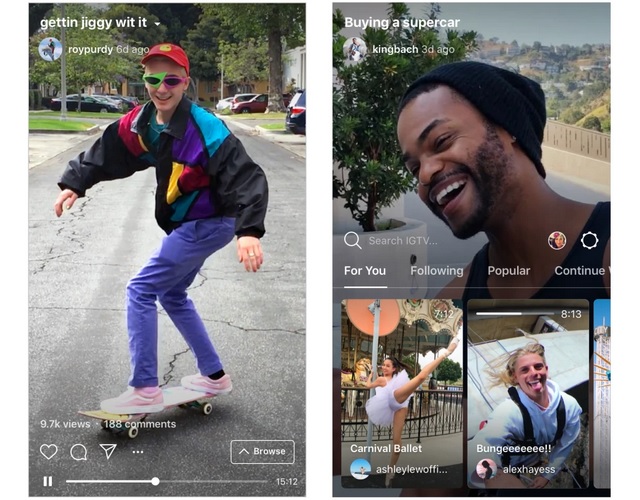 Users can choose to watch videos shared on IGTV in four categories, 'For You', 'Following', 'Popular' and 'Continue Watching', and just like any other media shared on Instagram, you can like, comment or share them with anyone. Instagram celebrities such as Kim Kardashian, Selena Gomez, King Bach, Kevin Hart and Tyler 'Ninja' Blevins are already onboard and will soon produce videos for IGTV.
IGTV does not have video ads yet, but with videos going up to 1 hour in length, there's a great opportunity for mid-video ads, Instagram plans to eventually allow video ads on the IGTV platform. Moreover, Instagram will have a revenue-sharing model similar to YouTube, its biggest rival in the videos space. "We want to make sure they make a living because that is the only way it works in the long run", Instagram co-founder and CEO, Kevin Systrom was quoted as saying by The Guardian at the launch.
---