Brand marketing is not what it used to be. Gone are the days when you had to take ad-space in newspapers or a spot on television. While those avenues are still open, based on your target demographic, they might not be the right approach. I mean, most of the younger generation spend their time on YouTube rather than on TV anyway. Also, the best TV and Newspaper ad spots are quite expensive and not everyone can afford it. That's why YouTube influencers have boomed in recent years as they let you get your message to the right audience at a comparatively manageable cost.
That said, finding the right YouTube influencer can be challenging as YouTube don't give us access to data that can help us make the right decisions. When it comes to influencer marketing, a simple sub and view count is not everything. If you choose an influencer based just on those metrics, you may end up paying for a marketing campaign which doesn't give any results. That's why I am so happy to share with you a tool today which is an effective influencer marketing searching engine and can help you find the right influencers. The tool is called InflueNex and in this article, we are going to take a quick look at it to help you figure out how it can help you with your YouTube influencer marketing.
Key Features
In this article, we are first going to take a look at all the key features that InflueNex has to offer us. Then we will get into its user interface and pricing. All these details should help you understand what InflueNex offers and if it's right for you or not. So, without further ado, let's get started.
1. Search Influencers Using Advanced Filters
Before you can even begin your partnership with an influencer, at first, you need to find the influencers that are working in your sector. If you promote your products on a YouTube channel that already caters to your target audience, your conversion rate will always be high. InflueNex can help you find the right partners thanks to its advanced search algorithms and filters. First of all, the service has a database feature more than 200,000 YouTube influencers with more and more influencers joining the platform on a daily basis.

You can start your search by browsing the popular influencer categories. To give you a sample, some of the featured categories include Science & Technology, Film & Animation, Entertainment, Music, Sports, and more. Once you have your category down you can use filters like country, language, subscribers, price range, and more to further narrow your list. Using a combination of the right keyword, filters, and categories, you can easily create a list of the potential influencers which will be best for promoting your brand.
2. Analyze Influencers
Once you have the list of YouTube influencers who are the right fit for your brand, you can take a deep dive into them to find the ones that you want to approach. InflueNex allows you to carry out multi-dimensional data analysis for every influencer so that you can take an objective decision. You can check their recent video performance, their view trends, engagement metrics, View the trends of daily views and number of subscribers, and more. Finally, you can also find out how much an influencer is going to cost you thanks to InflueNex's precise sponsored price evaluation system which is based on over 10K database with real cooperation price.
3. Contact Influencers
Now that you know which YouTube influencers fit your brand image and budget, the next step is to contact them. InflueNex can help you make the first contact with these influencers by allowing you to send emails. You can even use their templates to help you draft your email. Apart from emails, you also get a one-click group message sending function which allows you to contact multiple influencers at once.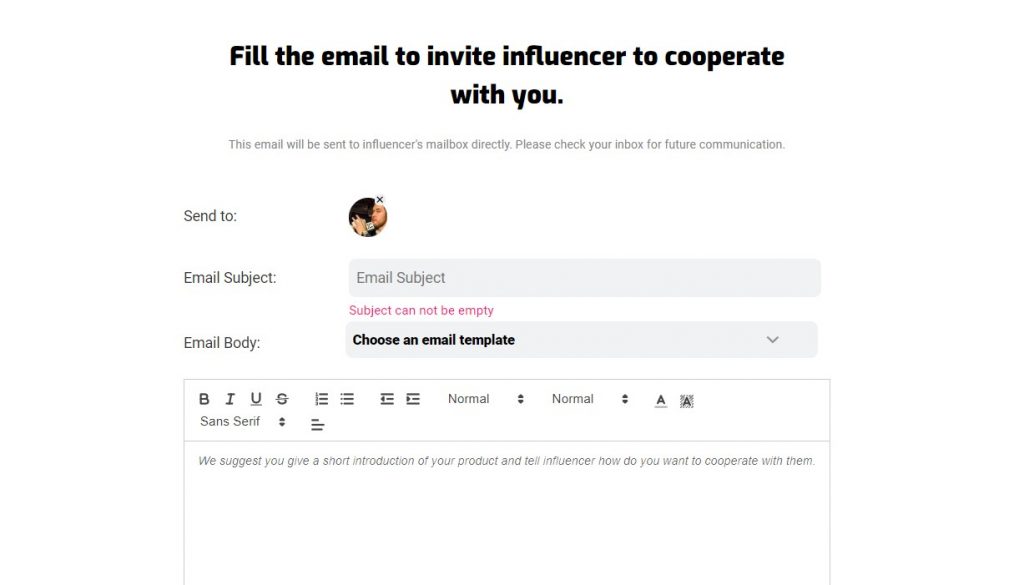 4. Manage Influencers
Finally, once you have a form a partnership with your brand influencers, you can easily manage them by using InflueNex's influencer management dashboard. You can manage them individually or in groups. You can even bookmarks influencers if you want to contact them in the future. InflueNex also shows you a list of influencers that are similar in metrics to ones that you are already working with so you can add more of them to your profile if the need arises.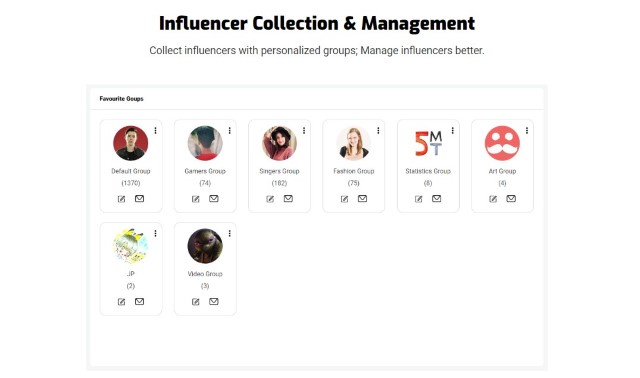 User Interface and Ease of Use
Now that we have an idea of the key features of InflueNex let us talk a little about the user interface of the service. As it is apparent from the screenshots attached above, the service is really easy to navigate and use. All the buttons are bold and everything is color-coded. While testing this service, I found that I never had to use the help menu to find what I was looking for. If you ask my opinion, as far as UI is concerned, InflueNex has knocked it out of the park.
Pricing and Availability
InflueNex is a web-app so you can pretty much use it on the device as long as you have an internet connection. The service is fast and reliable and you will have no trouble there. As far as pricing is concerned, InflueNex offers a generous free plan to get you started. Most of the features that I have mentioned above including influencer search, analyzing metrics, finding out the estimated budget, managing influencer groups, and more are available in the free plan. The paid plans start at $39.99/month which gives you access to extra features such as contacting influencers in a batch, measuring video performance and CPV, and sharing multiple influencer database among other things.
Check out InflueNex: Free, Paid plans start at $39.99
Find the Best YouTube Influencers to Promote Your Brand
InflueNex is a great tool to find the best YouTube influencers to promote your brand. You no longer have to gamble with your marketing money. Use InflueNex to find the best YouTube influencers to represent your brand and get the best return on your investment. Do check out the tool and let us know your thoughts in the comments section below.