Social media marketing and PR agency WeAreSocial have released some really interesting and useful stats about social, digital and mobile market in India. If you are working in an Indian digital marketing agency then you should probably read this article twice because some of the stats mentioned in the post might surprise you.
So, let's just begin and explore the latest stats about social media usage, mobile trends and Internet usage in India (July 2014).
1. Comparison of India's total population with total number of Internet users, active social media users and mobile subscribers throughout the country.
As you can see, out of the population of 1,256 million there are only 243 million internet users which brings us to the fact that out of every 5 Indians only 1 is connected to the internet.
But the pace at which the internet users are increasing in India is exhilarating, In last 6 months there are 16 million new users which is 14% of total number. Isn't it fascinating?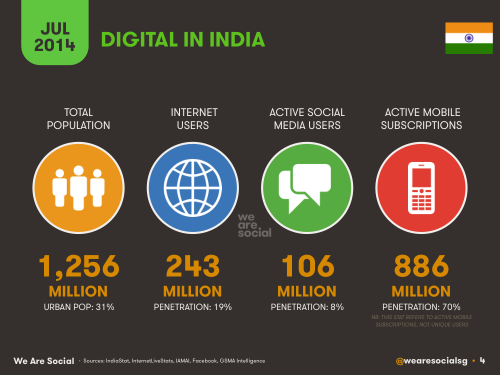 2. Internet usage overall Vs Internet usage over mobile.
Here's something surprising, In India, 70% of all the page-views are generated by mobile Internet users and 87% of all Facebook users access the site through mobile phone. On the top of that, 30 million people access the site through their feature phone (non-smartphone device) and 66 million people access via smartphones.
Though India is seeing tremendous growth in user base of mobile internet users but the internet speed is extremely slow. According to a study, India has the slowest Internet in Asia. Internet speed of 4 Mbps or higher constitutes only 6 percent of total Internet users in the country.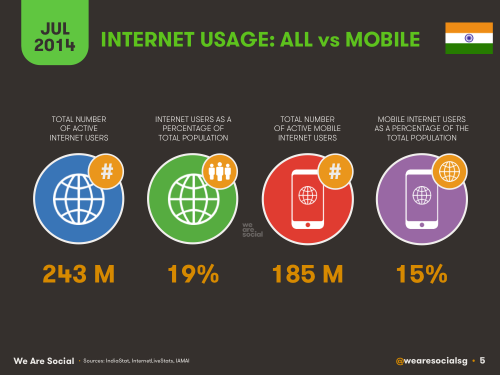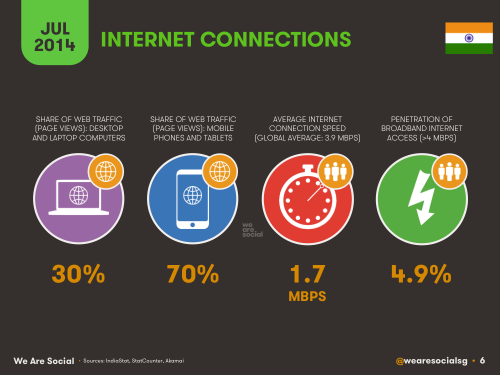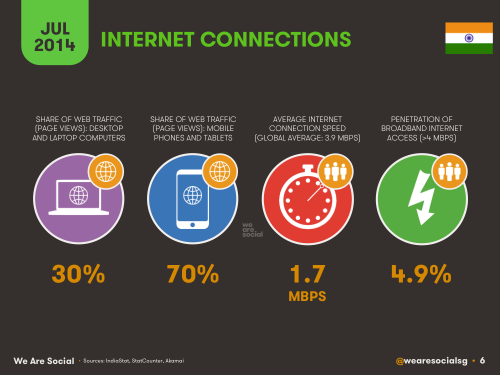 3. Time spent online via Desktop/Laptop, Mobile and on social media.
Among the people who are connected to the Internet, an average Indian spends 4 hours and 58 minutes daily on the Internet via his laptop or PC. However, when it comes to mobile internet, the average daily usage comes down to 2 hours and 50 minutes.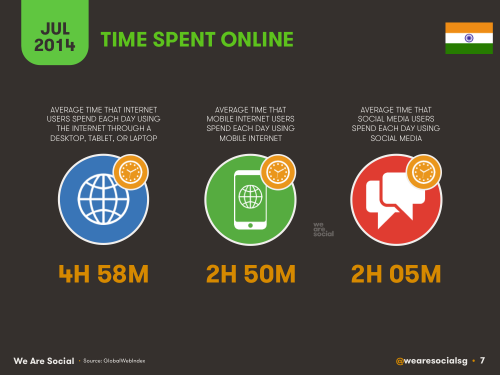 4. Social Media Trend in India.
Among the top 5 social media platforms in India, Facebook holds the number one position which is followed by Google+, Twitter, LinkedIn and Orkut which means that Pinterest hasn't really penetrated the Indian market.
5. Mobile Trend in India.
India has 349 Million unique mobile phone users which constitutes 28% of the total population of the country.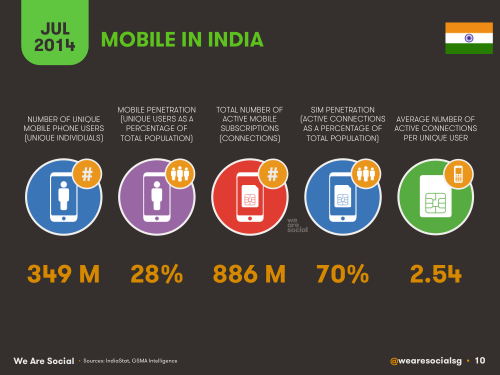 95% of the connections are pre-paid ones and fewer than 10%  of the mobile phone connections have 3G enabled.
13% of the total Indian population owns a smartphone but out of all the smartphone users only 54% have ever made a purchase from their smartphone.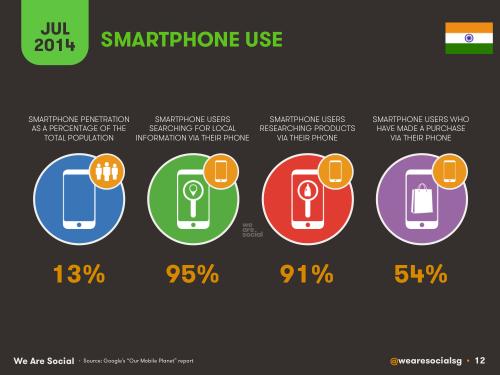 Social media apps and video streaming on mobile counts for 27% of all the activities carried on a smartphone and the other activities includes gaming, accessing location based apps and banking or finance apps.
Recommended: Here's what happens on Internet in just a minute
I hope you learned a lot of new stats about Social Media, Internet and Mobile usage in India. If you find the post useful, don't forget to share it with your friends.
Also, we'd like to have your views on this post, so do write in comments below the post.