After months of anticipation, the popular Windows live wallpaper app Wallpaper Engine is finally available on Android. Although the app is available for free, you will need the PC app to transfer your wallpaper collection to your phone. In this article, we have detailed the steps involved to set up and use Wallpaper Engine on Android.
Set up and Use Wallpaper Engine on Android (2021)
What is Wallpaper Engine?
Wallpaper Engine is a popular live wallpaper app for Windows 10 and Windows 11. With over 400,000 reviews and an active community, it is easily one of the best live wallpaper apps you can use on Windows.
So when the developers of Wallpaper Engine announced their plans to release an Android version of the live wallpaper app, we were clearly excited to check that out. The day is finally here, and Wallpaper Engine is now available on Android for all users. Read on to learn how you can set up and use the Wallpaper Engine app on Android. An important step to using this live wallpaper app on your Android smartphone is syncing it with your Windows PC.
Download and Set up Wallpaper Engine for Android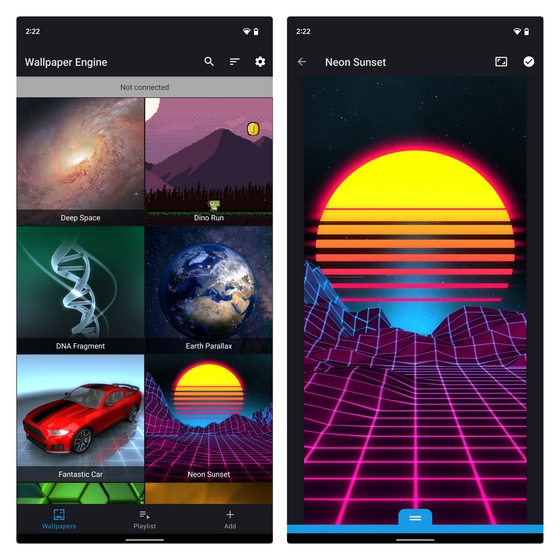 You can download and use Wallpaper Engine as a standalone app from Google Play Store or the company's website. By default, the app has a total of 9 live wallpapers — Deep Space, Dino Run, DNA Fragment, Earth Parallax, Fantastic Car, Neon Sunset, Razer Vortex, Shimmering Particles, and Techno.
However, the option to set custom live wallpapers from sources such as Steam Workshop is limited to the PC client. If you are an existing Wallpaper Engine user on Windows, check the next section to learn how you can transfer and sync your wallpaper library across Windows and Android.
Download Wallpaper Engine for Android (Free, Official website)
Get Wallpaper Engine on Your Windows PC
Unlike its Android counterpart, Wallpaper Engine is a paid app on Windows. The software costs Rs. 229 here in India and $3.99 in the US. If you are hearing about Wallpaper Engine for the first time and are interested in trying it out, you can purchase it from Steam from the link below:
1. Download and install the Steam client on your Windows PC (official website) and head to the Wallpaper Engine listing (visit link). Hit the "Add to Cart" button to add the app to your Steam shopping cart.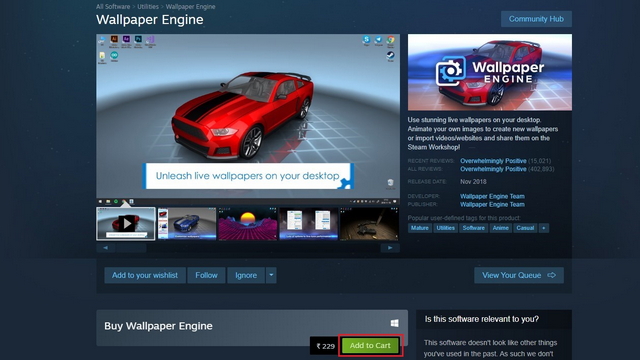 2. Click the "Purchase for myself" button in the shopping cart and check out using your banking credentials to purchase Wallpaper Engine on your Windows 10/ 11 PC.
3. Once you have purchased the software, you will see the installation prompt. You can then follow the on-screen instructions to complete the installation.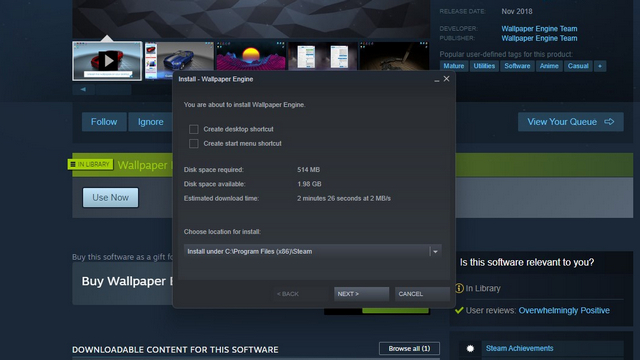 4. You can now launch Wallpaper Engine on your Windows PC. After opening the app, look for the "Workshop" tab and hit the "Subscribe" button to download cool new live wallpapers from the app's massive library.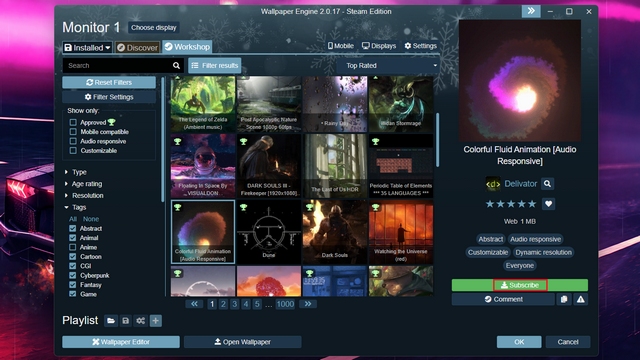 Pair Wallpaper Engine Android App with Windows
Once you have a collection of wallpapers downloaded in the Windows app, you can choose to sync them with the Wallpaper Engine companion app on Android. Here's how to do it:
1. Open Wallpaper Engine on your Windows PC and click the "Mobile" button at the top-right corner of the app.
2. From the pop-up that appears, click on "Connect new Device" to connect your PC client to the companion Android app.
3. Now, open the Wallpaper Engine app on your Android phone, switch to the "Add" section from the bottom navigation bar, and choose "Pair with Computer".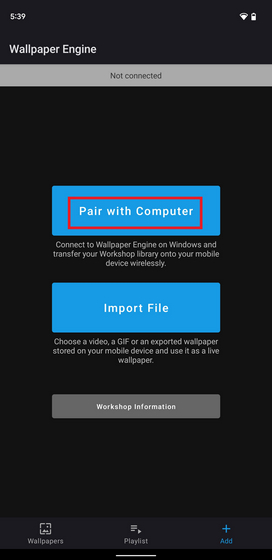 4. You will now see your laptop or PC listed on the app. Tap on it and enter the PIN you see on Wallpaper Engine's desktop app to connect both apps.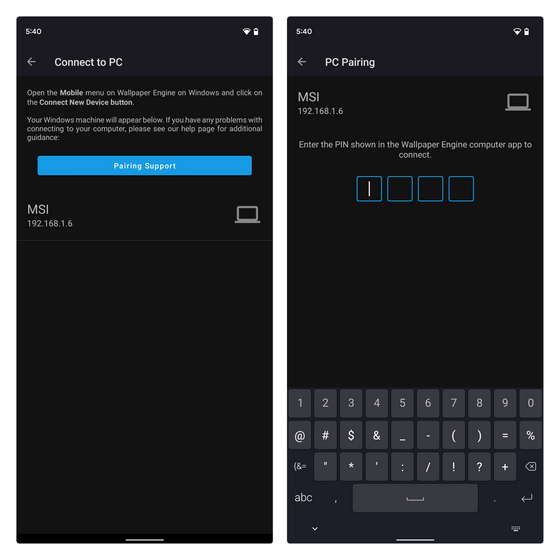 Sync Live Wallpapers from Windows to Android App
5. After connecting the devices, you are all set to send live wallpapers to your Android phone. To do so, select a wallpaper from the desktop client and choose "Send to <device name>" from the right sidebar.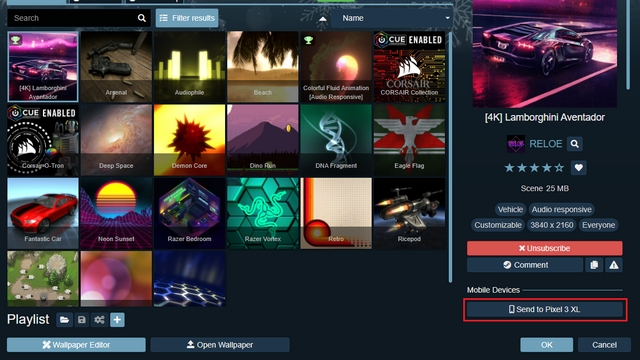 6. From the next screen, choose the quality of the wallpaper and click OK. If you are using a budget or mid-range device, choosing the pre-rendered "High Performance" version is your best bet.
7. The wallpaper you selected will now sync to the Wallpaper Engine app on your Android phone, and that's it. You can now set it as your phone's live wallpaper.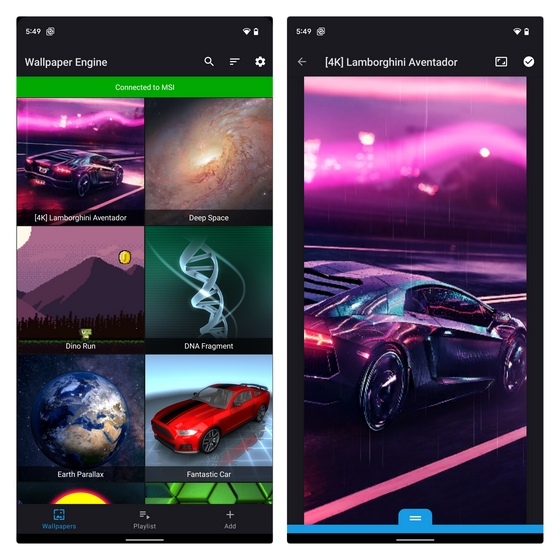 Try Wallpaper Engine to Set Live Wallpapers on Android
The availability of Wallpaper Engine on Android is exciting news and whether you are a new or existing user, we hope this guide helped you set up the app and use your live wallpaper library on your Android phone. If you are looking for an alternate solution, you should consider taking a look at our list of the best live wallpaper apps on Android.