With the launch of Episode 7 Act 3, Riot Games has introduced a new duelist in Valorant. Valorant revealed its latest duelist ISO through a reveal and a gameplay trailer last month. Since then, players have been excited about his abilities and playstyle. So, in this guide, learn how to unlock ISO in Valorant and unlock his gears, including the Sheriff skin.
How to Unlock New Agent ISO in Valorant
1. Get with Valorant Points (VP)
The first and the most simple method to unlock any new agent in Valorant is spending 1,000 VP. Once the Episode 7 Act 3 update goes live, you will notice ISO in the "Agents" section. You can click ISO and unlock him right away by paying 1,000 VP ($10). This will instantly unlock the new agent ISO for you to play in your Valorant games.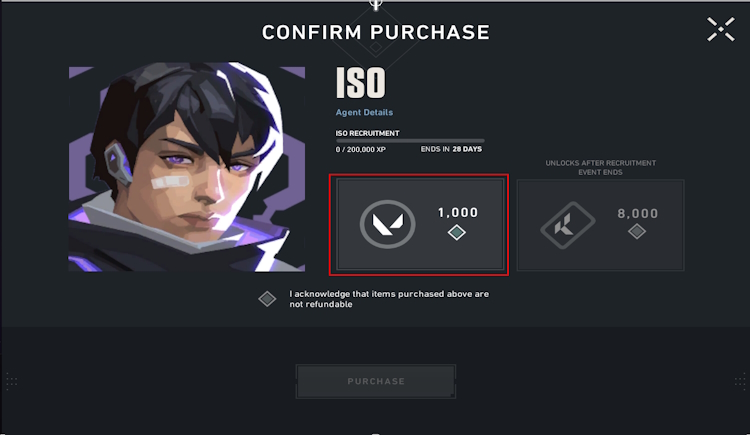 2. How to Unlock ISO for Free
If you do not want to spend real money but want to play the new agent immediately, then do not worry. To unlock ISO for free during the early stages, you can play the Agent Recruitment event. You will have to grind for it, you will unlock ISO for free.
During this event, you must play any Valorant game mode and earn a total of 200,000 XP to unlock the agent. There are various ways to get XP fast in Valorant, so use them to your advantage, Once you collect the required XP, click on "Recruit" to get access to ISO in your agent pool. The event runs for a month, and once it is over, you will have no other option to unlock it but by playing the game.
3. Unlock ISO Using Kingdom Credits
Once the recruitment event is over, you can unlock ISO using Kingdom Credits. Valorant's new currency, Kingdom Points (or Credits) helps you unlock any agent, gear, or other accessories, including ISO's. You need to spend 8,000 Kingdom Credits to unlock the agent.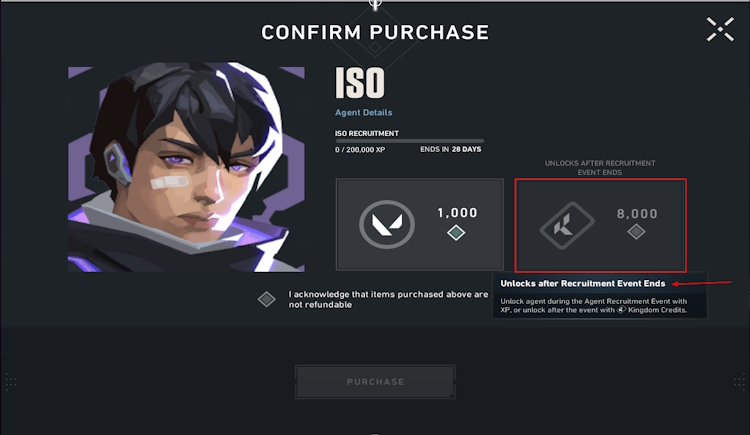 You can earn Kingdom points by playing dailies and weekly events. Remember that you can only use this method once ISO's recruitment event is over.
4. Get ISO with Xbox Game Pass
If you've bought the Xbox Game Pass, then you don't have to spend money or time. Simply connect your Game Pass account to your Riot account to unlock all the agents in Valorant, including ISO. You can do it as soon as ISO launches to get it early in your agent pool.
Valorant ISO Gear: Skins, Sprays, and More
Along with a new agent, Valorant always includes a lot of new agent gear that matches their vibe. Along with ISO, you will get to see a lot of agent gear like a new banner, gun charm, sprays, and more, in his agent locker too. Here is everything you get in ISO's agent contract:
| Tier | Item | Price |
| --- | --- | --- |
| Tier 1 | Spray – Don't Ask | 2000 Kingdom Credits |
| Tier 2 | Card – Valorant Iso | 2500 Kingdom Credits |
| Tier 3 | Title – Tuned In | 3000 Kingdom Credits |
| Tier 4 | Spray – In the Zone | 3500 Kingdom Credits |
| Tier 5 | Kingdom Credits– 2,000 | Free |
| Tier 6 | Gun Buddy – Peripherals | 4500 Kingdom Credits |
| Tier 7 | Spray – Callsign | 5500 Kingdom Credits |
| Tier 8 | Title – Fixer | 6500 Kingdom Credits |
| Tier 9 | Card – The Hourglass Turns | 7500 Kingdom Credits |
| Tier 10 | Gun skin – Mythmaker (Sheriff) | 8000 Kingdom Credits |
To unlock his gear, you will need a lot of Kingdom Credits. Also, remember that you can have a maximum of 10,000 Kingdom Credits at once. So, when trying to get ISO gears, make sure you have enough to unlock the items you need.
Now that you know how to unlock ISO and his gears, do let us know your thoughts on the new agent below. If you are still getting used to the latest Valorant map Sunset, check the linked guide for some cool tips and tricks.
---
Load More