Boasting of over 2.2 million unique monthly streamers and an excess of 292 billion minutes of content watched, Twitch is currently the world's biggest online streaming platform, especially for gamers. While PC happens to be the most common ground for streamers, streaming on Twitch from your gaming console is actually a much easier task. In fact, the service comes integrated on your consoles, so there is no need for you to install any third-party broadcasting software. So, would you like to know more? Well then, read on, as we show you how to stream games on Twitch using your PS4 or Xbox One gaming console:
Note: It goes without saying that you will be requiring a Twitch account for the following method. In case you don't already have one, you can sign-up for Twitch here. Also, while console gaming supports native streaming, we recommend using a capture card.
How to Stream PS4 or Xbox One Games on Twitch
Note: The following method was carried out on a PS4 since it has Twitch streaming embedded natively. However, if you wish to stream games from your Xbox One, you will first have to download the Twitch app (free) on your Xbox One by following the link here or by searching for it in the Store. After that, the process would remain the same for both the consoles.
1. First off, launch the game of your choice. Then, press the "Share" button on your controller. In the Share settings that show up, select "Broadcast Gameplay".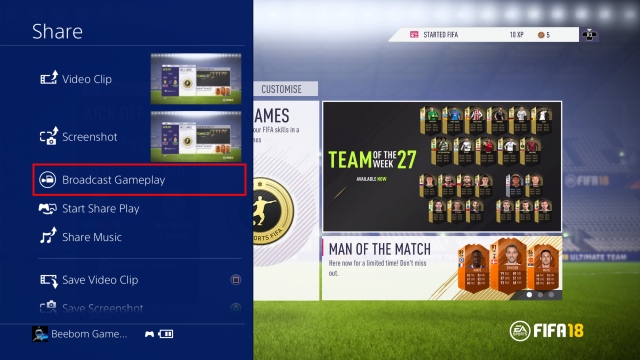 2. Next up, select "Twitch" from the list of services.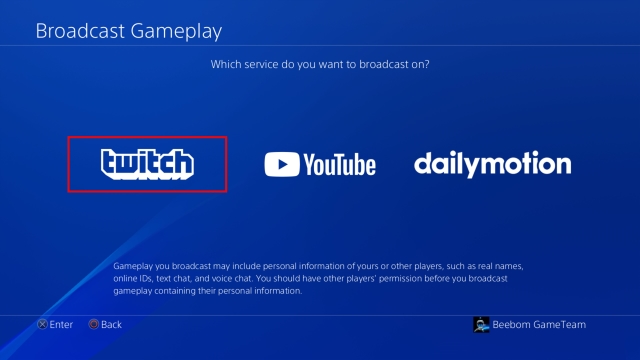 3. You will now be required to log-in to your Twitch account. Simply head over to the activation page on your PC/Mobile, and enter the code shown on the PS4 to link your Twitch account to your PS4.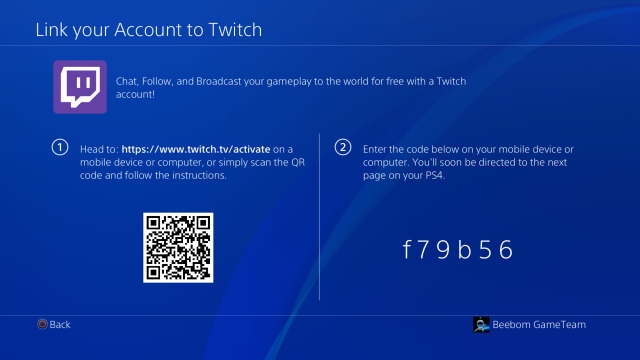 4. Once your Twitch credentials have been saved, the stream settings will show up. Give your stream a name and then select "Start Broadcasting".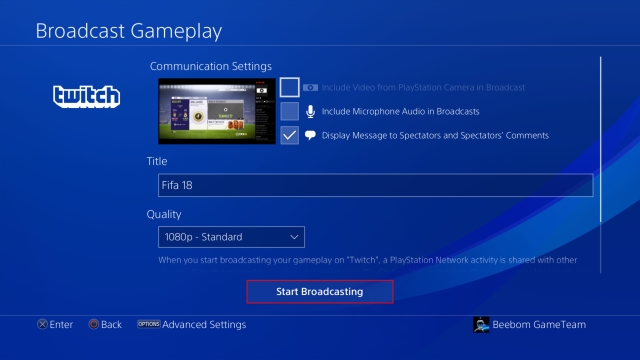 5. And that's it. A Twitch window will show up on your gameplay footage.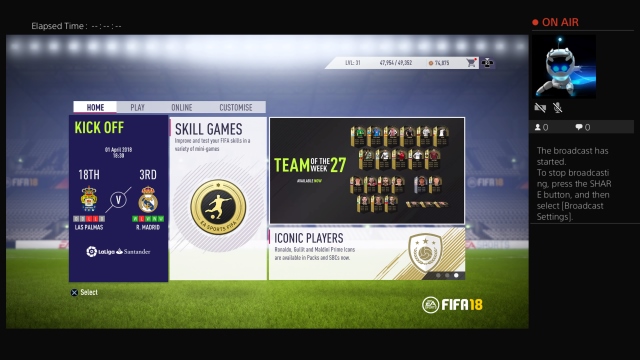 SEE ALSO: How to Create Discord Server and Invite Your Friends
Start Streaming to Twitch from PS4 or Xbox One
Using the aforementioned guide, you should easily be able to stream your games to Twitch from your Sony PlayStation 4 or Microsoft Xbox One gaming console. Also, while the quality of the stream would generally be decent, we personally recommend using a capture card for enhanced video stream quality. So, now that you know everything, are you ready to stream your gameplay on Twitch? Share with us your Twitch experiences in the comments down below.
Games You Can Stream on Twitch from PS4
| Game Title | Developer |
| --- | --- |
| Overwatch | Blizzard Entertainment |
| Fortnite | Epic Games |
| Tom Clancy's Ghost Recon Wildlands | Ubisoft |
| Rainbow Six Siege | Ubisoft |
| Grand Theft Auto GTA V | Rockstar Games |
| Final Fantasy XV | Square Enix |
| Rocket League | Psyonix |
| FIFA 18 | EA |
| NBA 2k18 | EA |
| God of War | Santa Monica Studio |
| Horizon Zero Dawn | Guerrilla Games |
| Last of US | Naughty Dog |
| Mortal Kombat XL | NetherRealm Studios |
| Gran Turismo Sport | Polyphony Digital |
| Hellblade: Senua's Sacrifice | Ninja Theory |
| Persona 5 | P-Studio |
| Burnout Paradise Remastered | Criterion Software |
| The Witcher 3: Wild Hunt | CD Projekt RED |
| Resident Evil 7: Biohazard | Capcom |
| Hitman: The Complete First Season | Square Enix |
| Nioh | Team Ninja |
| For Honor | Ubisoft Montreal |
| Sniper Elite 4 | Rebellion Developments |
| Nier: Automata | PlatinumGames |
| The Elder Scrolls: Legends | Bethesda Softworks |
| Mass Effect: Andromeda | BioWare |
| Stardew Valley: Collector's Edition | Sickhead Games |
| Outlast II | Red Barrels |
| Sniper: Ghost Warrior 3 | CI Games |
| Warhammer 40,000: Dawn of War III | Relic Entertainment |
| Prey | Arkane Studios |
| Injustice 2 | NetherRealm Studios |
| The Surge | Deck13 |
| Darksiders | Vigil Games |
| Friday the 13th: The Game | Gun Media |
| Rime | Tequila Works |
| Don't Starve Mega Pack | Klei Entertainment |
| Tekken 7 | Bandai Namco Entertainment |
| Wipeout | Psygnosis |
| Dead by Daylight | Behaviour Interactive |
| Nex Machina | Housemarque |
| Elite: Dangerous | Frontier Developments |
| Crash Bandicoot N. Sane Trilogy | Vicarious Visions |
| Agents of Mayhem | Volition |
| Sonic Mania | SEGA of America |
| Observer | Bloober Team |
| Uncharted: The Lost Legacy | Naughty Dog |
| Uncharted | Naughty Dog |
| Absolver | Sloclap |
| Ark: Survival Evolved | Virtual Basement LLC |
| Redout | 34BigThings |
| XCOM | Hasbro Interactive |
| Life is Strange: Before the Storm | Deck Nine |
| Destiny 2 | Bungie |
| Rayman Legends: Definitive Edition | Ubisoft |
| Divinity: Original Sin II | Larian Studios |
| Dishonored: Death of the Outsider | Arkane Studios |
| NHL 18 | EA |
| Marvel vs. Capcom Infinite | Capcom |
| Dragon Ball: Xenoverse 2 | Dimps |
| Project Cars 2 | Slightly Mad Studios |
| Fallout 4: Game of the Year Edition | Bethesda Softworks |
| South Park: The Fractured But Whole | Ubisoft |
| Just Dance 2018 | Ubisoft |
| Doom | id Software |
| Need For Speed: Payback | Ghost Games |
| L.A. Noire | Rockstar Games |
| Star Wars Battlefront II | EA DICE |
| The Sims 4 | EA |
Games You Can Stream on Twitch from Xbox One
| Game Title | Developer |
| --- | --- |
| Overwatch | Blizzard Entertainment |
| PlayerUnknown's Battlegrounds | PUBG Corporation |
| Fortnite | Epic Games |
| Tom Clancy's Ghost Recon Wildlands | Ubisoft |
| Rainbow Six Siege | Ubisoft |
| Grand Theft Auto GTA V | Rockstar Games |
| Final Fantasy XV | Square Enix |
| Rocket League | Psyonix |
| Sea of Thieves | Rare |
| FIFA 18 | EA |
| NBA 2k18 | EA |
| Mortal Kombat XL | NetherRealm Studios |
| Hellblade: Senua's Sacrifice | Ninja Theory |
| Forza Horizon 3 | Playground Games |
| Forza Motorsport 7 | Turn 10 Studios |
| Burnout Paradise Remastered | Criterion Software |
| Halo | Microsoft Studios |
| The Witcher 3: Wild Hunt | CD Projekt RED |
| Resident Evil 7: Biohazard | Capcom |
| Hitman: The Complete First Season | Square Enix |
| For Honor | Ubisoft Montreal |
| Sniper Elite 4 | Rebellion Developments |
| Stardew Valley: Collector's Edition | Sickhead Games |
| Outlast II | Red Barrels |
| Sniper: Ghost Warrior 3 | CI Games |
| Warhammer 40,000: Dawn of War III | Relic Entertainment |
| Prey | Arkane Studios |
| Injustice 2 | NetherRealm Studios |
| The Surge | Deck13 |
| Darksiders | Vigil Games |
| Friday the 13th: The Game | Gun Media |
| Rime | Tequila Works |
| Tekken 7 | Bandai Namco Entertainment |
| Dead by Daylight | Behaviour Interactive |
| Nex Machina | Housemarque |
| Elite: Dangerous | Frontier Developments |
| Crash Bandicoot N. Sane Trilogy | Vicarious Visions |
| Agents of Mayhem | Volition |
| Observer | Bloober Team |
| Absolver | Sloclap |
| Ark: Survival Evolved | Virtual Basement LLC |
| Hello Neighbor | Dynamic Pixels |
| Redout | 34BigThings |
| XCOM | Hasbro Interactive |
| Life is Strange: Before the Storm | Deck Nine |
| Destiny 2 | Bungie |
| Rayman Legends: Definitive Edition | Ubisoft |
| Divinity: Original Sin II | Larian Studios |
| Dishonored: Death of the Outsider | Arkane Studios |
| NHL 18 | EA |
| Marvel vs. Capcom Infinite | Capcom |
| Dragon Ball: Xenoverse 2 | Dimps |
| Project Cars 2 | Slightly Mad Studios |
| Fallout 4: Game of the Year Edition | Bethesda Softworks |
| Cuphead | Studio MDHR |
| A Hat In Time | Gears for Breakfast |
| South Park: The Fractured But Whole | Ubisoft |
| Age Of Empires: Definitive Edition | Microsoft Studios |
| Just Dance 2018 | Ubisoft |
| Doom | id Software |
| Need For Speed: Payback | Ghost Games |
| L.A. Noire | Rockstar Games |
| Star Wars Battlefront II | EA DICE |
| The Sims 4 | EA |