With prices of most cryptocurrencies on an upswing, many websites have started adding JavaScript codes to their pages to surreptitiously mine digital currencies using your hardware. Irrespective of whether you're using a PC or a smartphone, these scripts are wearing out your processor, increasing your power consumption and reducing your battery life without your permission, which is why you need to stop them in their tracks. However, since none of the major web-browsers can do it by default at the moment, you'll need to tweak some settings or install some additional software to do the work for you. So in case you want to stop these websites from using your hardware resources without your permission, here's how you can go about it on various different platforms:
Stop Websites from Mining Cryptocurrencies on Desktop (or Laptop) Computers
On desktop (or laptop) computers, you can use browser extensions to block cryptocurrency mining by websites. The best way to do that is to use anything other than the default browsers on either Windows or Mac, because neither Safari nor Edge or IE have the sort of powerful add-on eco-system found with Firefox, Chrome or even Opera. That being the case, we'll use Google Chrome for today's demo.
Download the open source No Coin extension from the Chrome Web Store by clicking on the blue 'Add to Chrome' button on the top right.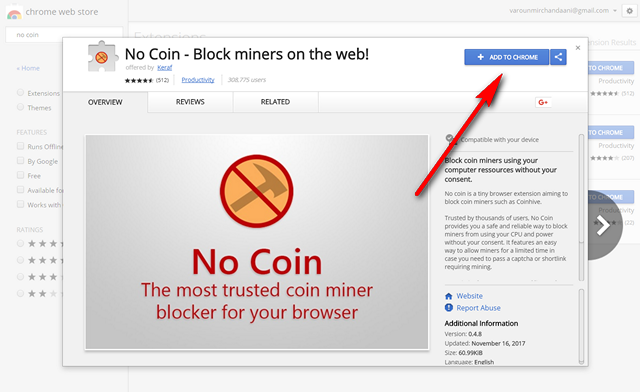 You'll immediately get a notification saying that the extension has been successfully added to Chrome.
That's it! The extension will come pre-configured and will start working right out the box, so you need not worry about changing the default settings. You are now safe from malicious crypto miners as long as you use Chrome to surf the web on your PC.
Note: As mentioned already, No Coin is available for Firefox, Chrome and Opera. While we've demoed using Google Chrome, you can download the No Coin extension for Firefox from Mozilla's add-on store by clicking through this link, while Opera users can get it from here.
If You Must Use Safari, Internet Explorer or Edge
In case you absolutely have to use Safari, Internet Explorer or Edge on your device, you should install a privacy-orientated browser extension like Ghostery that's available on Internet Explorer, Edge, Safari, Opera, Chrome and Firefox.
You can also install a reputable third-party anti-malware software like Malwarebytes (free) that blocks most of these websites by default. The software is available on Windows, Mac and Android.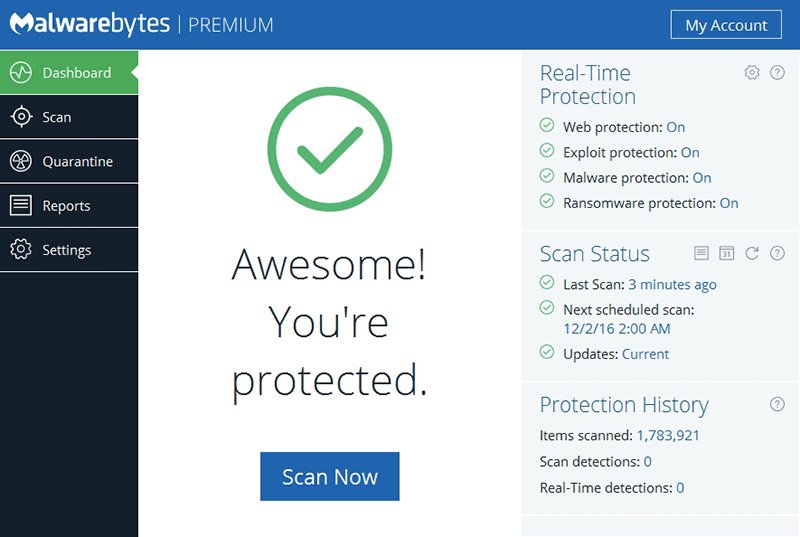 Stop Websites from Mining Cryptocurrencies on Android Smartphones and Tablets
There are two ways to block websites from mining cryptocurrencies on your Android device. Either use a browser extension or disable JavaScript on your browser, both of which are fairly easy to do.
Option 1: Disable JavaScript
Fire up Google Chrome and tap on the menu option (three dots on the top right) and select Settings.
Go over to Site Settings and tap on JavaScript.
You can now use the toggle switch to disable it. You can always re-enable JavaScript at any time using the exact same method.
Note: Disabling JavaScript on your browser will break a lot of websites, making many of their essential features and functions totally inaccessible. Which is why we recommend you use 'Option 2' detailed below to get the job done.

Option 2: Install Browser Extension (Firefox only)
Google Chrome does not support extensions on mobile, so you'll simply have to use Firefox to stop websites from mining cryptocurrencies on your Android device.
Download Firefox from the Play Store if you don't already have it on your device. Now fire it up and navigate to the No Coin listing page on the Firefox Add-ons site.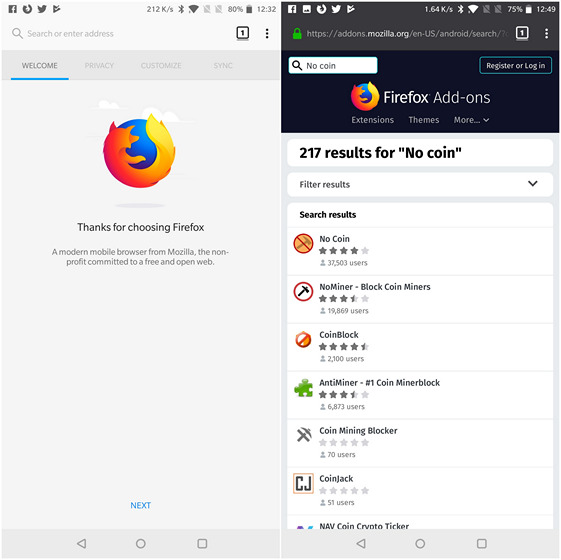 Now tap on the blue Add to Firefox button to download the software. You might have to give a permission for the installation process to complete.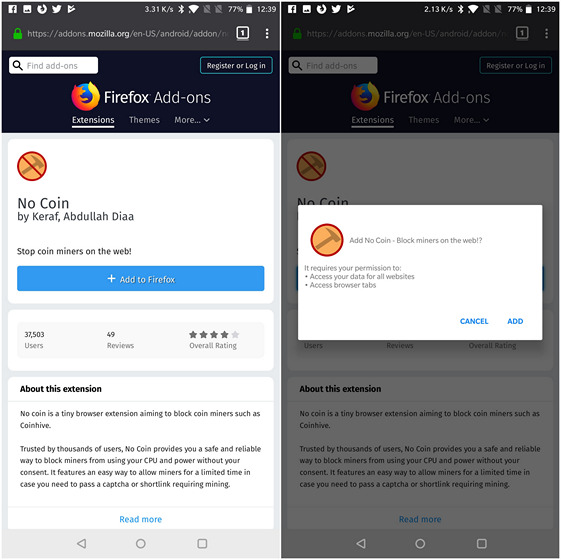 That's pretty much it, guys! The add-on works out-of-the-box without any manual inputs. In case you want to uninstall it, tap on the menu button > Add-ons > No Coin and select the Uninstall option at the bottom.
Note: We are using the No Coin add-on that will stop websites from mining cryptocurrencies surreptitiously on your Android device by blocking certain JavaScript URLs. It is an open source software that's licensed under MIT. You can also use the NoMiner add-on instead of No Coin. The process remains pretty much identical.
Stop Websites from Mining Cryptocurrencies on iOS Devices (iPhones and iPads)
On iPhones and iPads, you can only block crypto mining scripts on the default Safari browser, as Apple doesn't allow the installation of add-ons on Firefox for iOS. There are two ways to go about it: either by turning off JavaScript or by installing a content blocker like 1Blocker.
Option 1: Disable JavaScript
Go to Settings, scroll down a bit and, tap on Safari.
Now scroll down to the bottom, tap on Advanced and toggle off JavaScript.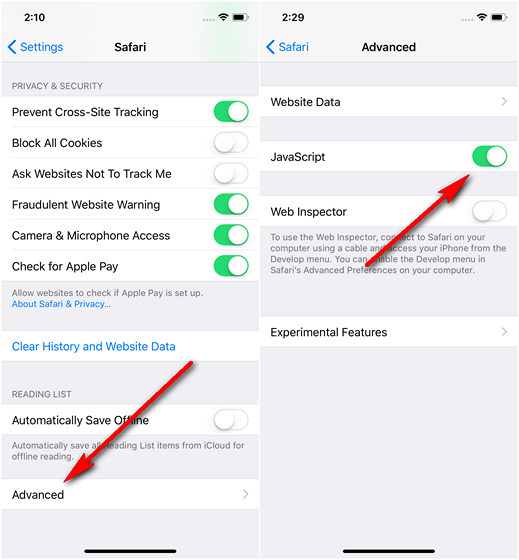 As outlined earlier, switching off JavaScript entirely is not the best solution by any manner or means, so the option below is probably the one to go for.
Option 2: Install Content Blocker
Download and install 1Blocker (free, with in-app purchases) on your iPhone/iPad. Now go over to Settings > Safari > Content Blockers.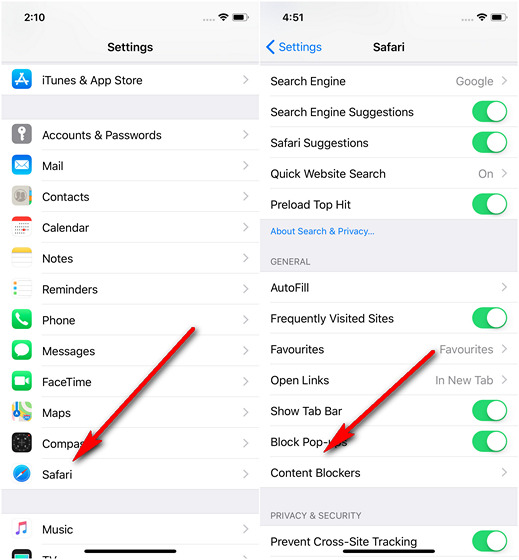 Activate 1Blocker by tapping on the toggle switch, otherwise the software won't work.
Now open 1Blocker and enable Block Trackers. But for that, you'll need to turn off the default 'Block Ads' settings because you can only enable one category with the free version. You can, of course, pay $4.99 to get the full version that will allow you to enable all categories at once.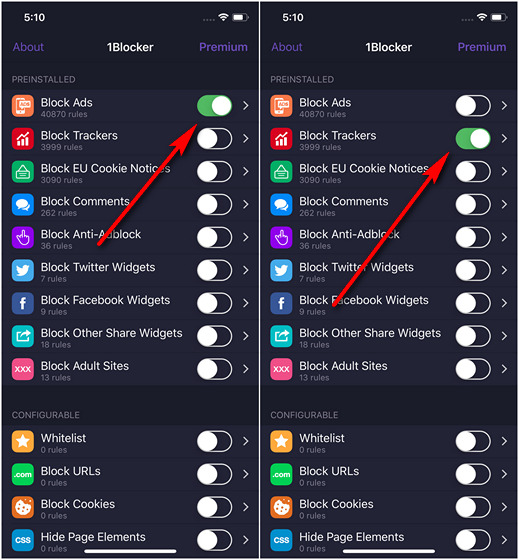 Once you enable the 'Block Trackers' category, you can use the app on its default settings because all the known sites running crypto mining code are blocked by default.
SEE ALSO: Songs.pk Makes a Surprising Return With Bitcoin Miner Script in Tow
Stop Websites From Running Malicious Crypto Mining Code on Your Device
Websites, like any other business, need to make profits, so trying to find innovative new revenue streams is completely understandable. However, surreptitiously running cryptocurrentcy mining codes on the devices of unsuspecting visitors is definitely not the way to go. So if you don't want to be an unwitting victim of these dodgy sites, try out the aforementioned methods on your device to make sure nobody other than you gets to use your device for cryptocurrency mining.