Live Photos is a feature that Apple introduced along with the iPhone 6S. It certainly felt more like a gimmick, rather than a useful feature in the first place. These photos are more like tiny 3-second GIFs that's recorded by your iPhone camera, which you could view by 3D Touching on the Live Photo. Sure, it does add life to the actual photo, as the company claims, but so far, you could only enjoy it on your iPhone. That's right, once you transfer these live photos to your PC or try to share it with your friends online, it just becomes a normal photo. Well, we do have a workaround for that. Although you cannot share your Live Photo at its full potential just yet, you could share it as a GIF and get an almost similar experience. So, if you're interested, let's take a look at how to send Live Photos as GIFs in iOS 11:
Sending Live Photo as GIF
Note: I tried this on an iPhone 7 Plus and an iPhone 6s running the latest iOS 11 beta for developers, so this should work for you too. Right now, sharing Live Photos as GIFs only works for the Mail app. 
With iOS 11, Apple lets you edit your Live Photos by giving you a number of tools for trimming, changing thumbnail, and even the effect of the Live Photo, so that you can get the best possible Live Photo out of your device. We're going to use one of these tools, in order to share them as a GIF. So, simply follow the steps below to get it done, without much hassle:
Open the Live Photo that you want you share and swipe upwards on your screen. Now you'll be taken to a whole new menu, which will let you change the effect of this Live video. By default, this is set to Live. Select either "Loop" or "Bounce" as the Effect for your live video. Once done, tap on the "share icon" at the bottom-left of your screen and choose the stock "Mail" app for sharing this edited Live Photo.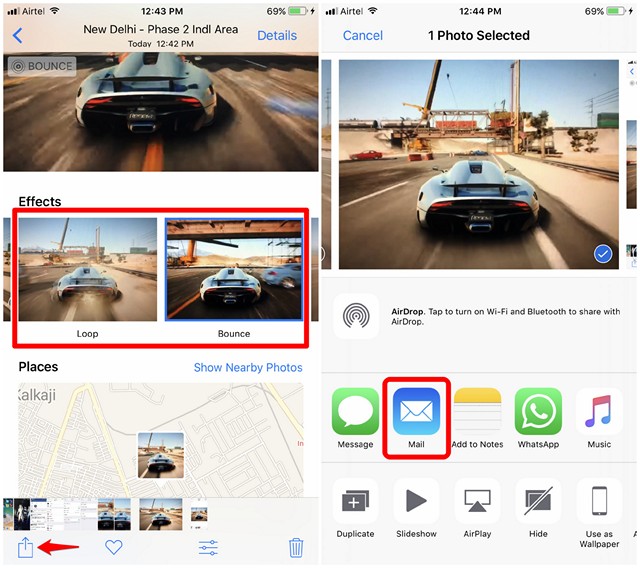 Once you're in the Mail app, you just have to fill in all the details, and simply tap "Send". Now, you'll be asked to choose either small file size or the actual Size of the GIF. Tap on whatever option that you prefer, in order to send the GIF.
Now, the receiver will receive the Live Photo that you sent, as a GIF. This is because, Mail app automatically converts it into a GIF before sending.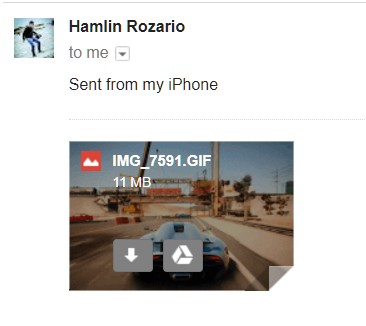 BONUS: Sharing Live Photos As GIFs via WhatsApp
Well, you don't need to have iOS 11 installed on your device in order to share Live Photos as GIFs over WhatsApp. Just make sure you're updated to the latest version of WhatsApp and simply follow the steps below to avoid any confusion:
Once you're in the chat section of the particular contact you want to share the Live Photo with, tap on the share icon at the bottom-left of your screen, and choose "Photo & Video Library" to upload a picture. Once you've been taken to the Photo Library, 3D Touch on the photo you want to share and swipe upwards.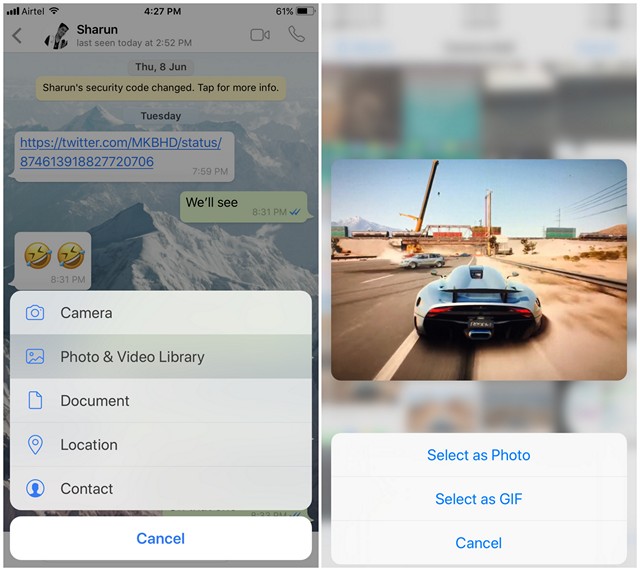 You will now seen option to select that Live Photo as a GIF or Photo. Choose "Select as GIF" to share the Live Photo to your contact as a GIF.
If you'd like to convert Live Photos to GIF files, there are a plethora of apps that do that. I like the Google Motion Stills app.
SEE ALSO: How to Disable High Efficiency Image Format in iOS 11
Share Live Photos As GIFs iOS 11
Well, that wasn't so hard, right? Although we're still waiting for Apple to offer complete support for Live Photos across a variety of apps for sharing these beautiful moments with our friends and family, this is definitely a good start, to say the least. Well, are you glad that you can atleast share Live Photos as GIFs with iOS 11 and WhatsApp, or are you still waiting on a full-fledged sharing system? What do you think Apple should do with their Live Photos feature? Do let us know, by shooting your valuable opinions in the comments section down below.