You must have seen some videos online where you can see beautiful things happening through a couple of hours or even days in just a few minutes or seconds. These types of videos are called time-Lapse videos and are very popular on the Internet. If you haven't seen any, here's one of the best I found online for you to have a look.
https://www.youtube.com/watch?v=k9EyPfc0FXc
So that was a time-lapse video and back in days when smartphones were not around the photographers had to take a photo every few seconds for hours or days and then trim it together in high speed to form a time-lapse video, but with the advent of smartphones, things have changed. You can now record time-lapse videos right from your smartphones and this article is going to tell you how exactly it can be done. To get started, let's have a quick understanding of time-lapse videos.
What is Time-lapse Video?
Videos are nothing but a sequence of images and when these sequences of images are set to play at a definite speed along with an audio file in the background, it comes out as a video. However in a time-lapse video, these frames are set at a higher speed so that you get the notion that things are moving at high speed, much like the opposite of a slow-motion video.
Consider things in nature like the sunrise, sunsets, blooming of a flower or falling of a leaf. These things take the time to accomplish and if someone was to show you these things in a video in real-time, you would have been bored to death and might even doze off somewhere in between. Things like these are shown in the time-lapse video where hours of video is compressed to a few seconds or minutes and make things a bit more interesting. Take this small video footage I shot the other day of the sunset and it's a one hour video which is compressed to just 10 seconds.
Looks interesting right? Think about what all you can shoot with your Android camera. This video was shot on Android and even editing was done on the device itself. However, this cannot be done on the default camera of most of the devices and, therefore, you must use an app from the Play Store to achieve this.
How to Record Time-Lapse on Android
As you already know, you need an additional app to record time-lapse videos on your Android and there are many apps on Play Store that can provide you with the option. Still, Lapse It • Time Lapse Camera is the best out there and we will see how to use the app to get some of the best time-lapse.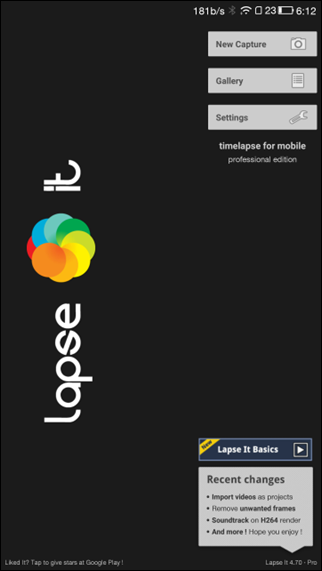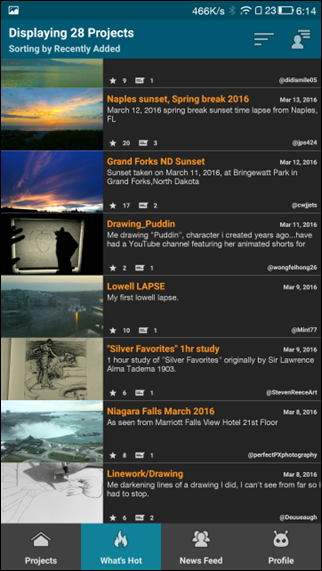 Smart Tip: Time-lapse videos can take hours of recording time and thus a tripod stand on your smartphone is recommended for best results. You might not like the idea of holding the phone for hours while the video is being recorded. Also, make sure the battery of the device is adequately charged.
The app gives you the option to start the capture right after you install the app but the best place to start would be the Settings. While most of the settings should be left at default, if you are not sure what they mean, things like Encoder, Quality, and Output Folder should be configured.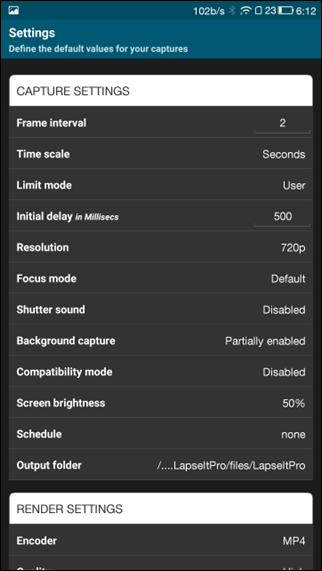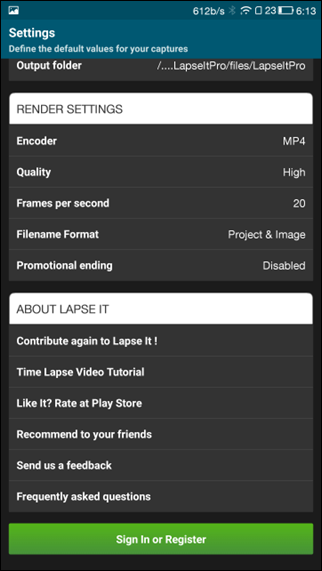 Once that's configured, you are free to start the new capture. Depending on what you are capturing, you can select to take a picture of a frame every few seconds to minutes and you can give some trial runs to get a fair idea of these readings. There are a lot of settings available when you touch the More button like the ISO, White Balance, Color Effects and a lot of other settings which are something what every pro photographer needs. You can change these settings and then see the effect on the screen in real-time.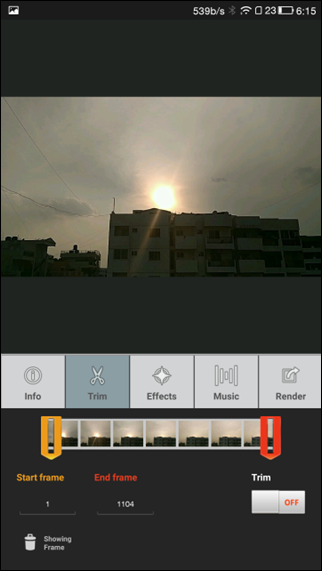 The free version of the app lets you record and edit in 480p max, but if you pay $2.99, you can buy the pro version which will not only give you access to HD and Full HD video recording but will also support background (screen off) recording that will make sure that you can record hour long videos without draining out the smartphone battery.
After the recording is done, you can set the frame speeds and also give a background sound from your gallery and process the video. The rendering can take time depending upon the resources of your Android. You can also apply filters and effects on your videos to make it look more stunning, but be advised that the time to render the video will increase.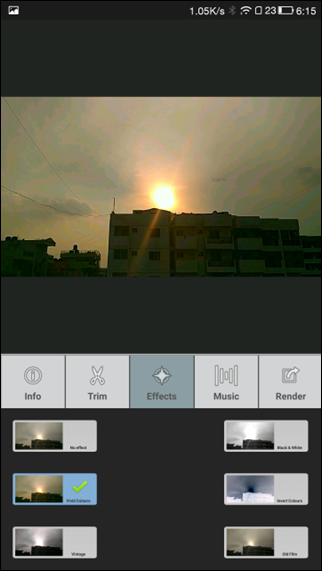 Alternatives?
Lapse it Pro is a complete package, but it if you would like to try and alternative you can try the Microsoft Hyper-lapse app. You can record and produce videos in HD and Full HD without paying for the app and is much easier to use for beginners. So if you want an easy start, maybe you can try and install this app.
SEE ALSO: How to Play YouTube Videos in Background on Android, The Easier Way
That was everything to know about time-lapse videos and how you can record on your Android. But remember that Rome was not built in a day and, therefore, give yourself some time and patience before you give up on shooting time-lapse videos.