Back in the fall of 2016, Apple introduced their new MacBooks with a Touch Bar, which has been considered a gimmick by many, but well, it can do some very cool things. One of the most notable features of the Touch Bar is the Control Strip, which basically gives the user access to quick toggles for controlling various system settings. Inspired by this, iOS developer LaughingQuoll, developed a Touch Bar like app for jailbroken iOS devices, which allows the user to inhibit the Control Strip feature on their devices. Now, we all know that Android can't be left behind. Using LaughingQuoll's app as an inspiration, XDA Developer alecot18, has developed an app dubbed TouchBar for Android, which mimics Touch Bar's Control Strip on Android devices.
The best part is that the TouchBar app is completely free and doesn't even require root access. So, if you like the Control Strip feature of the Touch Bar, here is how you can get a MacBook-like Touch Bar on your Android device:
To start off, you need to enable installation of third-party APK files. To do so, simply head over to the Android Settings and tap on the "Security" option. Once there, make sure that the "Unknown Sources" option is checked.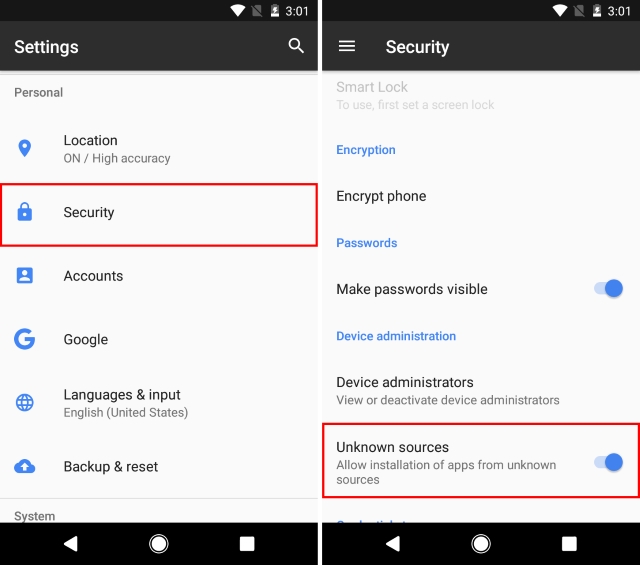 Once done, download the "TouchBar for Android" app from here and install it.
Note: At the time of this article's writing, the app only supports Android Lollipop (5.0) and above.
After installing the app, make sure to grant it all the permissions such as Screen Overlay, Write System Settings and Do Not Disturb Access.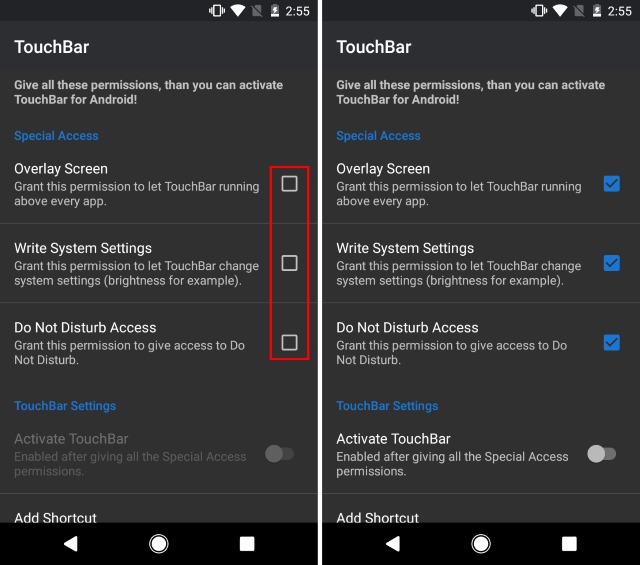 After that, scroll down and tap on "Activate TouchBar" to activate the Touch Bar.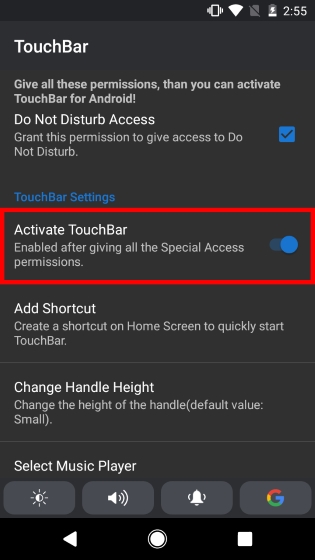 You can now tap on the bottom region of your screen (above the navigation bar) to display the Touch Bar and interact with it.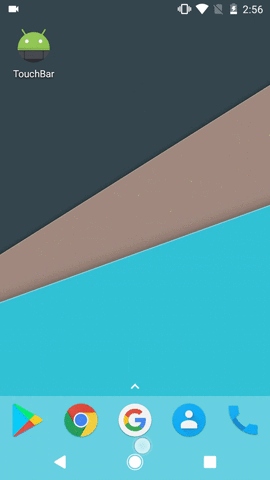 Looks cool, right? Well, the TouchBar app for Android allows you to change your WiFi, Bluetooth, Screen Rotation, Brightness and Sound settings. The app also allows you to control your music with on-screen buttons.
Furthermore, there is an integrated Google Search option for faster searches and you can customize the Touch Bar according to your preferences.
SEE ALSO: How to Get TouchBar Functionality on Any Mac
Replace Quick Settings With Touch Bar on Android
As larger and larger screens come into the market, one-handed operation becomes tougher as well. The ability to add a Touch Bar to attain the same functionality of Android's Quick Settings comes as a blessing for users with small hands and big screens. Plus, you get to experience the functionality of Mac's Touch Bar on your Android smartphone. So, what's not to like? Well, try out the TouchBar app and let us know your thoughts in the comments section below.