Calculating on a tiny Apple Watch screen might seem to be an inconvenient task for many, but it sure comes handy in a pinch. Whether it's performing basic calculations on the go or calculating a gratuity amount for a dinner check, a lightweight and intuitive calculator app for your Apple Watch can help. If you are not a fan of digging into your iPhone for performing basic calculations, you may as well be willing to get a calculator app on your Apple Watch. In this article, we show you the list of the best Apple Watch calucaltor apps
How to Get Calculator App on Apple Watch
Install watchOS 6 or Later to Get a Native Calculator App for Your Apple Watch
After a long wait, Apple eventually launched a native calculator app for Apple Watch in watchOS 6 which is compatible with all the Apple Watch models except the original model. Thus, if you have the watchOS 6 or later, you don't need to look anywhere else to have a reliable calculator app for basic calculation.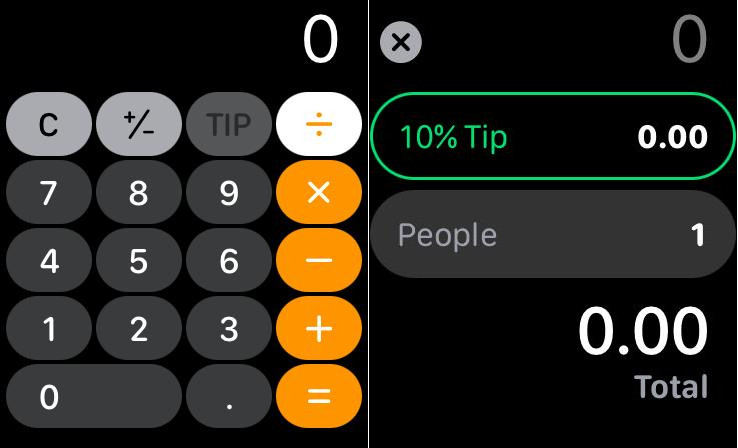 The interface looks quite similar to the stock calculator app for iOS. So, if you have tried the native calculator app for iPhone, you would find the watchOS calculator app quite familiar. Notably, the official Apple Watch calculator app also features a dedicated TIP button so that you can calculate a gratuity amount for a dinner check with ease.
Best Third-Party Calculator Apps for Apple Watch (Free and Paid)
Since watchOS 6 is compatible with even older Apple Watch models like Apple Watch Series 1, 2, and 3, you can use the native calculator app even if you are not using the latest Watch models. But what if you are using the original Apple Watch (released in 2015) which is not compatible with the stock calculator app or simply wish to have a more feature-rich calculator app, look no further than these third-party offerings.
1. Calbot 2
Featuring a neat and snappier interface, Calbot 2 is probably the most intuitive Apple Watch calculator app. Whether it's performing calculations or converting units, it's up to the mark. What's more, it's also a little better in terms of calculating tips and splitting bills on the smartwatch.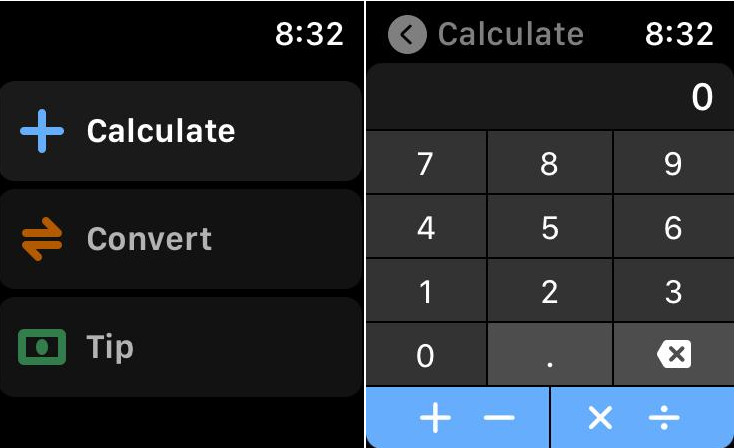 Calbot features a history tape to let you refer to calculations later. Furthermore, the support for more than 500 units across 22 different categories and the ability to favorite calculation for instant access makes it a complete calculator app for watchOS.
Install: (free, $1.99 for pro version)
2. PCalc
If you have set your sight on a feature-packed calculator app for your Apple Watch, look no further than PCalc. The app boasts an extensive set of unit conversions and constants. Plus, there is also engineering and scientific notation along with the support for hexadecimal, octal, and binary calculations. But what has caught my eyes in this powerful calculator app is a choice of button layouts that add some cool customization into the mix.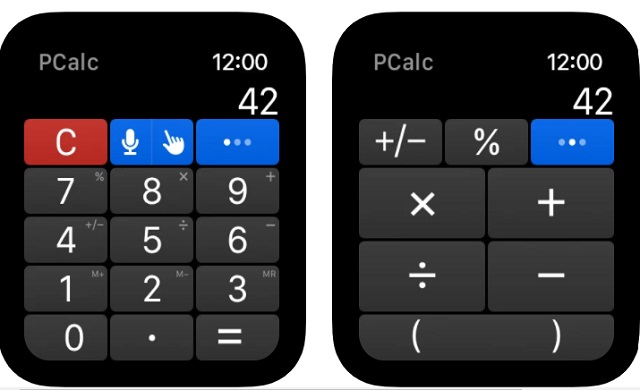 Not just that PCalc features a multi-line display and allows multiple undo and redo, which is a big plus from a flexibility perspective. Though the app is quite expensive at $10, given the range of high-end features, you can't go wrong with it.
Install: ($9.99)
3. CALC Smart
CALC Smart is another powerful calculator app for Apple Watch. The app features an impressive user-interface that feels pretty smooth and responsive. Moreover, it also provides fast conversions by taking advantage of the swipe gestures. And with a gratuity calculator with approximations, it is up to the mark when it comes to calculating a tip. That's not all, CALC Smart boasts a host of user-definable functions and constants.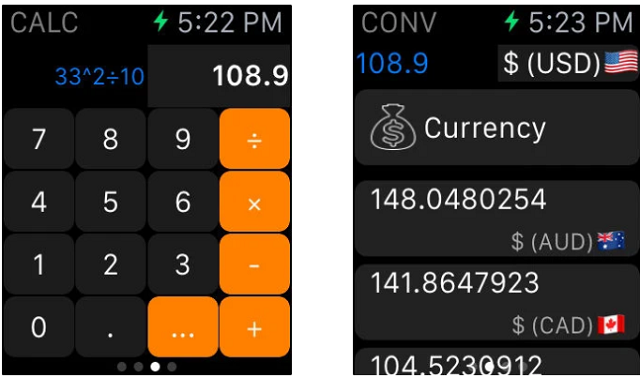 However, what sets CALC Smart apart is a great collection of layout options that allow you to customize the interface. Besides, the ability to convert your results into 21 different categories, including currency further enhances its reputation as one of the most loved calculator apps for Apple Watch.
Install: ($5.99)
4. Calculator‪‰‬
If simplicity and ease of use are what you are after, Calculator‪‰‬ could be a worthy choice. The app features a clean layout that allows you to carry out basic calculations with ease. Though it doesn't offer much customization, you won't have much complaint as it is completely free. And with the support for watchOS 3.2 or later, it is compatible with all the Apple Watch models.
Install: (Free)
5. Calculator HD+‪+
For the folks who are hunting for one of the best free calculator apps for Apple Watch, Calculator HD+‪+ could be a strong contender. The watchOS calculator app has put more emphasis on offering a simplified calculation experience. It has a neat user-interface that may not look eye-catching but it's quite smooth and responsive. It shows results as you type and supports multiple undo so that you can calculate with the desired flexibility. What's more, Calculator HD+‪+ is also compatible with AirPrint to let you print your calculation with ease.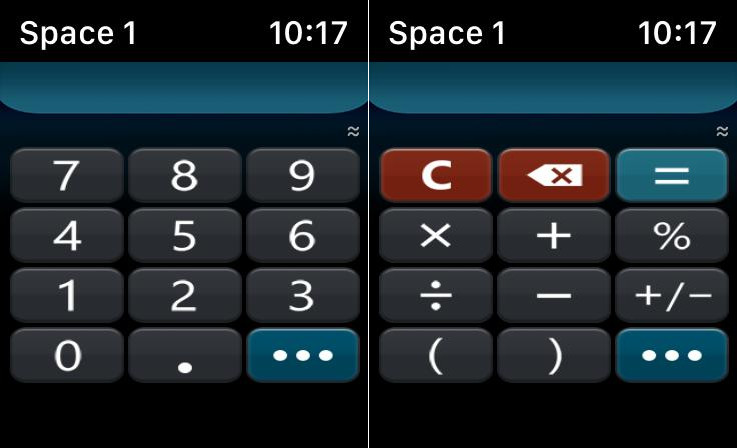 Install: (Free)
Why Not Use Siri to Perform Basic Calculations?
I know some of you would be saying that Siri is more than handy for basic calculations on Apple Watch, then why mess with a tiny calculator? While I do not completely rule out this statement, I do not support it either.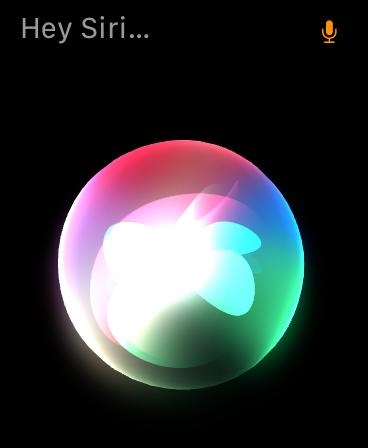 For what it's worth, an intuitive GUI app feels more convenient than asking Siri to perform mathematical functions. Times when you are in a noisy environment where Siri can't hear you, or you are in a meeting where maintaining peace is the utmost priority, or your Apple Watch is not connected to the internet, a calculator app appears to be a better choice.
Not to mention, Siri is still not efficient enough to get a good hang of different accents. So, I would suggest you get the most out of the virtual assistant for simple calculation but have a neat calculator app if you often have to indulge in unit conversion or a bit complex calculation.
Choose the Best Calculator App for Your Apple Watch
Hopefully, you have found an ideal calculator app for your Apple Watch. As I said above, the stock calculator app for watchOS is more than capable of performing basic calculations. However, if your smartwatch is not compatible with the official calculator app or you want to have a more powerful calculator app, the third-party offerings can fill up the void. If you liked this article, you will also enjoy the following articles on Apple Watch, so click on the links to check them out.
By the way, which is your favorite calculator app for watchOS? It would be nice to have your feedback in the comments below.
---
Load More