Being unable to create new posts and comment on funny posts when you have found the best subreddit for your niche interest on Reddit can be an unpleasant experience. If no one is seeing your new posts and comments, there's a possibility that you've been shadowbanned on the platform. So here's how to check if you are shadowbanned on Reddit, along with a few tips to avoid getting shadowbanned.
Find out If You're Shadowbanned on Reddit (2022)
What is Shadowbanning on Reddit?
Shadowbanning on Reddit refers to the state where you can't create new posts and comments on the platform. Although you can technically create posts and comment on them when you are shadowbanned, they won't be visible to anyone except you and the subreddit's moderators. If you have been posting on Reddit and getting no upvotes, downvotes, or comments on your posts, chances are that you are shadowbanned. Read on to know how you can confirm if Reddit shadowbanned you.
Use Incognito Mode to Check If You're Shadowbanned on Reddit
The easiest way to find if you're shadowbanned is to open your post in incognito mode. Here's how to do that:
1. Open your Reddit post, click on the Share button, and choose "Copy Link" to copy the post's link. Now, open a new incognito window using the keyboard shortcut Ctrl+Shift+N (Ctrl+Shift+P for Firefox) and paste the link in the address bar.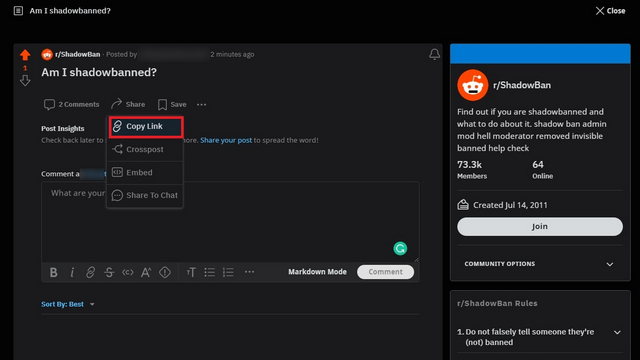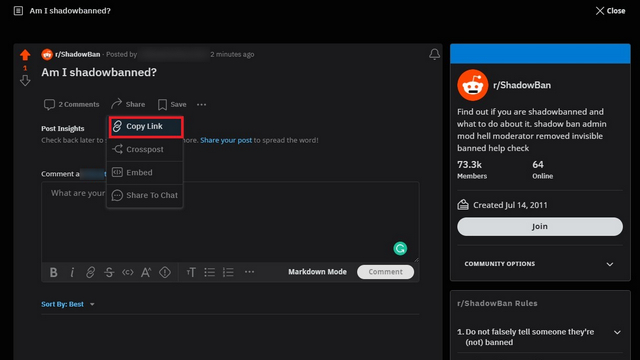 2. If you can see the post's title and body in incognito mode, you can rest assured that you are not shadowbanned. On the other hand, you are shadowbanned if you can't see the post in the incognito tab.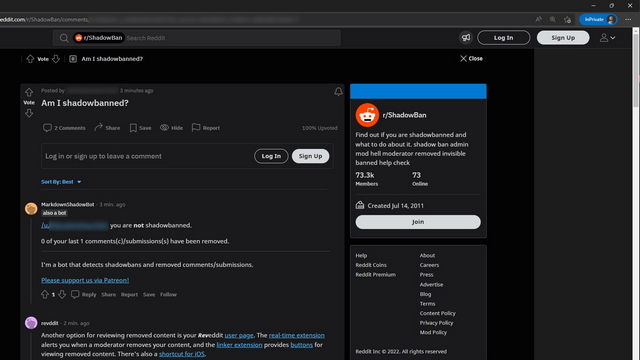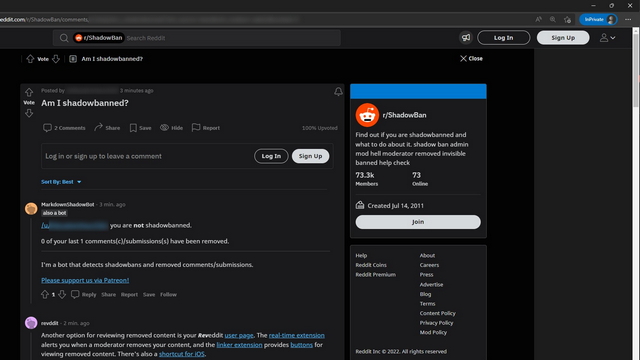 Post in r/ShadowBan to Check if Reddit ShadowBanned You
1. Visit the r/ShadowBan subreddit and create a new post. In the post title, add any sample text you want and click the "Post" button to post it.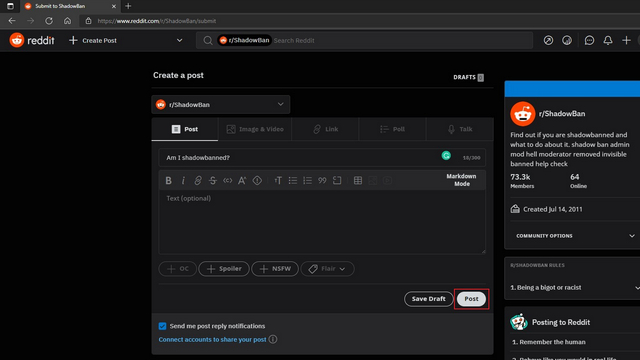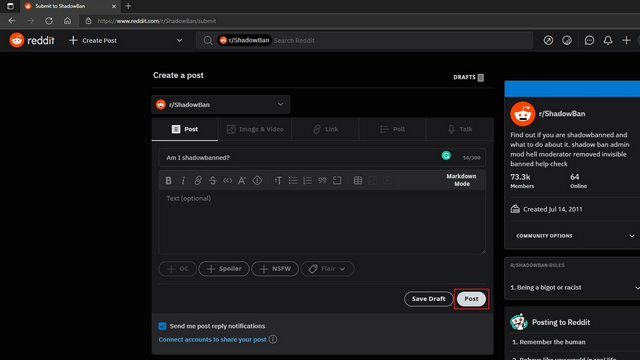 2. Wait for a few seconds, and the MarkdownShadowBot bot will analyze your account and respond to your post. Alongside your account's shadow ban status, the bot shows your last 100 submissions or comments along with subreddit details. It also links your posts/ comments and shows if the post is removed or not. In this case, my account is not shadowbanned.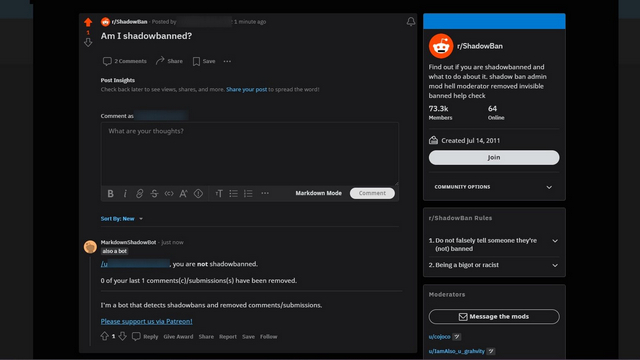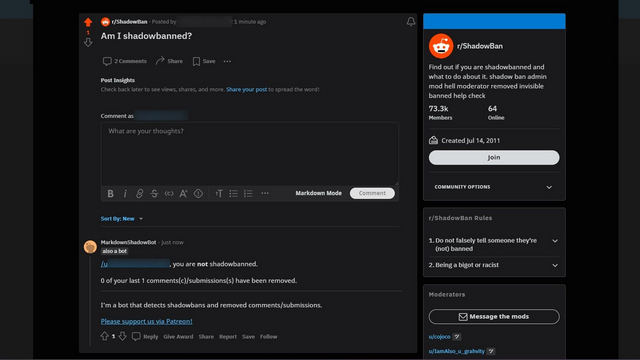 Remove Reddit ShadowBan: Raise an Appeal
If you have found that Reddit has shadowbanned your account, you can raise an appeal to recover your account. To do this, you can either fill out Reddit's appeals form or send a direct message. Here's how to get started:
1. Visit Reddit's appeals portal and enter a brief description of your issue in the text box. After describing the issue, check the "I have read the Reddit Content Policy and the Suspensions help article" checkbox and click the "Submit" button. Reddit's support team will then reach out to resolve your issue.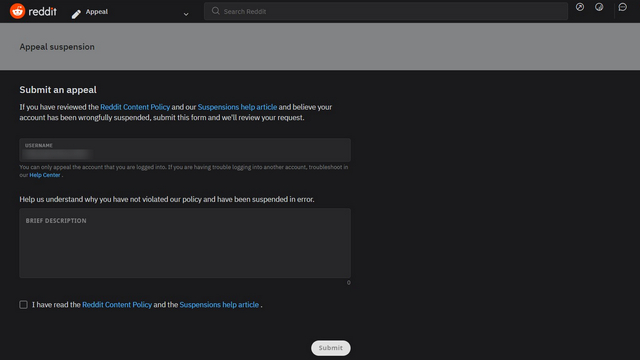 2. Another option is to send a private message to Reddit. Click this direct link to describe the issue you're facing and hit the "Send" button. You will get an auto-reply acknowledging your message, and Reddit's support team should soon respond to your appeal.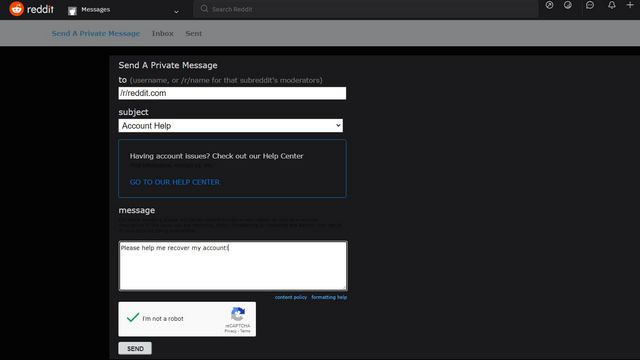 Tips to Avoid Shadowban on Reddit
Don't use VPN while creating a new account
If you used any of the best VPNs to create a new Reddit account, your account is likely to trigger Reddit's spam filter. Hence, it's better to turn off your VPN while signing up on Reddit.
Don't interact with your posts from an alt account
If you try to upvote or comment on your posts from an alt account in an effort to game the voting system, Reddit could shadow ban you. In the worst-case scenario, both of your accounts could get shadowbanned.
Don't click on suspicious links
Although this tip is applicable when you're browsing the web, it is particularly helpful here. Make sure you don't fall for phishing attempts that could compromise your account. You can read more on this topic in our online scam protection tips and tricks article.
Don't spam on multiple subreddits at once
If you go on a self-promotion spree and share the same link on multiple subreddits at once, your account could get shadowbanned. As a workaround, you could try sharing posts at brief time intervals. Moreover, do not share off-topic links to subreddits.
Apart from these tips, Reddit user u/cojoco has put together an exhaustive list in the r/ShadowBan subreddit, which is even pinned by the subreddit moderators. It should help you get a better perspective on things to keep in mind while using Reddit.
Frequently Asked Questions
Q: How long does a Reddit Shadowban last?
Unlike account suspensions, shadowbans on Reddit last forever. You will have to raise an appeal to get rid of the shadowban.
Q: How to get unshadowbanned on Reddit?
You can recover your shadowbanned Reddit by submitting an appeal. If you didn't violate Reddit's terms of service, the company's support team will help you restore the account.
Q: Is Reddit shadowban permanent?
It depends on how and why you got shadowbanned. If Reddit shadowbanned you for violating the company's rules, the chances of getting your account back are low.
Avoid Getting ShadowBanned on Reddit
So, that's how you can confirm if your account is shadowbanned and hopefully restore your account. In case Reddit does not restore your account, and you're no longer interested in starting over, feel free to check our list of sites like Reddit and how you can permanently delete your Reddit account.
---
Load More