Pixel phones are as much about software as they are about the hardware. It's their hardware working perfectly in tandem with the software that really makes Pixel devices worthy of being called flagship devices. Since Google launched the Pixel phones last years, every Android user in some way hates the new phones, as some of the Android's latest features are kept exclusive to them. This year also, the new Pixel 2 launcher along with many other features like the Google lens are kept exclusive to Pixel phones right now. While we have already hacked our way into bringing Pixel 2 launcher features for other Android devices, other exclusive features had remained elusive till now. Well, today that is going to change a little as we will be bringing Google lens to devices other than Pixels. So, if you are interested in the Google lens, here is how you can enable Google lens in Goole photos right now:
Note: The method requires root access. We tried this on our rooted Samsung Galaxy S8 running on Android 7.0 and it works perfectly.
Enable Google Lens in Google Photos on Non-Pixel Devices
Before we get started, I need to mention that currently, this process works only on rooted Android devices. We will update the article if we find any method that works on the non-rooted devices in the future. If you have not rooted your device till now and want to root it, you can learn all about it by clicking here. But, before you do that, you should go through the Pros and Cons of rooting. Okay, with that out of the way, let's get down to the business.
Enabling Google Lens
This tutorial might feel easy or hard depending on your experience with rooting and flashing mods on your Android. I have tried to include as many steps as possible to make it easier for even beginners. So, just follow the steps properly and enjoy the Google lens on your phone.
1. Once you have a rooted Android device, tap on this link to download the Google Lens flashable ZIP file that we will need to make this work. The file has been created by an XDA member so while you are there, be sure to show your appreciation.
2. Once you have downloaded the file, boot your phone into the recovery mode. Getting into recovery mode is easy. Just a simple Google search will tell you how to do it for your specific device.
3. Now, while you are in recovery mode, go to your download directory and locate the file marked in the picture. Now, tap on "Install Image" button. On the next page, swipe the button to confirm the flash.
4. Now, the system will flash your file. After the flash is complete, tap on the "Reboot System" button to reboot your device.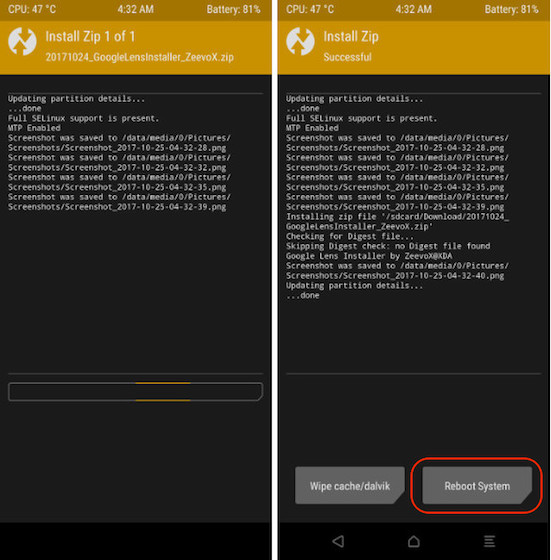 5. After your device has rebooted, just open the Google Photos app and tap on any photo. Now, you will see the Google lens icon in the menu  (marked in the picture). Tap on it and then tap on the "GET STARTED" button.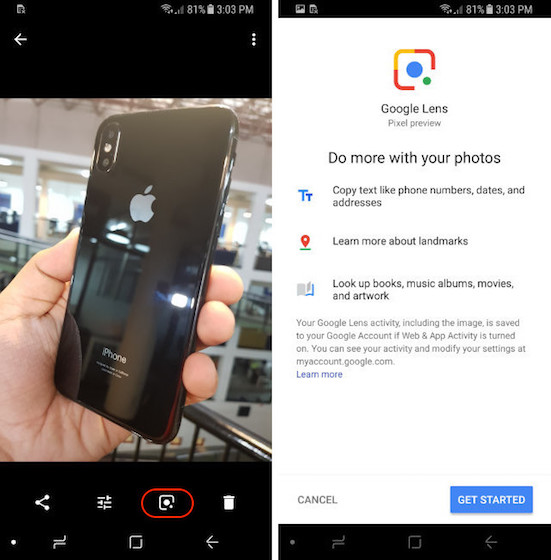 6. That's it. Now, whenever you are on an image inside Google Photos, just tap on the Google Lens icon and it will recognize whats inside the photo. For example, in the below picture, Google Lens was able to identify the date and gave me an option to add it to my calendar.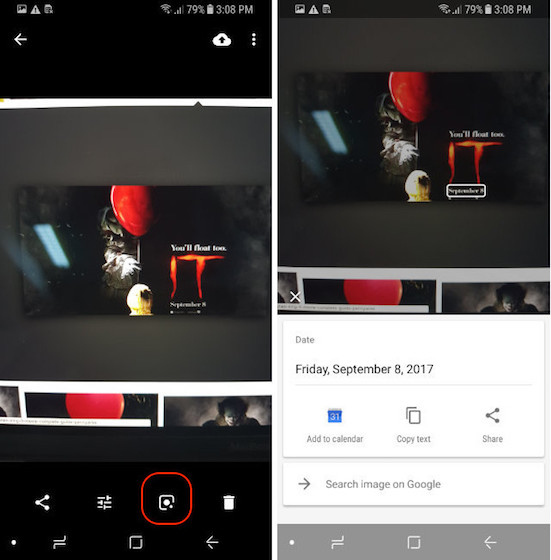 However, it was not able to identify the name of the movie. Since Google Lens is still in development, you will find that it is working only half of the time. It is good at identifying the type of objects but not exactly the object itself. For example, scanning a smartphone with your Google Lens will give you results of different phones, but not that model of the phone itself. It always helps if there is a little text inside the picture as it gives the Lens more information to work with. For example, while Google Lens couldn't identify the movie in the above picture, it is able to identify the movie in the picture below just because it has more information to work with. Google Lens might not be perfect since it's still in beta, however, it is pretty fun to play with it and see it improving over time.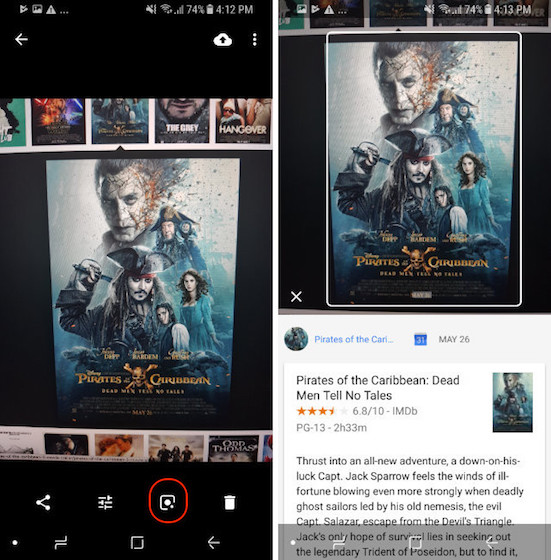 SEE ALSO: 50 Best Google Assistant Skills and Actions
Using Google Lens on Any Android Device
Using Google Lens for me is seeing the evolution of machine learning at its best. I am not a developer, and hence, I don't have much idea of how it works, but to see it working and evolving over a period of time surely gives me a surreal experience. There's still time before Google Lens can be called as a consumer-oriented product as right now it still is a product in development, however, it does gives us a glimpse of the future where information about anything can be obtained by pointing our smartphone cameras at it. I am really excited for the Google Lens, are you? Tell us your thoughts in the comments section below.
This tutorial was first posted on XDA Developers. We tried it out and it works without any problems.
---
Load More