Perfect mouse sensitivity is the key to hitting your shots and becoming a better player in any FPS game. However, finding the perfect mouse sensitivity can be difficult when it comes to a new game. With the launch of Counter-Strike 2, everyone (including Valorant players) is eager to try the game, and finding the perfect sens is the most common question on their minds. Well, if you are a Valorant player who wants to convert their sensitivity to CS2, we've got you covered.
This Valorant to CS2 sens converter guide will help you figure out your perfect mouse sensitivity in Counter-Strike 2. We also explain how to apply this CS2 sens in your game, so let's dive in!
Valorant to CS2 Sensitivity Converter Guide
Adjusting the mouse sensitivity is a crucial part of FPS games. Before we dive into the guide, make sure to note down your Valorant sens. Once you have your Valorant sensitivity, dive into the sensitivity conversion guide below. Remember that, even after using the formula or third-party website, you might need to fine-tune your sensitivity as per game feel and mouse weight.
1. Valorant to CS2 Sens Conversion Formula
Now, the mouse sensitivity formula is not a written thing. However, it has been decoded and proven to be nearly accurate by gamers that Valorant sensitivity changes the whole mouse accuracy. On the other hand, the CS2 mouse sensitivity is calculated by hipfire accuracy & FOV. So, the sensitivity in CS2 has to be higher than in Valorant. Here is the Valorant to CS2 sensitivity converter formula:
Valorant sens x 3.182 = Counter-Strike 2 sens
2. Counter-Strike 2 Sensitivity Converter Website
Of course, for an FPS gamer, it will take a lot of time to open the calculator, use the sensitivity formula, and all the jazz. That is why we have included a handy sensitivity converter website that will save you time.
This CS2 sens calculator website is slightly better compared to the formula. It will ask you to enter your Valorant sensitivity and mouse DPI to calculate the CS2 properly. To know how to use this website, follow the steps below:
First, go to Gamingsmart's CS2 web page linked here.
Now, select the game you want to convert your sensitivity from (i.e. Valorant).
After that, select CS2 in the "Convert To" section.
Finally, enter your mouse DPI and Valorant sensitivity.
Once you input all the values, you will see a value in the Your Converted Sensitivity section.
Just copy it and use it in your CS2 game.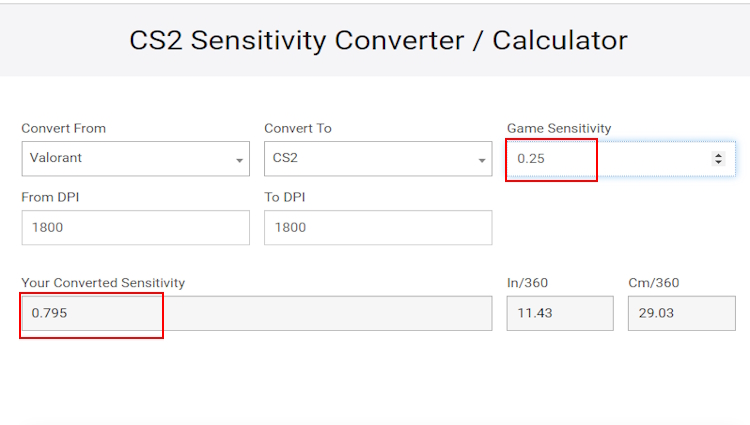 3. Valorant vs CS2 Zoom Sensitivity Converter Guide
Another thing that gamers forget is that the hipfire mouse and zoom sensitivity multiplies are different in every FPS game. In Valorant, almost every weapon allows you to zoom in (ADS). On the other hand, only snipers and barely two ARs in Counter-Strike 2 give you that option. That is why the formula for zoom sensitivity will be slightly different. However, you can ignore this section if you are a full RNG Mac-10 spammer. The formula for Valorant to CS2 zoom sensitivity is:
Valorant Zoom Sensitivity – Valorant Sensitivity + 0.82 = CS Zoom Sensitivity
How to Change Sensitivity in Counter-Strike 2
Once you've done the conversion, you will need to update your sensitivity in CS2. There are two simple ways to change your sensitivity in Counter-Strike 2. Here's how:
1. Change Sensitivity in CS2 Using Settings Menu
If you do not want to open the developer console, you can change your sensitivity from the CS2 settings menu. To do that, follow the steps below:
Open Counter-Strike 2 and head over to the settings by clicking the gear icon at the top left.
Now, go to the Keyboard/ Mouse tab and look for the "Mouse Sensitivity" option.
Finally, click on the box on the right side of the option and type in the converted sens value. You can also use the slider to adjust the sensitivity in CS2.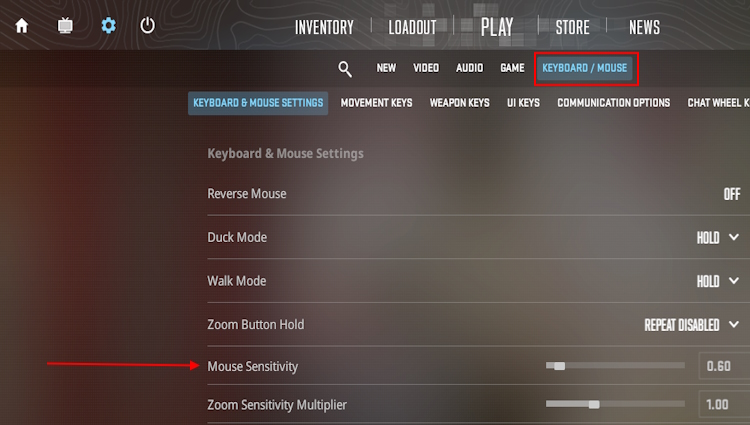 2. Change Sensitivity in CS2 Using Console Command
If you are someone who religiously uses CS2 console commands, you can jump right into the game and follow these steps without wasting any time.
First, start a game and open the CS2 console by pressing the "~" button on your keyboard.
Then, type sensitivity [X] and press enter to apply the new mouse sensitivity. Here, X is the value of your Valorant to CS2 converted sens.
Sensitivity is subjective and can differ from gamer to gamer. This guide gives you a basic idea of how to change your mouse sensitivity if you are new to CS2. You can also reverse the formula to get your Valorant sensitivity from CS2. If you're facing lag, low FPS, or stuttering issues in Counter-Strike 2, then check out our CS2 lag and stuttering fix guide. Comment down your preferred sensitivity in CS2. Before you jump into the competitive mode, know more about the new CS2 premier mode rank ratings here.
Frequently Asked Questions
What does a sensitivity converter do?
The CS2 sensitivity converter helps you with a basic conversion between multiple FPS games. It calculates the FOV, DPI, and the Hipfire sensitivity of other games and turns it into a familiar sensitivity for the new game. The benefit of using sensitivity conversion is that your muscle memory aim for one game does not need a big change once you switch games.
---
Load More