Amazon Prime Video has a great catalog of movies and TV shows. However, the availability of a particular content depends on the streaming rights and licensing for it in your country. Even some of the Amazon Original Movies aren't available in every country. Don't worry; you can quickly bypass these geo-restrictions by using the methods described in this article. It will help you watch content available in a different country. Moreover, we will also see some additional benefits of changing your location on Amazon Prime Video. So, without any further ado, let's begin.
How to Change Country in Amazon Prime Video (2022)
There are two ways to change the country on your Amazon Prime account. The official way is to update your address on your Amazon account. It will change your permanent delivery address, and you will be able to pay using the currency of the country you chose. Another way is to use a VPN to log in from another country temporarily. This method is exciting and comes with additional benefits like enhanced security while browsing, lower subscription prices, and more. Let us see how to change your location or country on Amazon Prime Video using these methods.
How to Change Your Country from Amazon Account
Changing your country on an Amazon account is necessary if you are traveling to another location. It will enable you to shop in the new region and pay in local currency. For instance, if I change my location to Hong Kong, I will be able to purchase items from Amazon.cn in Yuan, the Chinese currency. So, if you aim to shift your Amazon account to another nation, here's how to do it.
Open Amazon's website on your computer/laptop, and log in to your account.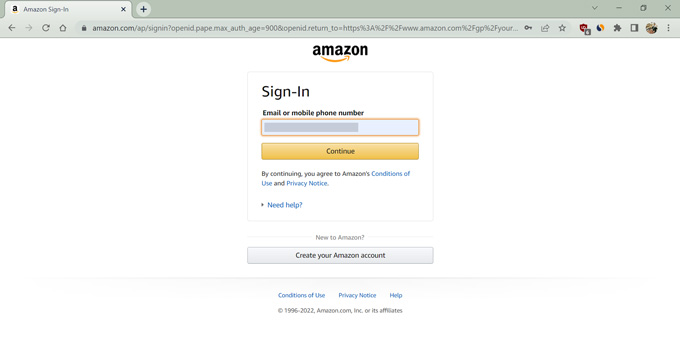 Then, hover over the "Account and lists" button on the top-right corner and select "Manage your content and devices" from the drop-down menu.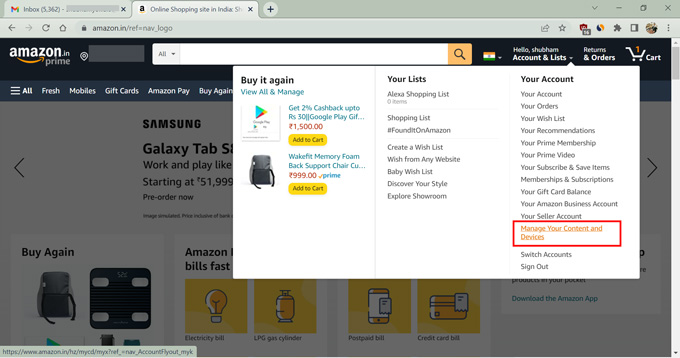 Here, select the Preferences tab.
Now, select the "Country/Region Settings" and click on Change.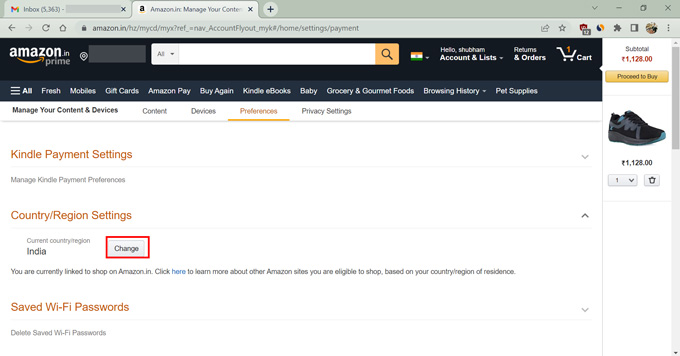 Lastly, fill in all the details of your new address and select Update.
Amazon will notify you of the changes and will ask for your confirmation. Confirm your choice, and your primary country for Amazon account will be changed. If you are confused about what to fill in the address bar, simply search for a hotel in the area and fill its address to proceed. Here are a few points you should remember while changing your country.
Points to Remember When Changing Country on Amazon Account.
Amazon will transfer your Kindle account to the new country account, and all your data will still be available.
Once your account is transferred, you have to update all your 1-click payment methods.
You won't be able to log in to the previous country account. For instance, if I transfer my account from India to Hong Kong, I can log in to amazon.cn, but not amazon.in.
Amazon will transfer your Amazon Prime Membership and Prime Video, Amazon Music, and Appstore Subscriptions to the new account.
You will be required to renew your memberships in the local currency of your new country. Meanwhile, the prices for Prime Subscription will vary according to the country you choose. (You can use this method to watch Amazon Prime Video at cheaper rates using a secondary account)
Your Amazon Gift Card and promotional balance will not be transferred to your new account. However, it will be held back if you decide to change again to your previous country.
By visiting this link, you can read more about what Amazon transfers with your account and what's not. Remember, you don't need to change your country using this method to watch Prime Video content unavailable in your country. Instead, it is better to use a VPN for that. Let's see how you can use a VPN to change your country on Amazon Prime Video to access a different catalog of titles.
How to Change Amazon Prime Video Country Using a VPN
A VPN is the best option to change your region on Prime video to any country. However, it is essential to choose your VPN wisely. Prime Video can detect and hence block any account using a VPN. Therefore, our VPN should be able to bypass this check. I am using NordVPN (review) for the demonstration in this article. NordVPN is available for various devices like smart TVs, Android phones, macOS, PlayStation, iPhone, Firestick, and more. Therefore, its compatibility with a range of devices and premium services makes NordVPN a great contender for your personal safety. What's more, you can also change your Netflix region using a reliable VPN like NordVPN.
Once you have finalized which VPN service to use, you should consider clearing the app data for watching Prime Video. You can change your Prime Video location using any compatible device like a Smart TV, smartphone, PC, Mac, gaming console, and more as long as it has a Prime Video application. Therefore, you have to clear the app data after connecting to a VPN server.
Otherwise, you can choose to use a secondary browser on your computer for the best experience. I am using Microsoft Edge for the demonstration since I don't use it in general. Who does! Consequently, I don't have to worry about losing important bookmarks or saved pages while clearing browser data. More on that later. The method works smoothly for Prime Video computer applications as well. So, let's see how to use a VPN with detailed steps to change your Prime Video region.
How to Use VPN to Change Prime Video Region
Open your VPN application. In my case, it's NordVPN.
Now, search the country of your choice, and connect to it.
Once done, open a secondary browser. It's Microsoft Edge in my case. If you use the computer or smartphone application, reset or format the application from settings. Or, you can reinstall the Prime Video app as well.
Now, clear the browsing data by pressing Ctrl+Shift+Delete. This shortcut works in most popular browsers like Chrome, Edge, Mozilla, and more. Select all your data for all time ranges and click "Clear Data."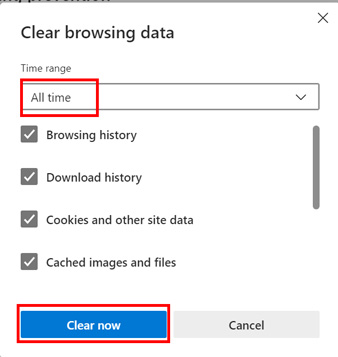 Now, visit the Prime Video website. You can see a changed language if it's other than English.
Log in to your Amazon account using your credentials.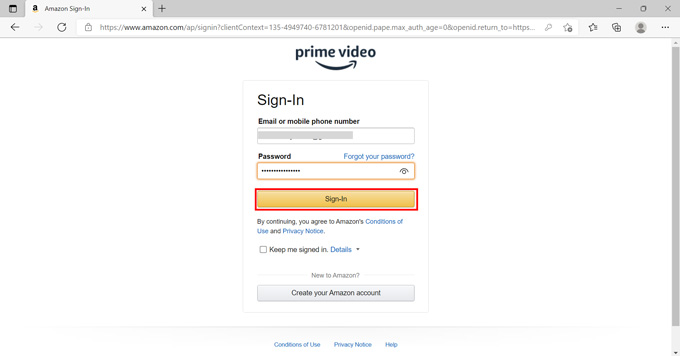 Provide any two-factor authentication if you have it enabled. Else, skip this step.
Search for the title you want to watch, and enjoy.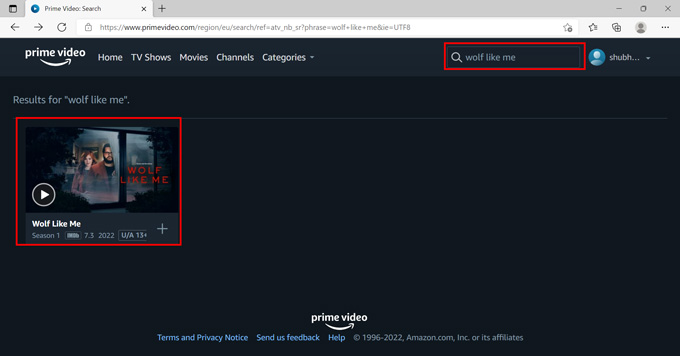 Use VPN with Amazon Prime Video Smartly
Once you are connected to a VPN server, any website you visit will see a new IP address associated with your chosen country. It will help you see the content catalog for that country. Therefore, it would help if you knew beforehand which show you want to see. Then, choose a country that hosts the title. You can rely on JustWatch.com to see if a particular title is available in a specific country. For instance, I want to see "Wolf Like Me," which is unavailable in India.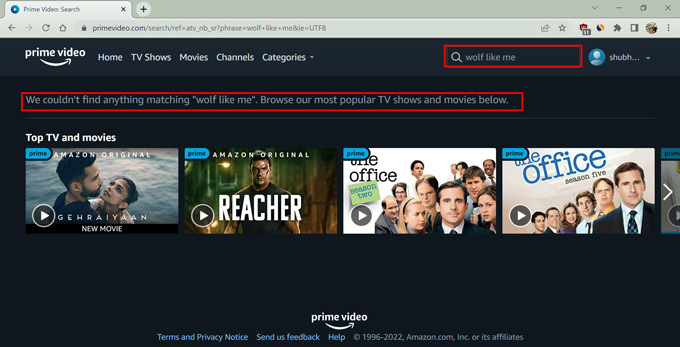 So, I search for the title on JustWatch.com and manually change countries that stream the show on Amazon prime video. I found Wolf Like Me is available in Canada. So, I will choose Canada on my VPN server. Otherwise, you can also select a country on JustWatch.com and choose Prime Video. The site will show you the catalog of movies and TV shows available in that country. I like the first method better since it is less tedious, and I don't get confused about deciding on a show. After connecting to VPN, I can effortlessly stream Wolf Like Me on my browser.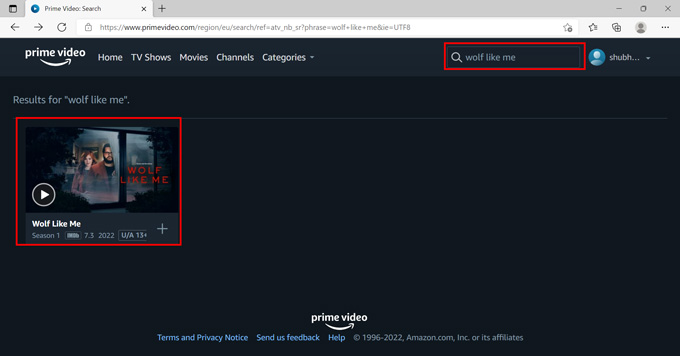 If you cannot see the title, try clearing the data once again or reinstalling the application.
Frequently Asked Questions
Why is my Amazon Video in another language?
You can see Amazon Prime Video in another language if you use a VPN. However, you can quickly get rid of it by using the "Translate to English" button if you are using a web browser. If you are using the app and do not understand the language, disconnect the VPN and try again.
How to change Amazon Prime Video country without VPN?
You can change your country on Amazon from its main website. After logging in, go to Settings>Content and Devices>Preference, and then change the country. It will allow you to make payments in the new currency. The method works great if you are traveling to another nation. However, changing the country and staying at the same place won't unblock the geo-restricted content for you.
In which countries is Amazon Prime Video available?
Amazon Prime Video is available in over 200 countries except for Mainland China, Syria, North Korea, and Iran. However, not all titles are available in every country. If you are traveling to another nation, you can check the Watch While Abroad section to see which titles will still be available to watch. Otherwise, you can use the methods explained in this article to change your location.
Can I use a free VPN to change my region on Amazon?
Unfortunately, a free VPN can not bypass the securities implied by Amazon to protect its content. Since every title is licensed separately to stream in each country, changing your location using a VPN is not prescribed by Amazon. It can easily detect a free VPN and may block your account. Therefore, I highly recommend using a premium VPN service like NordVPN.
Changing Prime Video Region
Amazon Prime Video is available as an individual service or a bundled membership with Amazon Prime in over 200 countries. However, not every country streams all available titles. We discussed how you could use a VPN to change countries on your Amazon account to bypass the geo-restrictions and watch content previously unavailable. We also saw how to change countries through the official method, which will help you get the Prime Video benefits at affordable rates. I suggest using a secondary account since you won't be able to shop in your current country once you change it. Lastly, if your sole purpose is to watch content from other regions, use a reliable VPN service like NordVPN. Check on JustWatch.com if the title is available in a particular country and choose that location as your VPN server. I hope you find this article helpful. If you have any doubts about the topic, feel free to comment below your query.
---
Load More