There are a plethora of TV shows and movies on Netflix. Due to streaming rights, some Netflix movies and television episodes aren't accessible from everywhere. So, in case you got tired of the content available in your country and need refreshing content from other parts of the world, you can trick Netflix into thinking that you're watching from another region. For example, if you live in India and want to watch a movie/show which is exclusively available only on Netflix US or a different one, here is how you can change your Netflix region easily.
How to Change Your Netflix Region to Another Country
Note: Netflix will automatically update your location and present content relevant to that place if you have relocated permanently to another region or are visiting one. So, you don't need to be worried about it.
In this tutorial, we will explain how you can access Netflix content from other countries without actually traveling there to watch it. Let's begin, shall we?
How to Change Netflix Region using a VPN
VPN is the all-in-one solution to changing your Netflix region on all devices, including Android and iOS phones and tablets, Smart TVs, gaming consoles, PC, laptops, etc. However, you must be extremely careful while selecting a VPN since if Netflix detects a proxy setting, you won't be able to view your favorite shows. So, your VPN ought to have no trouble getting beyond Netflix's security. Since Nord VPN works with all devices, we are using it in this tutorial. However, if you want a different VPN, you may use our in-depth guide on VPNs like Nord VPN to select the most appropriate one for your requirements.
Before you start using a VPN, you have to clear all the Netflix data in the device you are going to switch the region. Otherwise, Netflix will detect the proxy settings and prohibit you from using a VPN to access different contents. While using a VPN, we advise using a backup browser like Edge or Opera to stream Netflix. By doing this, you may delete the app's data without worrying about losing any significant bookmarks or stored websites. Additionally, If you can't find a setting to remove app data, you can uninstall and reinstall it. For those who use browsers, you can clear the browser's data in the settings.
Change Netflix Region using a VPN
Note: Netflix is against customers who use VPNs to change their region. If you use a VPN to change your Netflix region, Netflix may block your account even though it typically doesn't take action against such actions. You should attempt this at your own risk.
So, these are the steps you need to follow to change your region using a VPN easily:
1. First open the browser and sign in to your Netflix account.
2. Then open your VPN app and search for the necessary location you want to change to and click on it. You can now select the country, or even specific cities that you want to access Netflix from.

3. Now, you'll be connected to the respective region. Right after you get this green signal, head back to your browser.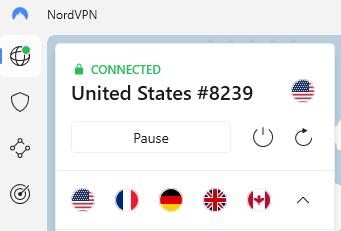 4. Go to the Netflix site and you'll be able to see the changes right away. For example, we have connected to the US region and as you can see below, it shows the top 10 tv shows in the U.S. at the moment.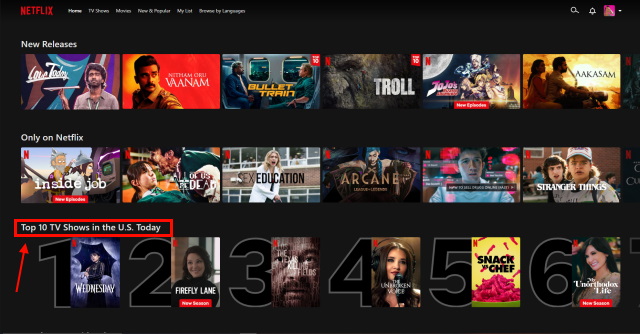 5. Additionally, One Piece anime is not available here in our region. So when we switched out to the U.S. we were able to stream it as well.
Note: Nord VPN has worked effectively for us in our tests. If you're having trouble changing Netflix region with Nord VPN, you may try NordVPN alternatives such as ExpressVPN, Surfshark, PIA, and others. However, we have not tested these VPNs for Netflix compatibility.
Things to Remember Before Changing Your Netflix Region
Switching to a different region is much simpler than choosing a movie/show to watch on Netflix. But, before you choose to invest in a VPN service there are some things you should remember.
Firstly, as we have mentioned above, customers who use VPNs to modify their region are not welcome at Netflix. If you use a VPN to change your Netflix region, Netflix may suspend your account, even though such acts are normally not imposed. You can try it at your own risk.
Before choosing a region in your VPN, you can visit the uNoGS website. It's a website where you can check out the list of countries streaming the title you want to watch on Netflix.
Basically, you can use the aforementioned website in two ways. The first is to see if the title is available on Netflix. The second advantage of using this list is that you may choose the region appropriately based on the title you want to see.
For example, let's say you want to watch the sci-fi epic Interstellar and search for it on the uNoGS site. As a result, it shows it's available in 10 countries.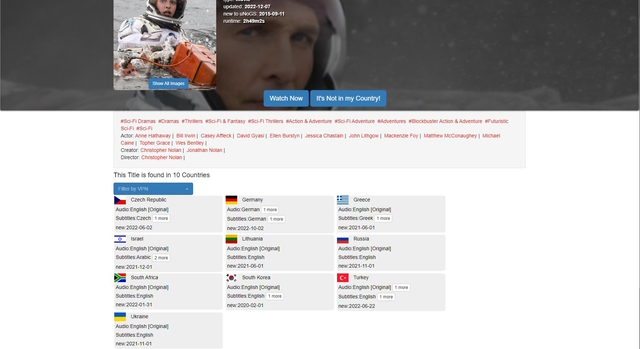 Apart from these features, this website also has a great filter option to search based on the VPN you're using, a specific country, genre, audio, and subtitle language, the cast of the movie, and many more.
How to Use Your VPN Smartly
A hidden benefit of utilizing a VPN service is to subscribe from a completely different country with low-cost subscription plans. You can check our Netflix pricing in different countries to discover the most economical or lowest subscription package and compare the prices. All you have to do is simply wait for your existing membership to expire and then resubscribe using a new location to take advantage of the discounted costs.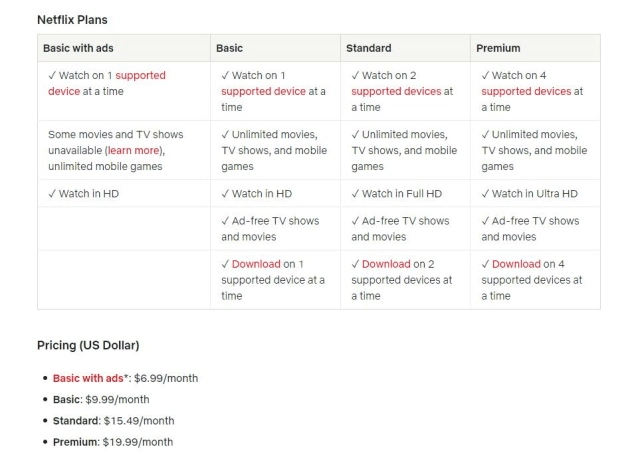 What Happens When you Change Netflix Region
When you move to a different country or change your region using a VPN, here are the things you'll observe when you log in to your Netflix account:
There may be titles available today that weren't in your country before and vice-versa.
There are lots of new television series and movies to watch.
Titles on my list and in Continue watching might change.
Depending on the country, your default audio and subtitle language may change.
Each nation has its own maturity rating system. As a result, a program that is deemed mature in your country may be appropriate for teens in another.
The earlier downloaded content might not be accessible while you are in another country.
It should be noted if you've either moved to a different country permanently or for an extended period, you'll continue to be charged for your Netflix subscription in the currency of the nation you were in when you first opened the account. So, before beginning a new plan, you should think about ending your current Netflix membership by waiting until your current monthly cycle is up and canceling it. After that, you can pay for the new subscription using the current country's currency. This simple trick can be a lot helpful in maximizing your savings on a Netflix subscription.
Frequently Asked Questions
How do I change my Netflix region without a VPN?
Without a VPN, it is unfortunately impossible to change your Netflix region. While a DNS proxy is an option, Netflix's security cannot be gotten through with that one. Thus you will be stuck up on fewer titles which are the ones that are available globally on Netflix to watch.
How to change the Netflix region on a smart TV?
It's very easy to change your region quickly using a trustworthy VPN service. We suggest using NordVPN for its excellent service and availability across multiple platforms.
In which country Netflix is free?
Sadly, Netflix doesn't allow any of its users to stream their content for free. Recently, they have stopped offering free trials too. So, you have to subscribe to any one of their plans to kick-start your binge-watching experience.
Simple Ways to Change Region on Netflix
Netflix is available in over 190 countries and has a wide range of movies, TV shows, and anime to stream right away. So you can imagine how much content is getting locked away due to the region factor. We hope we were able to assist you in changing the region. And now you can commence your binge-watching marathon with a plethora of content to watch in the palm of your hands. Don't forget to use the uNoGS website to check out where your favourite title is available to stream. In the meantime, if you have any queries related to this topic, let us know in the comments and we will help you right away.
---
Load More