Virtual Reality is quickly gaining momentum in 2022. Facebook changing its name to Meta is only one of the steps in that direction. The Metaverse is a concept that has amazed and confused users at the same time. Part of you who already have an Oculus Quest 2 must be thinking about how you can get access to the Metaverse. I'm here to tell you there are ways you can make that happen. So keep your Quest 2 by your side as I show you the ways you can get into the Metaverse with it.
How to Enter the Metaverse on Oculus Quest 2? (2022)
While this guide will discuss how to get into the Metaverse with the Oculus Quest 2, it will also discuss some other requirements. However, if you already know them then use the table below to skip to the process itself.
What Is the Metaverse?
If you're new to the Metaverse, then it's understandable that you might be confused about what exactly is it. Without getting into too many details, the Metaverse is a combination of technologies that help a complete digital universe. The Oculus Quest 2 and other VR headsets are an important piece of the Metaverse as they allow users to dive into the realm of virtual reality and experience it. If you're someone who has an Oculus Quest 2, you're already standing at the gates of the Metaverse. Users who are interested in learning more about the Metaverse should check out our complete guide on what is the Metaverse here.
Ways You Can Access the Metaverse
Strictly speaking, there is no one way to access the Metaverse. The concept doesn't fully exist yet since it will require a single universal world that is interconnected like the Internet. So there is no single app named the Metaverse that can be opened. However, since the Metaverse is essentially a digital universe, bits and pieces of it exist on multiple platforms. These pieces are in the form of different apps and games that allow users to jump inside them and socialize and play while using avatars. So in order to get the Metaverse experience before it's fully here with your Oculus Quest 2, you will need at least one of these apps installed on your Quest 2. I'll be listing these apps down below so keep reading.
Do keep in mind that not all games require a VR headset like the Oculus Quest 2. If you're a veteran gamer, you may have already played some of the games below long before you even heard of the Metaverse. To learn more about how they tie into the Metaverse, check out our linked explainer on the Metaverse above.
Things You Will Need to Access the Metaverse with Oculus Quest 2
Ready to jump into the Metaverse with your Oculus Quest 2? Hold your horses for just a bit more. There are a couple of things you will need before you can start experiencing it. Have a look at the list below and make sure to cross every item off your list.
1. An Oculus Quest 2
This one goes without saying but I'll say it anyway. You need to have an Oculus Quest 2 headset to fully experience the Metaverse. Since VR provides the most immersive experience, the Quest 2 will be required so you can get lost in it. Furthermore, do make sure you have your headset charged to a decent level since running it for longer periods will drain out the battery. If you're completely new to all this then start by learning how to set up and use your Quest 2 first.
2. A Metaverse Application/Game
As I mentioned there is no single app titled the Metaverse, there are a handful of apps and experiences that can help you experience it out there. These apps offer an entry into the concept of Metaverse and will allow you to experience it. However, if you're not sure what the Metaverse is, you can check out our linked guide in the article above to get a better idea. Moreover, I've listed out some popular experiences you can dive into and access the Metaverse. Make sure to download and install any one of them before you proceed.
Metaverse Apps and Experiences You Can Get
Given below are some of the most popular apps you can use to get the Metaverse experience. However, do note that not all of them might be available depending on where you live. Go through the list below and choose the one that takes your fancy.
1. Horizon Worlds
Meta's official entry to the Metaverse, Horizon Worlds is a social app that allows users to gather up and do a plethora of things together. Working as a social experience, people in Horizon Worlds log on as avatars and socialize with each other. Moreover, the users can visit different places, play a variety of games with other users or just relax and enjoy the experience.
Horizon Worlds is one of Meta's most loved projects and is available for the Oculus Quest 2. The avatar you used to sign up with your headset is the same one that will be used in this app. Got no idea what an Avatar is? Learn all about what is an avatar in the Metaverse here. If you want to experience a glimpse of the Metaverse the company was talking about, then go on and get Horizon Worlds (Free). However, keep in mind that Horizon Worlds is only available in select regions like the U.S and Canada so make sure to check the linked page for more information.
2. Horizon Venues
Horizon Venues is a bit of a different take into the Metaverse. Designed to bring real-life events online, Venues lets Quest 2 users attend live events right from the comfort of their homes. Remember Fortnite's Concert? Horizon Venues is an app dedicated just to events like that. However, instead of it being just a concert, Venues houses all kinds of events.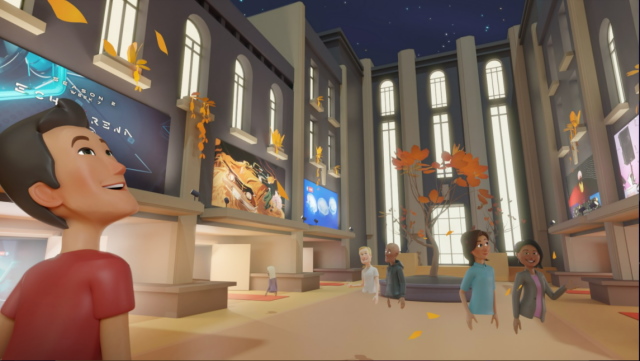 From music events, recorded documentaries, to sports and live events, there's a lot on offer. Horizon Venues also ties into the previous Worlds so your avatar will carry over to this app too creating the Metaverse experience. Those wanting to step into the Metaverse like this, should get Horizon Venues (Free) and get going right away. Like before, Venues might not be available depending on your region.
3. AltspaceVR
While Meta is a company trying to capitalize on this concept, it isn't the only one. AltspaceVR is another Metaverse-like experience a lot of readers were suggesting in the comments and we decided to include it after loving it ourselves. Altspace is an app that has been here for some time. Owned by Microsoft, this social experience app allows players to gather together in a wide assortment of 'worlds' and have fun together. Users can create custom avatars and connect with different people across the globe. AltspaceVR holds a plethora of different experiences and communities that people can witness together. From LGBTQ+ meetups, meditation, improv comedy sessions, to even chilling around a campfire, there are a lot of opportunities.
Altspace is used by people in all walks of life as a place in which they feel space. My time in AltSpaceVR was spent talking to different people around the common campfire session, visiting entertainment clubs, playing ball darts, or simply relaxing around my virtual home. If you're someone who wants more of a glimpse into what this Metaverse-like experience has to offer, check out AltSpaceVR (Free) right now.
4. Rec Room
Rec Room is an experience that sits right in the middle of Altspace and Horizon Worlds. The game boasts beautiful graphics coupled with servers full of people. Like the apps above, you can don avatars and walk about having fun either alone or with other people. However, Rec Room brings something more to the table. Rec Room's experience is a bit more game-oriented.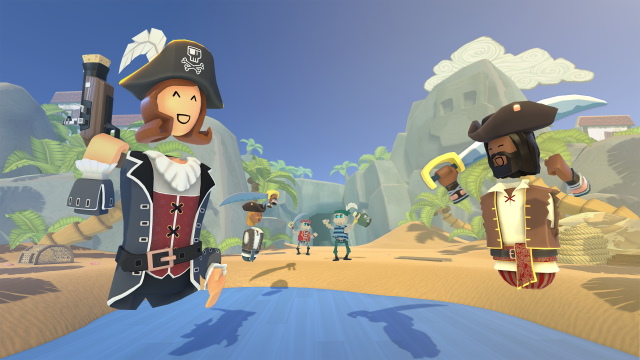 The experience houses a wide variety of games that Oculus Quest 2 users can play together. The games themselves are created by creators and are very interesting. So if you're a Quest 2 user who wants to play in the Metaverse, Rec Room is one such experience you can get. Simply add Rec Room (Free) to your Oculus account and begin playing.
5. VRChat
Created long before the release of the Oculus Quest 2, VRChat is a game that has captured the digital hearts of thousands worldwide. VRChat allows users to create their own custom avatars and drop in and out of worlds. There are potentially hundreds of custom worlds available and range across various locations.
You could be walking across a shrine in Japan and then be relaxing at a restaurant in the next moment. Besides creating your own avatar, you can choose from hundreds of pre-created ones. VRChat is also quite polished in its experience since it's been around for longer. And did I mention your friends can cross-platform with you from their PC even without a VR headset? If you're a player who wants to try amazing experiences, then there's no better than to get VRChat (Free) and hop in right now.
How to Dive into the Metaverse with the Oculus Quest 2?
Believe it or not but the hard part is already over. Since you have already downloaded your preferred app, all we need to do is put on the Quest 2 and open it up. Simply follow the steps below to access the Metaverse on your Oculus Quest 2.
1. Power and put on your Oculus Quest 2 headset.
2. With either controller, select the App Drawer from the Universal Menu. Your list of installed apps will open up.
3. Simply select the one you installed by pressing the trigger on either controller.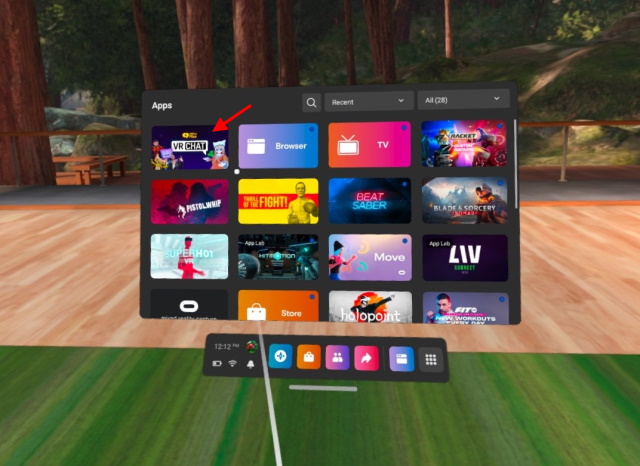 4. Wait for the app/game to launch and have fun.
And that's it! Whatever Metaverse app you launched into the Quest 2 will open up and you can go ahead and get immersed in it. If you want the intended Metaverse experience, you can start with Horizon Worlds and then move to Avenues to retain the same avatar. However, I would steer you towards VRChat since it's my personal favorite. Just make sure to not spend too much in the Metaverse lest you get lost in it forever.
Use Your Oculus Quest 2 to Explore the Metaverse
I hope you have immense fun being in the Metaverse with your Quest 2. Does it seem a bit too much to take in right now? Why not play Steam games on the Quest 2 before you move onto the Metaverse. So how's your experience in the Metaverse? Let us know in the comments below.
---
Load More