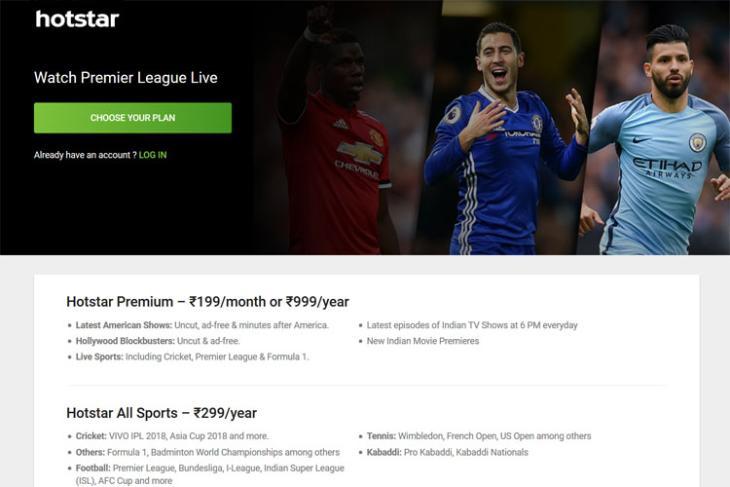 Star India's online entertainment platform Hotstar has launched a new 'All Sports' subscription plan at just Rs. 299 annually. The platform currently has two subscription plans – Rs. 199 per month and Rs. 999 per year – which allows users to watch premium content including live sports. The new plan, however, includes just sports and is targeted at people who enjoy watching live cricket, football, tennis, Formula 1, etc.
The new All Sports subscription plan has been introduced just ahead of the upcoming IPL 2018 which is bound to attract a number of cricket fans. According to the website, the new All Sports plan includes:
Cricket: VIVO IPL 2018, Asia Cup 2018 and more
Tennis: Wimbledon, French Open, US Open among others
Football: Premier League, Bundesliga, I-League, Indian Super League, AFC Cup and more
Kabaddi: Pro Kabaddi, Kabaddi Nationals
Others: Formula 1, Badminton World Championship among others
However, the new All Sports package doesn't include this year's big-ticket item – the 2018 FIFA World Cup – as its broadcasting rights are with Sony Pictures Network India, which might be a disappointment for football lovers. It's worth noting that Hotstar doesn't support high-resolution 4K or 1080p streaming for live sports, and is limited to 720p HD at a low bitrate which isn't the most optimal viewing experience for sports, especially on the big screen. However, it did roll out 1080p entertainment content so live sports could be in for the same treatment soon, which would make the Rs 299 package a good deal for sports fans.
What's your take on the new All Sports plan? Would you consider subscribing or would you rather stick to your TV set for now? Let us know in the comments section below.