Looking for an all-encompassing AI writing tool for college or office work? Well, look no further, as HIX.AI is an AI writing copilot that can help you generate content and achieve tasks at 10x speed. From more than 120 AI writing tools and support for over 50 languages, you have an ensemble of powerful features at your disposal. HIX.AI also offers a Chrome extension to get things done on the web without losing out on time. The HIX.AI platform is chock full of powerful tools, such as a Long-form AI Writer, HIX Editor, HIX Chat, HIX Email Writer, and more. So let's not waste any more time and learn more about the HIX.AI writing tool.
1. All-in-one Chrome Extension
HIX.AI is an all-in-one AI writing copilot so the company has developed a ubiquitous Chrome extension that can be used anywhere on the web. No matter if you are using a word processor like Google Docs, social media platforms like Twitter, Instagram, and Facebook, email services like Gmail, Outlook, etc., and even search engines such as Google, Yahoo Search, etc., you can use HIX.AI's service anywhere you want.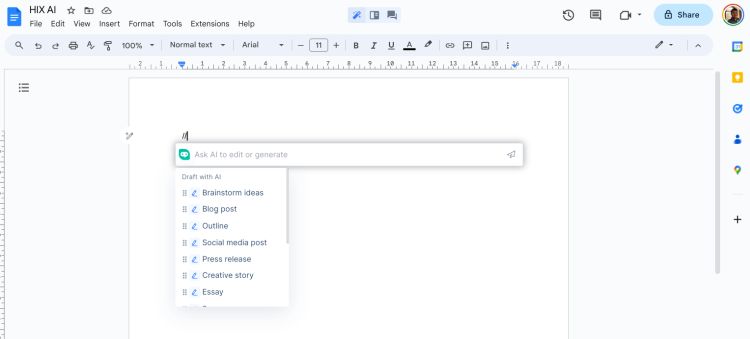 Basically, wherever you have a text field on the internet, you can activate HIX.AI's Chrome extension by typing "//" in the text field. How awesome is that? I tried it on Google Docs and HIX.AI's Chrome extension was readily available to generate text content in various styles and modes. It works similarly to Notion AI with the ability to brainstorm ideas, create blog posts, press releases, and more.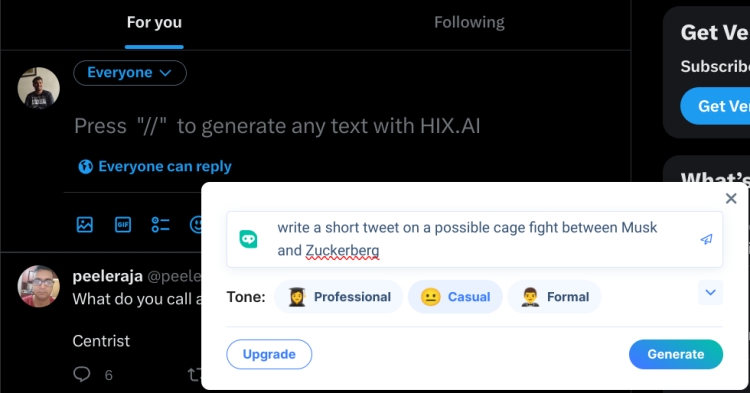 On social media websites, the HIX.AI copilot can even add emojis to make your social media posts stand out from the crowd. You can also compose, summarize and reply to emails within Gmail, Outlook, and Yahoo Mail. And if you are on a page with dense information, you can select the paragraph and ask the tool to summarize it, check grammar, and rewrite the text.
The best part is that the HIX.AI Chrome extension houses a chat interface and a content generation tab, which you can quickly access using a hotkey. You can also use the "Ctrl + P" shortcut to quickly open the Chat sidebar in any tab, and it works like the Bing AI sidebar. It can help you while researching topics and getting quick information on any subject. I also like the fact that this Chrome extension adds an AI-powered answer to Google searches. Overall, the HIX.AI Chrome extension is a powerful tool that can help you achieve many tasks on the web.
2. Feature-Packed AI Writer
It's not without reason that HIX.AI is referred to as an all-in-one AI writing copilot. The AI Writer has more than 120 AI writing tools and supports close to 50 languages, which is astonishing. From content rewriter to summarizer, proofreader, grammar checker, sentence expander, video script writer, etc., you have all the necessary tools at your disposal. Have you hit writer's block? Well, no worries. AI Writer can draft plagiarism-free content seamlessly for blog posts, Facebook posts, Twitter ad content, LinkedIn text, and much more.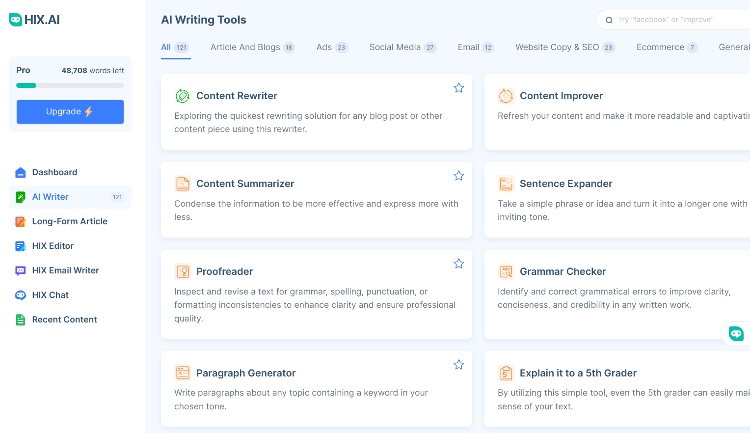 I tried the Content Rewriter tool with a sample text, and it surprised me with the response. It rephrased the sentences and made them quite professional to read without leaving out any context. I also tested Grammar Checker, Content Summarizer, and Proofreader, and all of the tools did a remarkable job of improving the text. Basically, with all the AI writer tools, you can boost your productivity by 10x and complete a task within minutes, saving you both time and energy for other creative tasks.
3. Long-Form AI Writer
HIX.AI also offers a Long-Form AI Article Writer tool that allows you to create a complete blog post in a fraction of the time. And all of this is done keeping all your SEO guidelines in mind. I simply added a topic and fed some keywords and HIX.AI was able to produce a complete article with SEO-friendly content. The best part is that HIX.AI ensures that the produced content is plagiarism-free, so the chances of Google penalties are out of the question.
You can generate many types of Long-Form AI content, including Amazon product round-ups, Amazon product reviews, how-to guides, news articles, comparison posts, and well-researched articles on any subject. For news, it uses real-time insights from Google News and draws the latest information from the internet. Simply put, if you are looking for an all-in-one AI writing copilot that features a Long-Form AI writing tool, well, HIX.AI will not disappoint you.
4. Versatile HIX Editor
As an AI writing copilot, HIX.AI has a built-in HIX Editor that lets you create and edit content in its own word processor. It has a simple word processor interface with support for 1-click export to Google Docs and WordPress as well. You can generate AI-powered content or edit your already-written text in a clean interface. You simply have to type "//" and the HIX.AI tool will appear right there. Now, you can create an outline, ask AI to generate content, draft a blog post, create a to-do list, press release, social media post, and more.
And if you want to edit a text, select it and ask AI to rewrite, summarize, translate, check grammar, proofread, and make the paragraph shorter or longer. I asked the AI to translate the selected text to another language and it did a fantastic job with near-perfect accuracy. This can help you repurpose content in many different languages.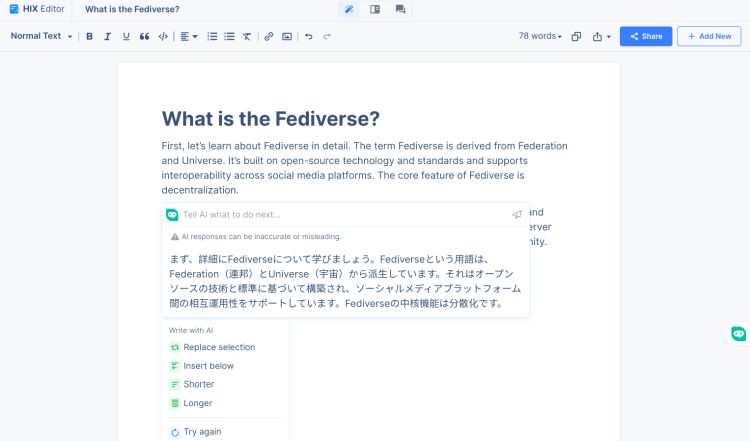 By the way, HIX Editor has three different modes: AI mode to edit and generate content, Power mode which lets you access 120+ AI writing tools in the editor itself, and Chat mode where you can have a conversation with HIX Chat. Overall, the HIX Editor is a simple yet versatile word processor and has tons of features for seamless content editing.
5. Get Answers From HIX Chat
To make HIX.AI an all-in-one AI writing copilot, the company has integrated a ChatGPT-like HIX Chat into the platform. You can access HIX Chat via the Chrome extension or through the web app. If you have installed the extension, you can press "Ctrl + P" to open HIX Chat in any tab. You can ask questions on any topic and it will respond quickly with a well-crafted answer.
The web app also has the option to chat with both GPT-4 and 3.5 models right inside HIX.AI. The chatbots remember your chat history and you can access them whenever you want. In my experience, HIX Chat's performance was very quick without any glitches. Having said that, some key features have not been integrated yet. HIX.AI says that features like chat with pdf, webpage summarizer, internet access, and YouTube summarizer are coming very soon to its platform.
6. HIX Email Writer
As mentioned above, you can use the all-in-one AI writing copilot to write well-crafted emails as well. The HIX.AI Chrome extension allows you to reply to emails right inside the compose window of the email provider, be it Gmail, Outlook, or Yahoo Mail. Further, you can also access HIX Email Writer inside the web app to compose and reply to emails.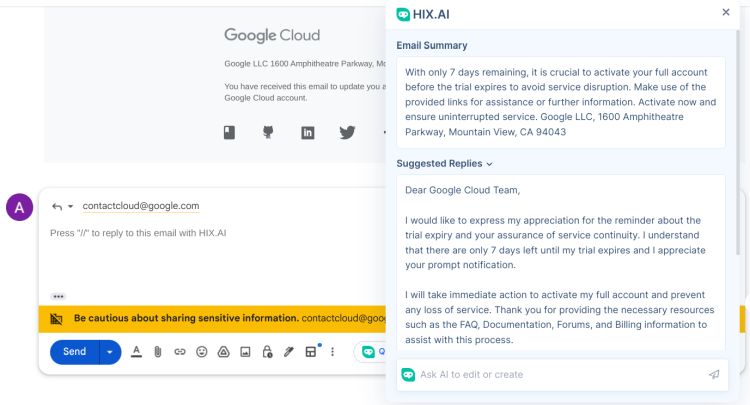 The highlight feature of this tool is that HIX.AI offers more than 20 ready-to-use email templates in 13 different conversation tones, from professional to casual. It can summarize long threads of emails and you can reply 10x faster without having to dwell into the whole conversation.
HIX.AI: Plans and Pricing
With such a large portfolio of products, HIX.AI offers most of its features for free. Under the free plan, you get access to over 120 AI writing tools in 30+ languages. In addition, you also get a blog post wizard and unlimited projects. However, you can only generate 3000 words per month under the free tier.
I would strongly recommend the Basic plan which has a 33% discount and it costs $19.99 per month (billed annually). It allows you to process 300,000 words per month and lets you access all features with GPT-4 (10,000 words) and GPT-3.5 support.
Next, the Pro plan costs $39.99 per month and it can process 600,000 words per month on the GPT-3.5 model and 20,000 words on the GPT-4 model. with no restriction on any features. Finally, if you have a large team, you can get the Ultimate plan which costs $99.99 per month. It offers unlimited word processing on the GPT-3.5 model and 50,000 words on the GPT-4 model.
---
Load More