Choosing the right video editing software can often prove to be a hassle, especially considering the wide range of options out there. Even if you have the budget to go for the most feature-packed industry-leading video editing tools in the market, the interface and editing tools can get really intimidating. Also, they have quite a steep learning curve. Well, not anymore. Enter HitPaw Video Editor, an easy-to-use video editor with a friendly user interface. It packs all the tools you need to kickstart your YouTube or Instagram Reels journey.
HitPaw Video Editor Key Features
HitPaw video editor is your perfect video editing companion whether you are a creative professional or someone who wants to put together a bunch of clips as a memorable montage. It offers a variety of useful features, including a robust audio library, text modes, stickers, filters, and more. You have the option to export 4K videos at 60fps with this editor. As far as availability is concerned, it is currently available only for Windows. A Mac version of the software is expected in the future. Let's take a look at all the highlight features of the HitPaw video editor:
Basic Editing Tools and Timeline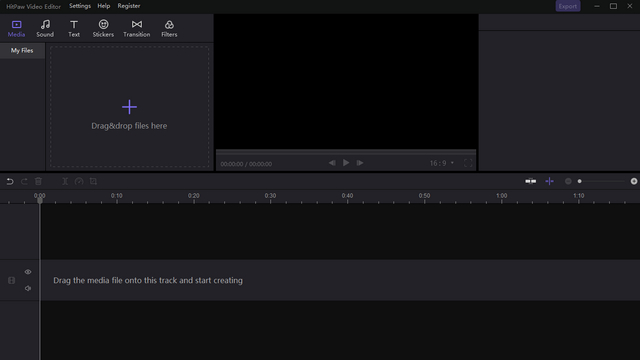 Starting with the basics, the HitPaw video editor has all the tools you will ever need for basic video editing. With HitPaw, you can rotate and zoom your video, change video speed, extract and use only audio from a video, and more. You also have the option to split, merge, crop, adjust, or resize the video based on where you are planning to share it. Sounds like a helpful feature for TikTokers who want to edit and output a vertical video.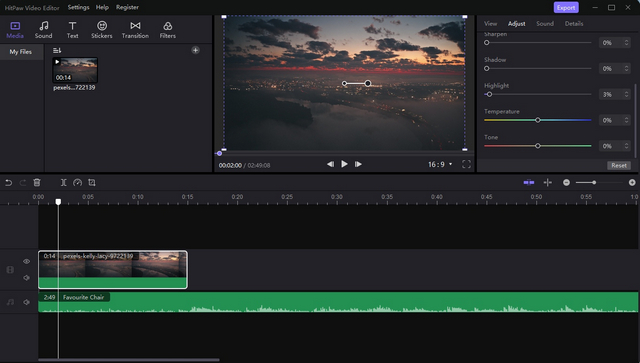 To get started, all you have to do is drag and drop video or image files to the HitPaw editor. You can also choose to click the '+' icon to pick a video from the Windows file picker. Once you have done that, drag videos and drop the video files to the timeline for editing them. After selecting the clip, you can use the panel on the top right to adjust the brightness, contrast, saturation, sharpness, shadows, highlights, and more.
Moreover, in my brief testing, the timeline was really intuitive and easy to navigate, even after adding multiple video clips and layers to my project. That's a good thing, as you will be spending most of your hours editing the video (trimming, splitting, and adjusting the videos) on the timeline. You can easily zoom in and out of the timeline, which offers precise control, for the video edit. However, that's not all, though. The timeline in HitPaw Video Editor supports other cool features as well. So let's take a look at them next.
Group Tracks to Enhance Editing Efficiency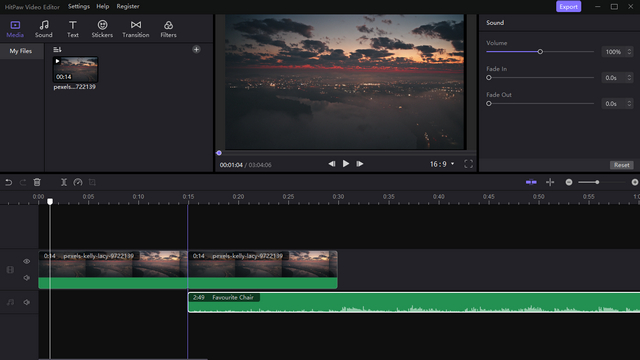 One convenient aspect of HitPaw video editor is its "Connect" feature that groups various elements you add to the timeline. This way, you can easily reposition videos in the timeline without interrupting the flow and maintaining the original placements of other edits you have made. To use this feature, you simply need to click the Connect icon and align the video with other elements accordingly. Yeah, it's as easy as it sounds.
Unlimited Effects and Elements
HitPaw Video Editor comes with a plethora of transition effects to choose from. To make it easier for you to pick one, the company has categorized effects into Basic, Effect, Slideshow, Blurry, and 3D. With these transition effects, you can effortlessly blend the scenes or switch between video chapters without putting off your viewers.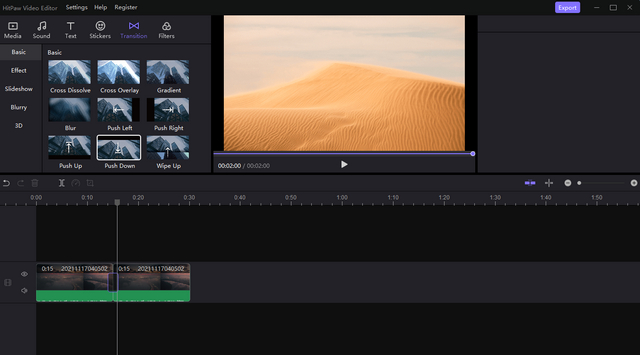 Another attractive feature of the HitPaw editor is stickers. Thanks to the built-in sticker library, you can pick from a wide range of stickers and add them to your videos with a click. Much like transitions, stickers are categorized for your convenience. I like the fact that it even has meme-inspired stickers like the cat from the 'woman yelling at cat' meme, as you can see below:
You also get plenty of audio effects in HitPaw Video Editor, so you can pick the right background music for your next viral video. And if you already have some music in mind or have downloaded a track to use in your edit, you can easily import it into HitPaw Video editor. You can make use of the ability to use your own tunes to make your video stand out from the crowd and attract new viewers.
Like videos, you can drag and drop audio files to the timeline to use them as the background music in your videos. You also have the option to add fade-in or fade-out effects to the audio for an immersive experience.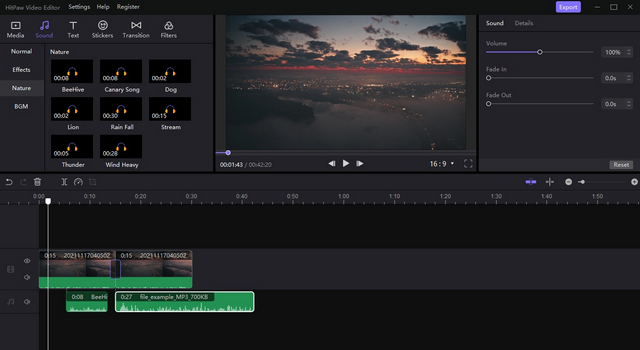 While we are at it, let's not forget filters because they have the power to completely change the feel of your video. Whether you are going for a vibrant look or a grainy aesthetic, HitPaw has you covered.
There are multiple filters across Natural, Clear, Scenery, Vintage, Food, Painting, Film, Punk categories, and even filters inspired by Kodak cameras. And as you might have guessed, you simply need to drag and drop the filter over a video on the timeline to control when the filter should kick in. You can choose to use multiple filters if you'd like to visually differentiate between scenes in your video.
4K 60FPS Video Exports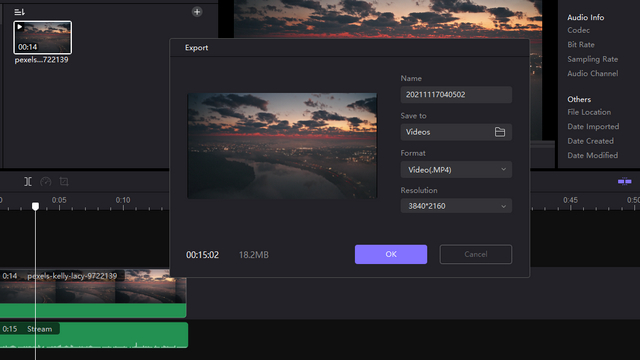 As a creator, you might be looking for the best possible video output quality for your content. After all, it's 2021 and the option to export 4K videos will make your content future-proof, especially when viewed on the best 4K TVs.
On this front, you don't have to worry as HitPaw Video Editor is capable of exporting video at up to 4K @ 60 FPS (frames per second). You can choose your preferred video resolution from the video export screen. The export times are also on par with other leading video editing software for Windows.
Who Should Choose HitPaw Video Editor?
Now that you have an idea of what HitPaw Video Editor has to offer, you might be wondering if it is right for you. As you can see, HitPaw covers all the fundamentals of video editing and goes beyond in some aspects. With 4K 60fps exports, myriad filters, stickers, and effects, the HitPaw video editor has a lot going for it. Whether you are looking to level up your content creation flow or in the pursuit of the best lightweight editor capable of handling everything you throw at it, HitPaw Video Editor won't let you down.
HitPaw Video Editor is best suited for those looking to get started in the video editing process. You can give the HitPaw Video Editor a shot if you are a budding YouTuber, freelancer, or even edit videos for your brand's social media platforms. Thanks to its beginner-friendly interface, you will have no trouble getting started. In case you need help to understand the editor better, the company offers video tutorials and guides on its website to help you learn the basics.
What is the Price of HitPaw Video Editor?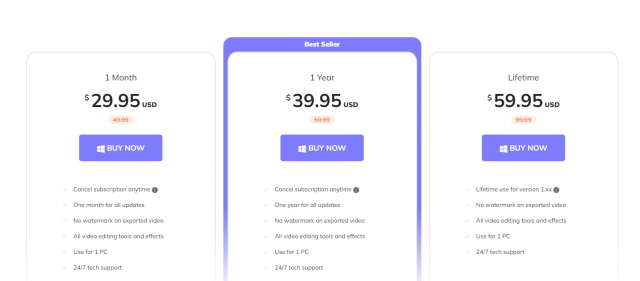 HitPaw Video Editor is available at $29.95 as a monthly subscription. You can also opt for the yearly subscription that costs $39.95 or the lifetime subscription priced at $59.95. This software is pretty reasonable compared to other offerings available in the market.
What's more, HitPaw is offering up to 70% off on the Black Friday promotion from November 12 to December 7. During this period, you can purchase the monthly subscription of the video editor at just $8.98 per month. You can use the free trial version to go hands-on with HitPaw editor before making your purchase decision. The company even offers 30-day money-back guarantee in case the editor does not fit into your workflow.
Pros:
Friendly user interface
Stickers, audio effects, and filters
Helpful video tutorials and guides
Affordable and powerful video editor
30-day money-back guarantee
Cons:
Watermark on free version
Limited text format modes
Edit 4K Videos with HitPaw Video Editor
HitPaw Video Editor is a beginner-friendly video editor that also has ample features to help you edit professional-looking videos without breaking a sweat. Combined with the ongoing Black Friday promotion, there's no reason to miss out on this attractive video editing tool to level up your content creation. Try out HitPaw video editor from the link below, and let us know your experience in the comments.
Check out HitPaw Video Editor (Free, subscription starts at $29.95/ month)