How do you find impressive images to use in your blog posts? How do you find stock images to make your site look a bit more professional? We hope you will not be sticking onto the Google Image Search method that is dangerous in a legal point of view. Also, it will be a tiresome task to find free-to-use images from Google Image search, as you would have to apply filters.
In that sense, stock media websites are the best option to get images from, but they are indeed expensive, aren't they? Today, we have a better suggestion for you if you're looking for a reliable, subscription-based and productive platform to download stock images and graphic from — Graphicstock. In this post, we'll have a brief overview of the service, especially in light of our experience with the service. And, we will start with an introduction to Graphicstock.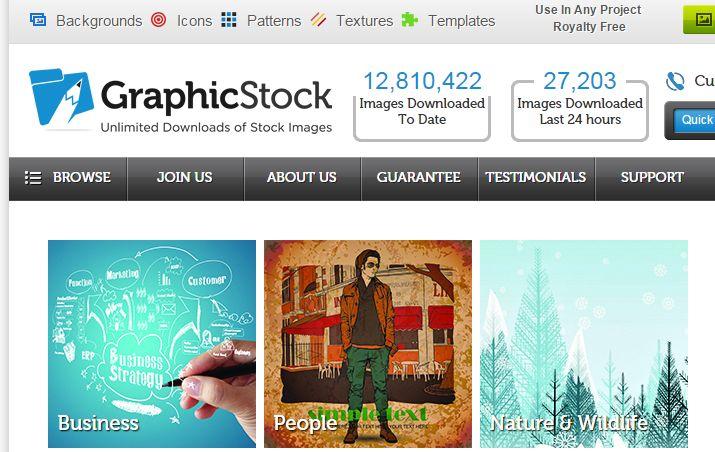 Graphicstock — In Simple Words
As far as a professional is concerned, Graphicstock is a platform to download images that he or she might need when it comes to creating a graphic project, developing a website, publishing a blog post or setting up a poster. If you have registered an account in the site, you will be able to get the best graphics from Graphicstock.com, given that you are familiar with the task of using filters wisely and thus choosing the most appropriate one. Types of content you will be able to download from Graphicstock include background images for various purposes, icons, patterns, textures and a lot of templates that are quite useful when it comes to designing. Plus, there is a fully-fledged section of stock media images with the touch of reality in it. In light of all these, we can say that Graphicstock has everything you'd expect from a stock media website.
Plans & Pricing
This is the section where you would really have to praise Graphicstock for its usefulness and productivity! You might have seen a number of stock media websites that offer credit-based purchase of stock images as well as other plans, which are too expensive for a mediocre professional to afford! Also, when it comes to the case of credit-based plans, each stock image costs nearly $1, which makes most professionals dumbstruck, especially when they need a number of images to move on.
The case of Graphicstock, however, is different! Having two different plans — monthly and yearly payment based —, Graphicstock lets users have access to every bit of graphic content that is published in the website. So, once you've a paid account in Graphicstock website, you have the right to get each and every graphic or image that is in the site.
In addition to existing content, you can have access to newly-added content as well. Monthly plan of Graphicstock can be grabbed by paying $49 per month whereas the yearly plans needs you to pay around $588. When compared to an average amount that other stock media sites charge, plans and pricing section of Graphicstock is impressive enough to attract majority of professionals who need hundreds or thousands of design elements each month.
Huge Library — Regularly Updated
Having more than 100,000 design elements and stock photographs in the list, library of Graphicstock is huge enough for almost every professional out there! So, when we take the unlimited download model into the account, the site's library becomes more productive. Also, as we said, different kinds of graphic elements are available in the library of Graphicstock, including textures, patterns, background images, icon sets and pre-built templates that will be useful when you want to design something for your work with your non-expert knowledge on designing.
Altogether, as we have seen, Graphicstock library is impressive enough to satisfy almost everyone.
Royalty Free Images — a Blessing
One of the brilliant features we loved in Graphicstock is the royalty-free provision of images and graphics, which has a lot of significance when it comes to using the images and graphics you have brought from Graphicstock by means of the unlimited download subscription plan. For instance, suppose you have downloaded images from Graphicstock and you did not renew the monthly subscription plan from then; even so, you have all the rights to use the images in commercial or personal purposes.
In addition to this, Graphicstock does not have that many restrictions when it comes to usage of images you have! In the case of other media stock sites, however, number of terms and conditions will be huge than number of graphics their library has. Altogether, the usage rights section of Graphicstock is powerful enough to let you get maximum out of images you purchase using the unlimited purchase plan.
UI & Filters
In comparison with other stock media sites, Graphicstock has a far more intuitive user interface that lets users find an impressive stock image or graphic or design element in a few seconds. So, we would give five stars for the UI of the site, especially considering presence of sense-making filters.
Our Verdict
Graphicstock is just superb — it's what we have to say! Particularly, we loved its user interface and less-restrictions-based usage rights. So, what are you waiting for?
Just go to the site of Graphicstock and start your free trial. We are quite sure that you would love the tool and upgrade to the paid version very soon.