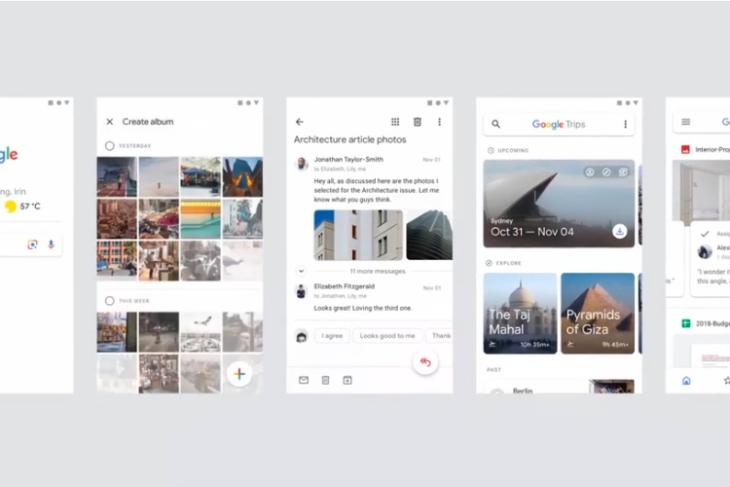 In line with the new Material Theme guidelines announced at Google I/O earlier this year, Google has steadily been redesigning each of its apps. We have already seen an overhaul for Gmail, Chrome, and Google Drive on the web, but the tech giant has given us a sneak peek at the upcoming all-white design of its Android apps.
This design reel has been made by Adam Grabowski and Nicolo Bianchino, who collaborate with Google on video projects. Their latest design reel shows off the upcoming redesign of most of the company's apps such as Google Photos, Google Maps, and Gmail among others.
This project is no different from the duo's past work with Google, as the description of this concept video says they "worked together with the Google Material Design team to create a piece (video) showcasing their updated design system for their internal teams."
The video, which is now private and no longer available to the public, gives us a peek at how Google's Material Theme design is evolving. It features splashy animations that turn old icons and designs into a cleaner, rounded, and all-white aesthetic that Google now seems to be gunning for.
The revamped apps are showcased towards the end of the video, giving us a hint of how Google's newly designed apps could turn out to be. Ars Technica has managed to capture screenshots for most of Google's Android apps, giving us a better idea of the comparison between the current and expected designs.
As you can see in the screenshots above, the Gmail Android app has lost its signature red hue and picked design cues from its web app. The compose button has been shifted to the center and now dons a multi-colored 'plus' sign. The Google Maps Android app has already started rolling out the new design and it looks quite impressive.
If you really want to check out the demo design video, it was captured by the folks over at WinFuture before it was taken down. So, you can head to this link to see how 'white' all of Google's Android apps would look like in the coming weeks.