Google Now Launcher was one of the most widely used Android launchers. The launcher comes in a very stock Android look, and one of its best features, was the ability to open Google Now with just a simple right swipe. Most people who used Google Now Launcher, loved it for its simplicity, clean look, and ease of navigation. However, the widely loved Google Now Launcher has been discontinued and Google is now opting for the new Pixel Launcher. So, if you've been using Google Now Launcher, you should start looking for alternative launchers. Here are the 7 best Google Now Launcher alternatives you can try:
1. Nova Launcher
Nova Launcher is quite possibly the most powerful launcher application you can get. The app comes packed with a number of powerful settings that can be tweaked to make your home screen look exactly the way you want. For those who don't really bother much about customisation, Nova Launcher comes with some really great default settings, that will work for most people.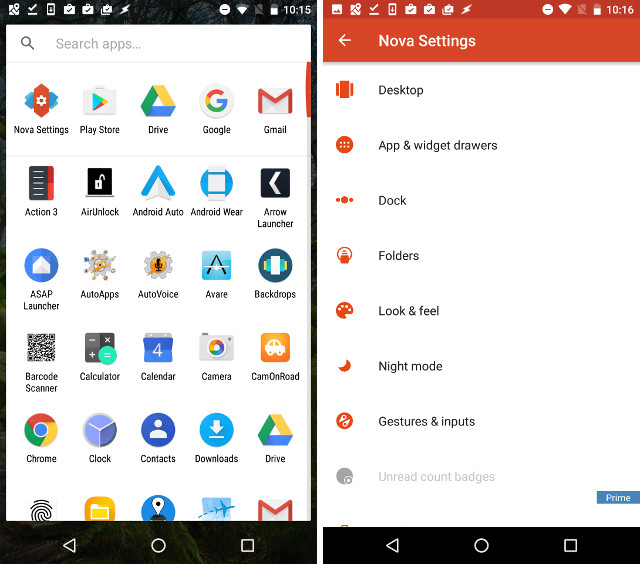 Just like Google Now Launcher, Nova also organises all the apps in a vertically scrolling, alphabetically arranged app drawer. While the "swipe right to access Google Now" feature is not present in Nova Launcher by default, you can enable it through a separate app. You can check out our detailed article on the same here. Also, you can easily set up custom gestures. Using gestures, however, requires the prime version of Nova, but if you like customisation, Nova Prime is completely worth it. Plus, he launcher offers a plethora of powerful features, including features from Android Oreo, like Notification Dots, Adaptive Icons, App Shortcuts etc. that you will definitely enjoy.
Download (Free, Prime for $4.99)
2. Pixel Launcher
The Pixel Launcher is the launcher that is used on the new Pixel, and Pixel XL devices. It comes with a new design, and in my opinion, looks better than the Google Now Launcher. The Pixel launcher has all the trademarks of being designed by Google: it looks good, performs smoothly, and well, it does not pull itself down by trying too hard.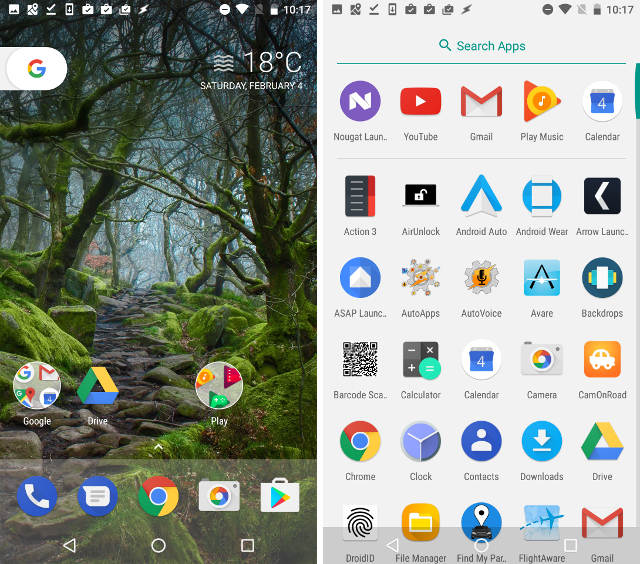 The Settings page for the Pixel Launcher isn't anything complicated, either. You can enable/disable "App suggestions", you can enable/disable "home screen rotation". There's also the option to enable, or disable "swipe left to go to Google App" gesture. This is the same gesture that was available in the Google Now Launcher. However, the feature did not work for me, on a Nexus 5X running Android 7.1.1 Nougat, which is why Pixel Launcher is not on the first place in this list. Also, Pixel Launcher is not available for non-Pixel devices from the Play Store, so you can get it on your device by installing its APK file.
Download (Free)
3. Lawnchair Launcher
Lawnchair Launcher is a very new launcher that as the developers claim, brings the Pixel Launcher features to the masses, which automatically makes it a great Google Now Launcher alternative. First up, it brings the Pixel Launcher look and the various Android Oreo features like Notification Dots, App Shortcuts, Adaptive Icons, Notification Previews, etc. Plus, you get the Google Now page on the home screen, just like Google Now Launcher. However, you will have to download the Lawnfeed add-on to enable this feature.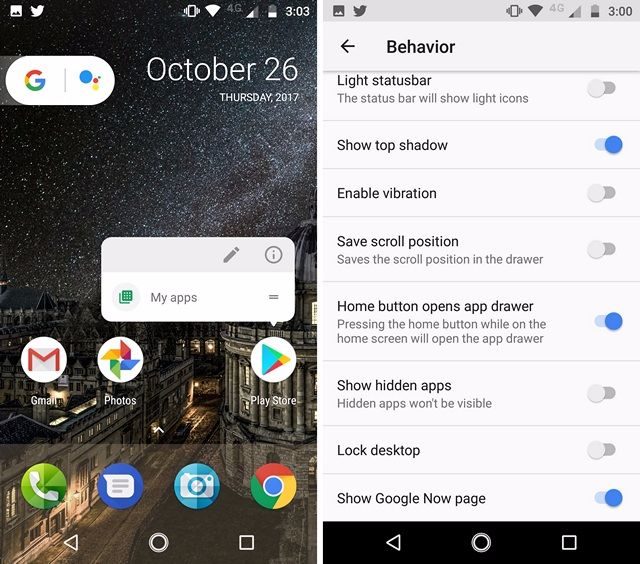 Apart from that, the launcher is highly customizable and you can customize the home screen, dock and app drawer. It also includes support for icon packs, themes and has backup abilities. I really like the Lawnchair Launcher, and I think you should try it out.
Download (Free)
4. ASAP Launcher
Another good alternative for the Google Now Launcher, is this neat little app called ASAP Launcher. ASAP Launcher does a lot of things differently from the Google Now Launcher, but when it comes to simplicity, ASAP Launcher is right there with Google's offering.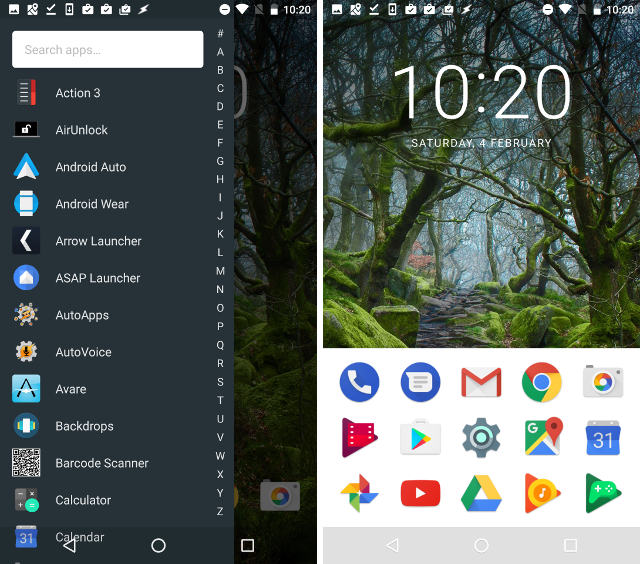 Just like Google Now Launcher, ASAP Launcher also organises your entire app drawer alphabetically, which makes it easier to locate an app. However, there are two app drawers in ASAP Launcher. If you swipe up on the dock, the launcher displays a mini app drawer, with apps you've recently used. If you want to access the full list of apps, you will have to swipe inwards from the left edge of the screen. If you have an absurdly large number of apps on your phone, you can simply use the search bar to locate the one you want. ASAP Launcher is very stable, and didn't hog resources, so I'd definitely recommend it as a worthy alternative to the Google Now Launcher.
Download (Free, with in-app purchases)
5. Action Launcher 3
Action Launcher 3 is a cool Google Now Launcher alternative for your Android phone. The launcher comes with a simple, easy to use interface, and while it may take some time completely understand the contextual menus that pop up, the experience itself is very nice. Just like ASAP Launcher, the app drawer in Action Launcher 3 also slides in from the left edge of the screen. The apps are arranged in alphabetical order by default, which is exactly how Google Now Launcher used to arrange them. However, you can change this behaviour from Action Launcher's settings.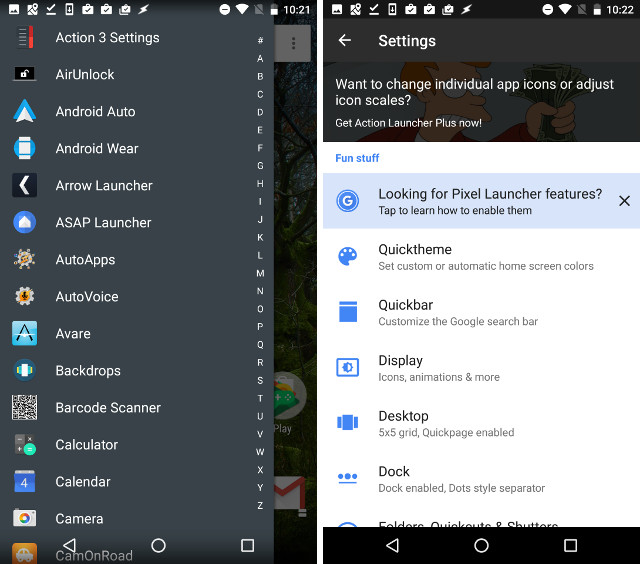 If you buy the "Plus" version of the launcher, you will also get access to additional features, including some features that can make your launcher emulate the properties of the Pixel Launcher. Even though you can't swipe right on the home screen to get to Google Now, you can swipe left from the edge of the screen. This will bring up the Google search box which will take you to Google Now when you tap on it. Action Launcher 3 is definitely a good alternative for the Google Now Launcher.
Download (Free, with in-app purchases)
6. Arrow Launcher
Arrow Launcher is an Android launcher developed by Microsoft, and it looks rather good. Although, it's nowhere near launchers like the Google Now Launcher, and the Pixel Launcher, in terms of a clean design, it still incorporates a clean UI. Microsoft chose a distinctly iOS-like flavour for their launcher. It even has a spotlight-search like feature, which gets enabled by sliding down on the home screen. However, that's not something I dislike. In fact, it comes in handy.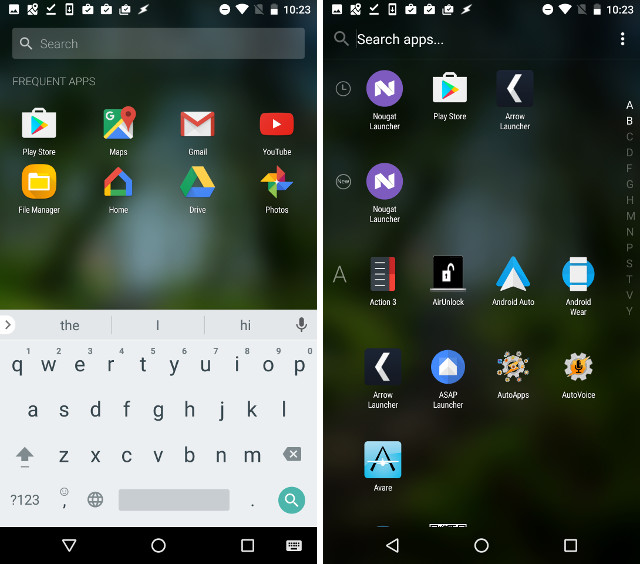 The app drawer is organised alphabetically, just like Google Now Launcher, but the distinction is much clearer in Arrow Launcher. Arrow uses big-letters on the edge of the screen to distinguish between apps starting with different letters, whereas Google Now Launcher didn't do anything of the sort. I'd be lying if I said that I didn't like Arrow's design. I really think it's we'll designed, and it works really well, too.
Download (Free)
7. GO Launcher
Yet another Google Now Launcher alternative you can consider – GO Launcher is probably the heaviest launcher in this list. What with all the pre-customisation, and the heavily loaded home screens, GO Launcher is by no means light. However, the launcher does come with quite a bit of customisability, which means that you can disable all the unnecessary visual effects and make it look quite similar to the Google Now Launcher.
Unlike Google Now Launcher, GO Launcher does not support swiping right from the main home screen, to go into the Google App. However, it supports quite a number of gestures. Which is why I set a double tap to launch the Google app, instead. Basically, if you put in a bit of time with GO Launcher, and customise it to your liking, it can be a decent alternative to the Google Now Launcher.
Download (Free, with in-app purchases)
SEE ALSO: How to Control Your Android Phone from Google Home
Use these Google Now Launcher Alternatives on Your Android Device
It's unfortunate that Google has discontinued the Google Now Launcher. However, it may be a sign of better things to come. The Pixel Launcher is not yet available for every Android phone, but that maybe on Google's roadmap, which would definitely justify discontinuing the Google Now Launcher. Whatever the case may be, for now, you can use these Google Now Alternatives on your Android devices. As always, we would like to know your thoughts on the Google Now Launcher, and Google's decision to discontinue it. Also, if you know of any other Google Now Launcher alternatives that you think deserve to be on this list, let us know about them in the comments section below.