People might prefer Apple because of its seamless integration across its ecosystem, however, I personally find Google to be a better choice when it comes to integration across all its services. The only reason I have not completely switched to Google is because of the lack a notebook which I can use as my daily driver. Yes, the Pixelbook comes close, but for my usage, it's still not enough to make me switch. That said, when it comes to cloud services, I will take Google over Apple any day of the year. I really love how different services of Google can interact with each other, without me having to do much.
Just today, a Reddit user discovered that you can directly import your Google Lens results into the Google Keep app. Now, that might seem like a small thing, but it will come in really handy once Google Lens becomes fully operational. Think about it, it will be so easy to just point your smartphone's camera at something, retrieve its information, and then save that information with just one tap. You won't have to take a screenshot or open another app to manually save the information. You can just tap on the import button and all the relevant information will be saved for you.
From there, users can add reminders inside the Google Keep app, if the information is something which must be acted upon within a certain time frame. So, once Google Lens is fully working, retrieving information, saving that information, and then adding a reminder for that information will be done in a matter of few taps. Not only that, if you don't want to save the information permanently to keep but just want to remember it for a certain time, Google is giving you an option even for that. You can tap on the "Remember this" button instead of the import button and the Assistant will remember that information for you. When you want to retrieve the information, all you need to do is, launch the Assistant and say, "What did I ask you to remember" and the Assistant will show you the relevant information.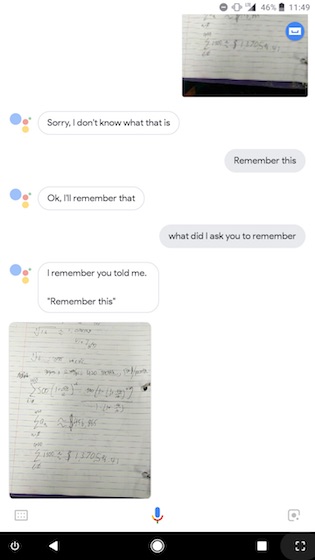 The seamless integration between Google Lens, Google Keep, and Google Assistant makes it really easy for users to retrieve and remember information. As I said, this is a small feature but one which will greatly enhance the user experience.
---