At the same event in California on Wednesday that saw the unveiling of the Pixel 2 and the Pixel 2 XL, Google also launched a couple of new iterations of its Home smart speaker. Dubbed Home Mini and Home Max, the two devices compliment the original Google Home rather than replace it, seeing as they're all priced at drastically different price-points. So how do these devices differ from one another and which one should you buy? Let's find out:
Google Home Mini vs Google Home Max
While both Google Home Mini and Google Home Max come with Google Assistant built-in, there are quite a few differences between the two in terms of what they have to offer. First off, from a visual point of view, the Home Mini comes with a smaller, pebble like form-factor with a flat base and a convex top. It measures just 3.86″ in diameter, 1.65″ in height and weighs 173 grams. The Home Max, on the other hand, looks like a distant cousin of Apple's ill-fated iPod Hi-Fi from 2006. As its name suggests, the Home Max is a heftier beast than either of its stablemates, measuring 13.2″ in width, 7.4″ in height and 6.0″ in depth, while weighing in at whopping 5.3 kgs. Both come with a fabric covering on top and a silicone base at the bottom, with plastic/polycarbonate casing. In terms of colors, while the former is available in chalk, charcoal and coral, the latter is being offered only in chalk and charcoal.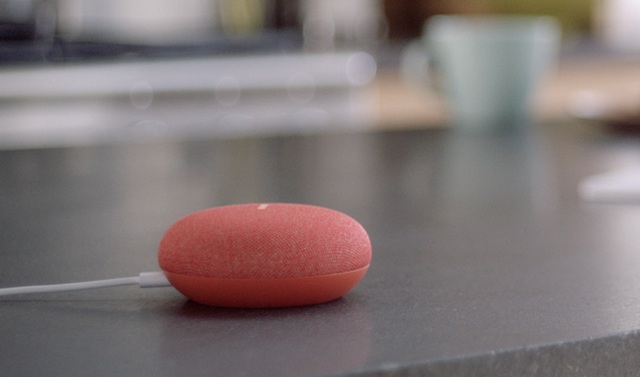 Coming to the actual 'speaker' aspect of the devices, while the smaller one is powered by 40mm drivers, the larger one has two 4.5″ (114mm) high-excursion dual voice-coil woofers and two 0.7″ (18mm) custom tweeters.
Google hasn't officially announced the exact make or model of the chip that powers either of the two devices, but the company has revealed that the Max is powered by a 1.5GHz 64-bit quad-core ARM Cortex A53 CPU.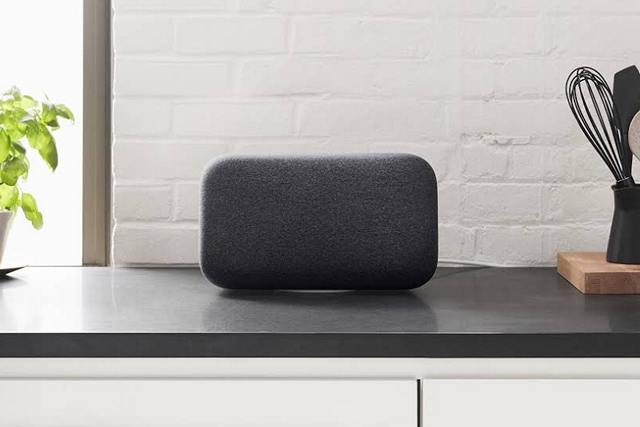 As far as connectors are concerned, the Max comes with USB Type-C and a 3.5mm AUX port, while the Mini only has a standard micro USB port, giving the 3.5mm audio port a miss. Both the Max and the Mini support devices running Android 4.3 Jelly Bean and iOS 9.1 and higher. The Mini is already up for pre-order on the Google Store and will start shipping from the 18th of this month, while the Max will only be up for purchase in December. You can see a more detailed head-to-head comparison between the Google Home Max and the Google Home Mini in our chart below.
Device
Google Home Max
Google Home Mini
Width
Height
Depth
13.2" (336.6 mm)
7.4" (190.0 mm)
6.0" (154.4 mm)
Diameter: 3.86 in (98 mm)
Height: 1.65 in (42 mm)

Weight
11.7 lbs (5300 g)
6.10 oz (173 g)
Colors
Chalk, Charcoal
Chalk, Charcoal & Coral
Materials

Acoustically transparent fabric,
polycarbonate housing & Silicone base
Recycled Plastic Housing, Fabric Top
and non-skid Silicone Base
Processor
1.5GHz 64-bit quad-core ARM Cortex A53
N / A
Sensors
Ambient Light, Orientation
N / A
Speaker

2x 4.5" (114 mm) high-excursion dual voice-coil woofers
2x 0.7" (18 mm) custom tweeters
360-degree Sound with 40mm Driver

Connectivity (Wired)

Connectivity (Wireless)
USB Type-C, 3.5mm port

Wi-Fi 802.11b/g/n/ac (2.4GHz/5Ghz), Bluetooth 4.2
Micro USB Port

Wi-Fi 802.11b/g/n/ac (2.4GHz/5Ghz), Bluetooth
Chromecast Support
Chromecast and Chromecast Audio
Chromecast and Chromecast Audio
Supported OS

Android 4.2 Jelly bean and higher
iOS 9.1 and higher
Android 4.2 Jelly bean and higher
iOS 9.1 and higher
Price
$399
$49
Google Home Mini vs Google Home Max: The New Members of The Google Home Family
While both the new iterations of Google Home have their own appeal, the Mini is more likely to be the blockbuster product for obvious reasons. Now whether it is able to give the Echo Dot any real competition remains to be seen, but Google certainly seems to be stepping on the gas as far as its hardware game is concerned with all the devices it announced this week. To me, given its affordable price-tag, the Mini seems like an obvious choice for people looking to buy their first-ever smart speaker, but what do you think about it? Do you believe that the Mini will be able to wrest some market-share from the Echo Dot? Or do you think it will cannibalize the original Google Home? Do leave your thoughts in the comment section below, because we love hearing from you.