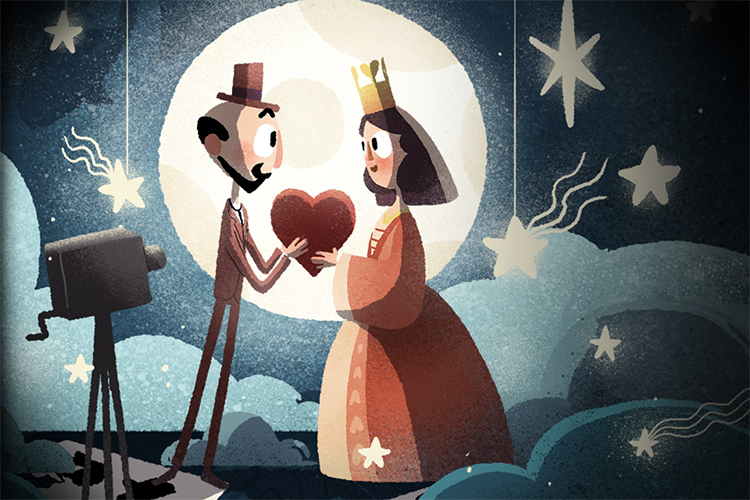 Google Doodles are now getting a newer dimension with the unveiling of the first interactive VR Doodle. The first 360-degree immersive Google Doodle celebrates the renowned French illusionist and film director Georges Méliès who was one of the early masters of camera effects and photo illusions.
Today's Google Doodle, called "Back to the Moon" celebrates the 106th anniversary of Méliès' famous silent film À la conquête du pôle (The Conquest of the Pole) and has been brought by the combined efforts of Google Arts & Culture, Google Spotlight Stories, and Cinémathèque Française.
Since the dawn of the era of motion pictures, Méliès has been honored as one of the most creative minds who engaged in using special effects and gripping narratives. Today's VR Google Doodle is a tribute to the most popular works by Méliès including 1902′ A Trip to the Moon. The two-minute long video Doodle follows the artist on a quest that encompasses beyond stars and oceans.
The VR Doodle also captures the techniques used by Méliès to amaze the world, and if you have an eye for videography, you'll easily spot techniques like double exposure, duplication, and cache illusion to make something look like it's disappearing, which is based on Méliès' vivid – and sometimes dark – imagination.
While the animations developed by Google are very engaging even in two dimensions, the amount of detail and tiny elements are best enjoyed in VR. The 360-degree experience has surprises galore and you might have to take multiple journeys to enjoy all its delights. The video experience has been designed to make it seem like viewers are watching a play in a theatre for a more realistic feel.
You can view the VR Google Doodle by watching this video on YouTube through any supported VR headset, as well as through the Google Spotlight Stories app on Android or iOS.
---