In midst of a global awakening about women's rights issues, Google is celebrating the ninety-ninth International Women's Day (IWD) today (March 8) by creating an interactive Google Doodle that is available globally. The doodle features 12 female artists from different backgrounds, and shares their stories about events and issues that impacted their lives and/or inspired them in some way. You can go over to the Google Search homepage to check out the doodle, or open the Google app on your smartphone.
The women whose life stories are being highlighted by Google as part of its latest doodle are, Anna Haifisch, Chihiro Takeuchi, Estelí Meza, Francesca Sanna, Isuri, Karabo Poppy Moletsane, Kaveri Gopalakrishnan, Laerte, Philippa Rice, Saffa Khan, Tillie Walden and Tunalaya Dunn. Google is also inviting all women across the world to share their own thoughts and ideas with the hashtag "#HerStoryOurStory".
It's officially #IWD2018 in the 🌎🌍🌏! Explore stories from women all over the globe in today's #GoogleDoodle & share yours using #HerStoryOurStory! → https://t.co/ydJboV47yJ pic.twitter.com/FBNpCPtMK8

— Google Doodles (@GoogleDoodles) March 7, 2018
Google is also making it easier to find women-led businesses on Google Maps and Google Search, by launching a new feature that will allow business to be identify as owned, led, or founded by women. The feature has to be enabled from the 'Google My Business' dashboard.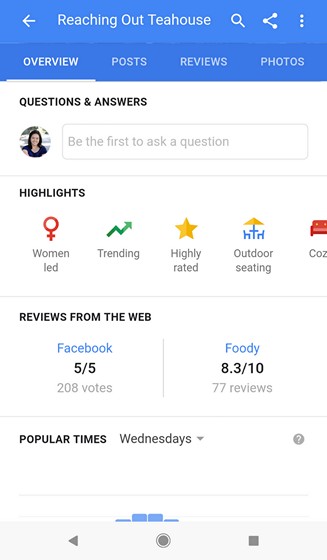 Google will also air interviews with Oprah Winfrey, Storm Reid, Gugu Mbatha-Raw and Hollywood director Ava DuVernay for a special International Women's Day edition of 'Talks at Google' event. As part of its endeavor to encourage young girls to take up coding, the company is also inviting forty teen girls from Girls Inc. to join the illustrious panelists for its 'Made with Code' event.
In case you want more, you can always look to Google Assistant for some additional inspiration. A simple "Hey Google, tell me inspiring quotes from women" will get you what you're looking for.
Meanwhile, Google also says it tied up with Newzoo Consumer Insights for a study on women gamers in the US. The study seems to bust the popular notion that video games are largely for a male audience, at least, when it comes to mobile. The study claims that half of all mobile gamers are female, and that 65 percent of all women play games on their smartphones. Interestingly, Google displays the results of the study in the form of an interactive browser-based game that you can play by clicking here.
https://www.youtube.com/watch?v=lkfpqGWzHCE
Under fire for failing to prevent systemic sexual harassment at the workplace, Google has been noticeably more proactive this year in highlighting women achievers. The company is currently using its Play Store to showcase Android apps and games created by women developers. The website is also highlighting hundreds of movies, TV series, books and games featuring female protagonists, while YouTube has tied up with gaming-focused creators to post short videos about their life stories.