India has a massive market when it comes to anything related to public transport, especially Indian railways and Google realizes that. After significant efforts in the area of providing internet connectivity to passengers at Indian railway stations, Google's new step should help Indians book tickets and track their rides better.
The Economic Times reports that Google has acquired Bengaluru-based Sigmoid Labs, the developer of the Android app called "Where is My Tain". The app is fairly popular on the Google Play Store (free) and has more than 10 million downloads and Google's backing is likely to push it further.
A key characteristic of the app is that it is available in eight different languages so that information is easily accessible to a large population of users. Another appealing aspect of the app is it runs even with limited or no internet connectivity.
Further, in cases of a weak GPS signal, it uses the cell phone tower information to determine the location of the train accurately. Besides this, the app also lets users find trains based on the origin and the destination, even when the names are only partially correct.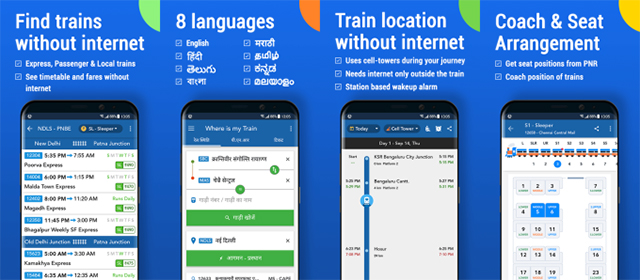 While the financial details of the deal or the company's past fund-raisers are unavailable, ET predicts that the deal would have been concluded for $30 to $40 million (~Rs 217 to Rs 299 crore). Google reportedly confirmed this but refrained from sharing the financial specifics. This acquisition is part of Google's "Next Billion Users" program.
Out of the 10 people that make the core team of the app, five are former executives of the US-based entertainment company TiVo Corporation. Google told TechCrunch that the app will "continue to build on the current offering" and thus, it does not feel like a step to shut a competitor app.
The team made the announcement by updating its website with a message reading, "We can think of no better place to help us achieve our mission, and we're excited to join Google to help bring technology and information into more people's hands."
Currently, the app is only available on Android and there is no information about an iOS version yet.