When Google announced that it's revamping the Gmail UI and bringing a ton of new features, I was excited. Well, I was especially excited for the new native offline mode in Gmail, which is now finally here. Gmail's new Offline Mode allows users to use Gmail without having any internet connection. Once you enable the Offline Mode, you can open the Chrome browser and check and read your emails and messages without any internet connection. You can even reply to emails which will be stored in the Gmail's Outbox folder and sent as soon as you connect your device to the internet. In this article, we are going to show you how you can enable the new Offline Mode in Gmail to enjoy all these features:
Enable New Offline Mode in Gmail
Note: This feature works for both GSuite and Gmail.com accounts but only works if you are using the Google Chrome browser.
Enabling the new Offline Mode in Gmail is pretty easy. Just follow the steps and you will be done in minutes:
First, make sure that you are using the new version of Gmail. If you are not, here is how you can switch to the new Gmail.
2. Once you have done that, first click on the settings cog icon and then click on "Settings".
2. Here, you will find a new Offline section. Click on it.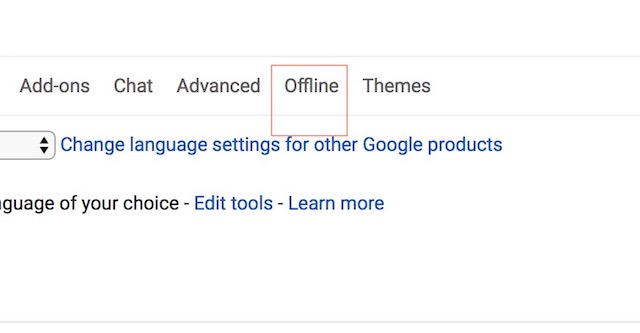 4. Now, just enable the Offline mode by clicking on the checkbox.
5. As soon as you click on the checkbox you will be presented with a few options. First is the "Sync settings" where you can select the number of days for which you want to save your emails offline. You get three options, which are 7,30, and 90 days. There's also an option to save attachments which is turned on by default. If you don't have a storage problem on your laptop, I suggest that you keep the duration to past 90 days and keep the "Download attachment" settings turned on.

6. Then you have to choose whether you want to keep your data offline when you log out of your Google account or not. If you select the second option, Google will have to re-sync all your emails every time you log in. Hence, if you have a personal laptop which no one else has access to, I would suggest that you choose the first option as it will save both data and time.
7. Lastly, once you have set your preferences, just click on the "Save Changes" button to enable the Offline Mode for your Gmail.

8. Once done, all of your emails and attachments will be downloaded and you will be able to access them offline.
SEE ALSO: How to Fix Nova Launcher on Android P Beta
Use Gmail's New Offline Mode
The new Offline Mode for Gmail is great for anyone who has to deal with a ton of emails on a daily basis and needs the ability to deal with them whenever and where ever he/she chooses to do so. I personally love this new feature as it allows me to deal with my emails while I am commuting. Do let us know your thoughts on this feature by writing in the comments section below.