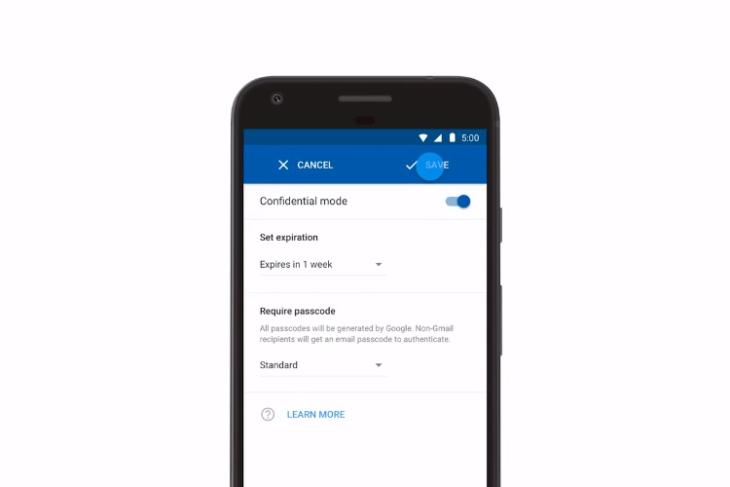 Gmail's major redesign that started rolling out earlier in April brought along a plethora of new features as well. One of them is the Confidential Mode, which allows you to send sensitive messages in a secure manner, with an expiration date and a 2FA passcode.
While it has been available on the web for a couple of months now, the Gmail Android app is getting Confidential Mode today. A major Gmail redesign is also expected to be rolled out soon.
The Confidential Mode on Android is no different from the one available on the web and you get access to all its features. You can choose a self-destruct timer for the email – after 1 day and up to 5 years – and you can also link the phone number of the recipient to their email address to enable SMS passcode authentication option.
How To Use Confidential Mode on Android
You don't need to update your app to get a taste of how the Confidential Mode works. Just follow the steps underneath:
1. Tap the 'compose' button at the bottom right to get started.
2. Tap the 'three dots' icon at the top right to see the 'Confidential Mode' settings.
3. You can set the expiration date and passcode for the email here, before returning back and sending it to the recipient.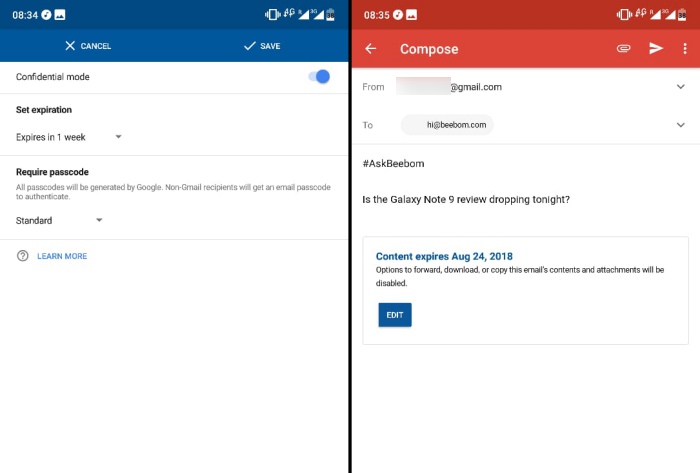 Privacy Concerns
While it is good to see Google expanding the Confidential Mode to new avenues, there are lingering privacy concerns about the feature that cannot be ignored. The EFF (Electronic Frontier Foundation) has made claims that Gmail's claims of privacy are misleading as the feature is not end-to-end encrypted (E2E) and the content can still be accessed from sent mails folder even after days. Secondly linking someone else's phone number to their email may not necessarily be with their consent.
Lastly, it could also expose the recipient to phishing attacks when spam emails can be masked as confidential and malicious sites hidden under false links. These concerns are real and Google has never really addressed them so it may not be the best idea to blindly trust confidential mode.