After much anticipation and leaks, Hoyoverse finally announced the long-anticipated Genshin Impact 4.0 update, which brings along a new region called Fontaine. The update also brings a few notable changes and improvements to the menus and character animations and simply improves the overall playability of the game. We are getting three new characters in Lyney, Lynette, and Freminet with the 4.0 update. That said, with the update right around the corner, you must be searching for the exact release details for the latest Genshin Impact 4.0 Fontaine update. We are here to help with all the details and a Fontaine countdown timer.
Genshin Impact Release Date & Time
Genshin Impact 4.0 update will release on August 15, 2023, in the US and on August 16 at 11:00 AM UTC+8 (China Time). Moreover, those who play the game on the European server will get the update on August 16, 2023 due to the difference in the time zones. Therefore, we have added a countdown to the Genshin Impact Fontaine update with the release date and times specific to different countries.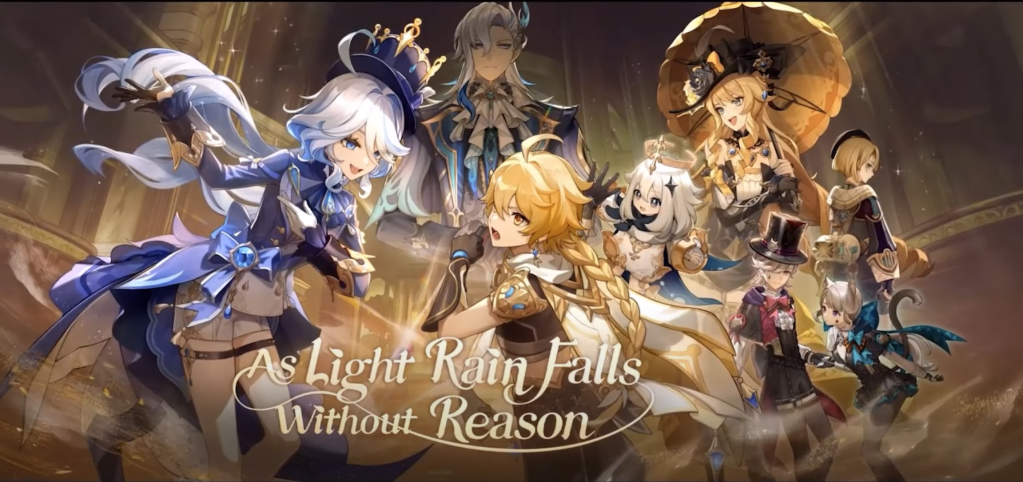 Unlike daily server resets, version releases follow a universal time, and all you need to do to contain the release time for your country is to convert 11:00 AM UTC+8 to your region's time. You do not need to hassle yourself with that though, as we have done the conversions for you. Check out when Genshin Impact's Fontaine update will be available in your region:
| Region | Release Date | Expected Release Time |
| --- | --- | --- |
| West Coast US | August 15, 2023 | 8:00 PM PST |
| Central US | August 15, 2023 | 10:00 PM CST |
| East Coast US | August 15, 2023 | 11:00 PM EST |
| UK | August 16, 2023 | 4:00 AM BST |
| Europe | August 16, 2023 | 5:00 AM CEST |
| Japan | August 16, 2023 | 12:00 PM JST |
| India | August 16, 2023 | 8:30 AM IST |
| China | August 16, 2023 | 11:00 AM CST |
| Australia | August 16, 2023 | 1:00 PM AEST |
Note: You should be aware that server maintenance will begin five hours before the stipulated update time, as confirmed by HoYoverse in an official post. That means the game will become unplayable at 6:00 AM UTC+8 for all regions.
Considering everything goes right and players don't need to wait for extra hours due to prolonged maintenance, expect Genshin Impact 4.0 to release at the expected times right after the maintenance ends. The table above should give you an idea of when you can finally start exploring the Fontaine region in Genshin Impact. Do note that the maintenance periods are not fixed and can change.
Genshin Impact 4.0 Update Countdown Timer
That said, here's a countdown timer to the upcoming Genshin Impact 4.0 Fontaine update. We suggest you bookmark this page and keep checking back to keep an eye on the 4.0 update rollout. Genshin Impact Fontaine Countdown
Genshin Impact 4.0 Update Download Size
In an official post, the developers have confirmed the estimated download size for the Genshin Impact Fontaine update on both mobile and PC platforms. An important thing you need to know is that Genshin Impact 4.0 will have a bigger download size. "In Version 4.0, some game files have been adjusted to optimize the gaming experience, meaning that this update will require a large amount of space," stated HoYoverse.
Since the update will require more storage space than usual, we suggest you clear out some storage to make room for the upcoming region, Fontaine. Here are the estimated download sizes on Windows, Android, and iOS:
Windows: 32.0 – 34.2 GB download size (64.0 – 68.4 GB install size)
Android and iOS: 8.1 – 10.8 GB download size
You can head to the official post from the developer to learn how to pre-install the resource package in time for the upcoming update. All the steps for Windows, Android, and iOS are outlined in the linked guide.
Once the game's maintenance is done, players can obtain and redeem Genshin Impact codes to get free primogems. If the maintenance takes longer, HoYoverse will provide 60 primogems to players for every hour, i.e. a total of 300 primogems. Are you excited for Genshin Impact 4.0 update release? Show us your excitement in the comments section below.