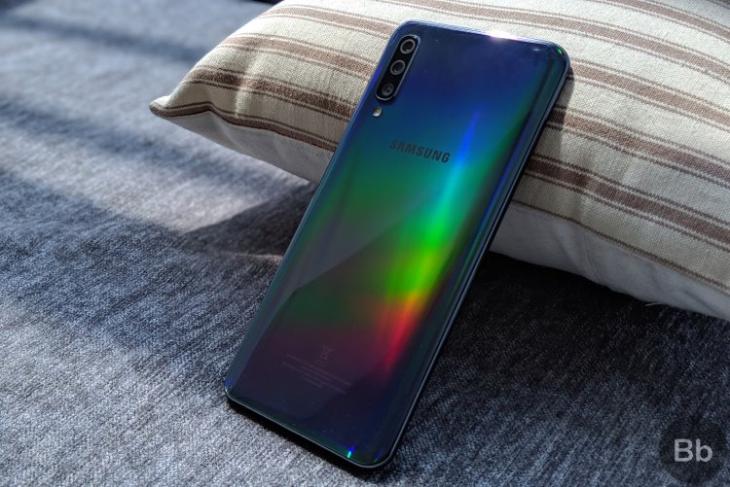 The shiny, shimmery Samsung mid-range smartphone that I adore – Galaxy A50 went through a series of durability tests just recently. It's one of the most popular phones in India right now, not just due to its glamour but also its flush feature set. It's got all the features you want in a modern smartphone – an AMOLED display, in-display fingerprint sensor, triple cameras, and a powerful chipset. But, how durable is it?
Well, the Galaxy A50 passed through popular YouTuber Zack from JerryRigEverything's renowned durability tests. I bet you would have already memorized the steps if you've watched one of his videos. The Gorilla Glass 3 on the front here scratches at a Level 6, however, you'll see deeper groover at a Level 7 on the Mohs scale. The smartphone is completely built out of plastic, including the back and sides. The AMOLED screen lasts merely 30 seconds under direct flames but recovers fully, begging Zack to question if Samsung improved the quality of their displays. You can check out the video here:
As we progress towards the end, it is observed that the Galaxy A50 bends substantially. This could be due to its plastic construction but what's concerning is that something on Galaxy A50's inside snapped during the bend test. You could hear the device creak and Zack plans to open up the device to take a look inside soon.
Like every other Samsung phone that has gone under the knife on JerryRigEverything's YouTube channel, the Galaxy A50 finished the durability test with passing colors. There were surely a few creaks and worrying sounds heard during its bend test, however, the device looked unscathed at the end. Spot the chameleon when you watch the video. Do check out our review of the Galaxy A50 and share your opinions in the comments down below.