Ever since the beginning of 2019, Samsung has announced a surprisingly huge number of smartphones including its budget M-series, premium mid-range A-series, and the flagship S-series. The Korean giant finally took the leap to re-capture its lost market share to your flood of Chinese phone makers, and the Galaxy A30 fits right into this picture.
Galaxy A30 (starts at Rs 16,990) certainly is a desirable package, with its taller AMOLED screen, tiny notch, shimmery back panel, dual cameras, and a moderately huge battery. And yes, the 3.5mm headphone jack is still here and so is the USB Type-C port that we have been asking phone makers to bring to the budget/ mid-range segment.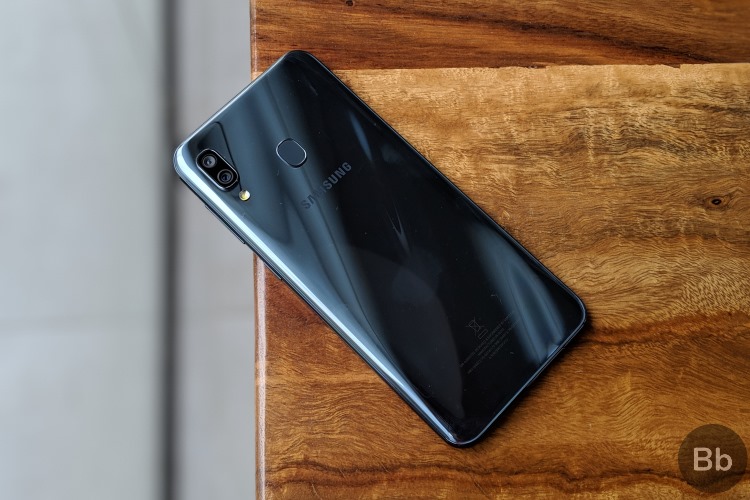 Samsung was kind enough to lend us the black variant of the Galaxy A30 and no, it isn't really as shiny and iridescent as the Galaxy A50, but goes up against the company's own Galaxy M30. I've been using the device as my secondary, alongside the Galaxy A50, and here's how my experience with the Galaxy A30 has been:
Galaxy A30: Specifications
Dimensions
158.5 x 74.5 x 7.7 mm
Display

6.4-inch Full-HD+
Super AMOLED
Processor
octa-core Exynos 7904 (2x 1.8GHz, Cortex A73 + 6x 1.6GhHz Cortex A53)
GPU
Mali-G71
RAM
4GB
Internal Storage
64GB. expandable up to 256GB
Rear Cameras
16MP (F/1.7) + 5MP (F/2.2) ultra-wide
Front Camera
16MP (F/2.0)
Operating System
Android 9 Pie-based One UI
Connectivity
Wi-Fi 802.11 ac, dual VoLTE, Bluetooth 5.0, A-GPS, GLONASS, BDS, NFC, USB Type-C, 3.5mm headphone jack
Sensors
Accelerometer, Magnetometer, Ambient Light, Proximity, and Gyroscope
Battery
4,000mAh and 15W charging
Colors
Black, Red, Blue
Galaxy A30: What's in The Box
The unboxing experience for the Galaxy A30 is about the same as its elder sibling, the Galaxy A50, except for that it comes with a slide-out cover. You'll still get almost every accessory you expect to see bundled with a smartphone these days.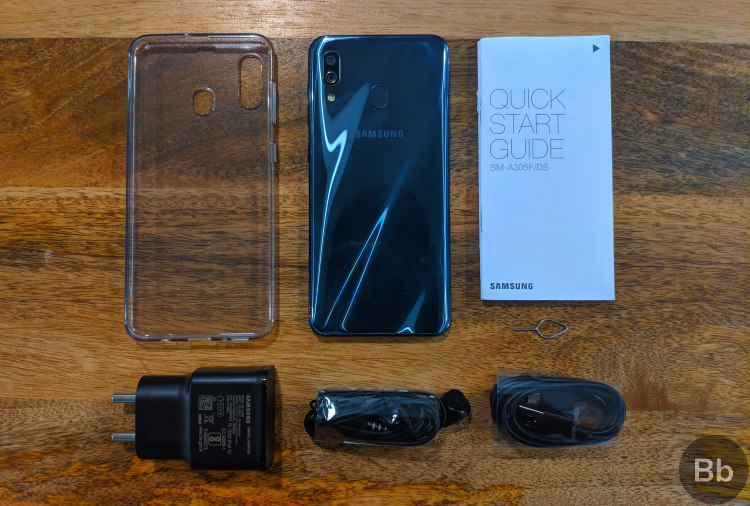 Here's everything you will find in the Galaxy A30 box:
Galaxy A30 handset
15W charging adapter
USB Type-C cable
1x Silicone case
1x Earphones
1x SIM ejector pin
User Manuals
Galaxy A30: Design and Build
If you've read our Galaxy A50 review, then the build of this smartphone would only be a refresher for you – minus the beautiful and colorful gradient rear panel of its elder sibling. The Galaxy A30 also boasts a "glasstic" build, which is a mix of glass and plastic and the black variant with us feels like a darker shade of gray. The rear panel reflects light to give you a streak-like pattern, which does look quite awesome to me, but it also feels plasticky to the touch, which I don't really fancy.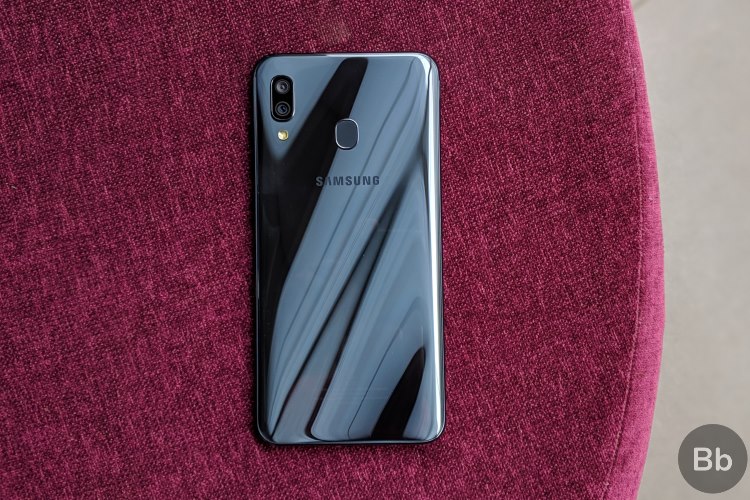 My only qualm against the plastic panel here will have to be that it scratches quite easily, similar to the Galaxy A50, and that could make the device look shabby and aged quicker than one might expect. The curved design of the same makes for a comfortable in-hand grip, which in sync with the lightweight feel, makes for decent user experience.
There's a dual-rear camera and physical fingerprint sensor on the rear, which was a relief and snappy as compared to the sluggish in-display scanner on the Galaxy A50. Since the smartphone is taller and huge, the fingerprint sensor may seem like it has been placed a tad bit higher and that you need to stretch your finger to reach it, but once you've been using the device for a few days, you'll get used to its placement.
Moving on, I want to bring to your notice that the Galaxy A30 and Galaxy M30 look quite similar on the front and back, offer the exact same internal specs, almost all connectivity features, ports, and more are alike. The M30 includes a bigger 5,000mAh battery and it's heftier than the A30, but we'll talk more about it below.g
The button and ports placement here is the same as Samsung's recent premium budget offerings, with the tactile plastic power key and volume rocker sitting on the right. You'll find a single bottom-firing speaker (which is o't really loud and produces a tinny sound), 3.5mm headphone jack, and USB Type-C port all sitting at the bottom. The single triple-slot SIM tray sits on the left.
Galaxy A30: Display
Turning our attention to the front, the Galaxy A30 is exactly identical to the Galaxy M30 & Galaxy A50. There's no difference as they all use the same Super AMOLED panel from the Korean giant, which is 6.4-inch tall with a Full-HD+ (1080 x 2340 pixels) resolution, and a 19.5:9 aspect ratio. There's Corning Gorilla Glass 3 on top for protection purpose.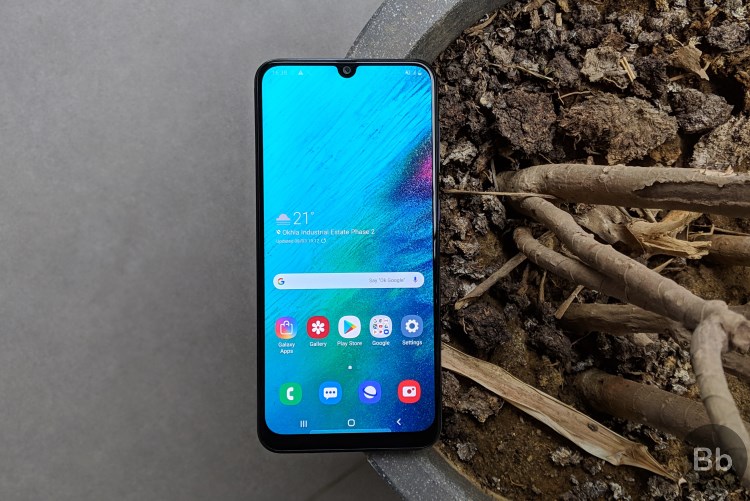 I feel like I'm repeating myself, but the display panel on the Galaxy A30 is gorgeous. The colors obviously are a little saturated (not accurate as the Galaxy S10 lineup) to make all the iconography and content pop. It is really vibrant, the blacks are deep, it performs excellently even under harsh lighting, and the Infinity-U notch at the top and thick bezel below are non-intrusive. The content-viewing experience is splendid.
Galaxy A30: Performance
Samsung Galaxy A30 is powered by the Exynos 7904 processor, which is the same processor found inside the Galaxy M30 as well. The architecture of this chipset is slightly different when compared to traditional octa-core chipsets, as it features two Cortex A-73 cores clocked at 1.8GHz and six Cortex A-53 cores clocked at 1.6GHz for better efficiency in everyday tasks.
I have regularly been using this smartphone for the past week and there hasn't been any instance of lag or frame drop until date. The Galaxy A30 has breezed through most of the tasks that I threw at it, multi-tasking was quick and handy, Android Pie feels snappy, and even apps like Adobe Premiere Clips or Snapchat run smoothly.
As for the gaming performance, well, I once again hopped into PUBG Mobile and this time around the title adopted medium graphics setting by default. The game ran pretty smooth for the most part, with no major janks or frame drops, but they were pretty evident and disrupted the gameplay while driving vehicles. If you tone down the graphics to low and balanced, then it runs more smoothly and you can score a ton of Chicken Dinners.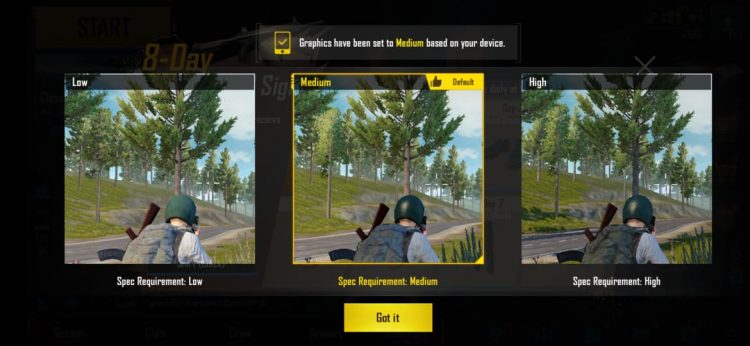 PUBG Mobile is what the mobile gaming community is currently glued to, and so am I, as this was the only major title that I tested on the Galaxy A30. If the smartphone smoothly runs this title, then it wouldn't really have issues pushing the envelope to accommodate a myriad of similar graphics-intensive titles like Mortal Combat X, Injustice 2, and Asphalt 9 among others.
Galaxy A30: Benchmarks
As usual, we ran the Geekbench 4 and AnTuTu benchmark for the Galaxy A30 as well and you can find the results attached right here: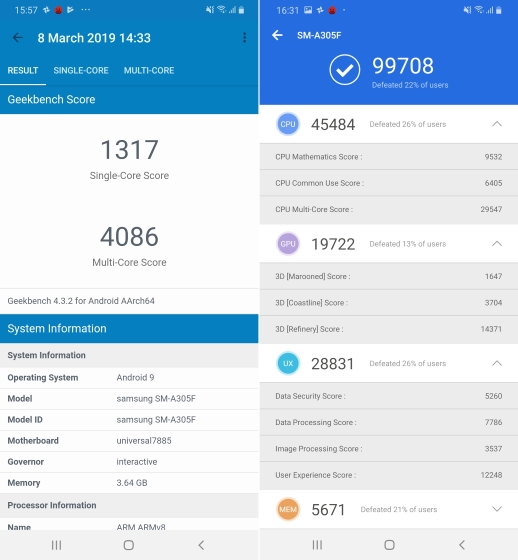 Samsung's Exynos 7904 chipset is said to be comparable to the Snapdragon 636 in terms of performance, which we have already seen, but in terms of benchmarks, it seems closer to the Snapdragon 632 SoC. The ZenFone Max M2 touts 1257 and 4809 as its single- and multi-core Geekbench 4 scores, with the AnTuTu benchmark score sitting around 103,000.
Galaxy A30: Cameras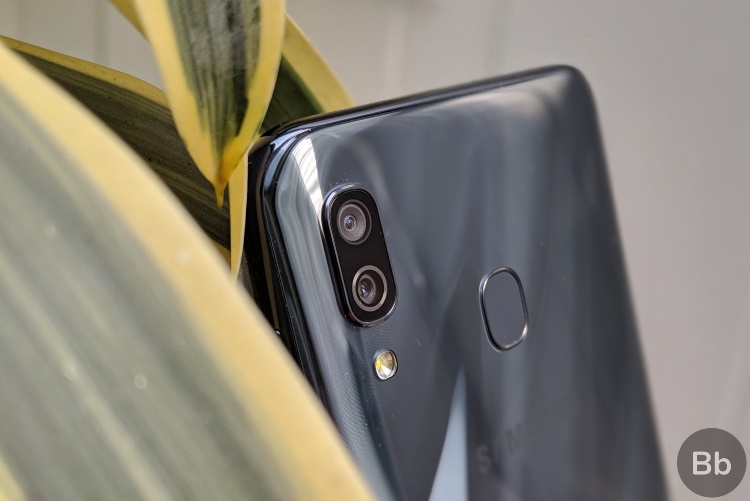 Unlike the Galaxy A50 or the Galaxy M30, the Galaxy A30 comes with a dual rear-camera module with a primary 16MP (f/1.7) sensor and 5MP (f/2.2) ultra-wide angle sensor, with over 120-degree field of view. The camera app on the device comes loaded with a myriad of features as well, except for the lack of video features, like slo-mo and hyperlapse. You still have the Pro mode and panorama options available to you though.
Putting all that aside, here are some camera samples we captured using the Galaxy A30.
You can see in the daylight samples attached below that the Galaxy A30 is able to capture an ample amount of detail and the images look sharp, with an obvious oversaturation that has been induced to the Scene Optimizer baked into the camera app. The device boasts a high dynamic range and the images look social media-ready, requiring only a bit of touch-up.
The images captured during the night time also are pretty detailed and look good, but you shouldn't expect too much detail when zooming in and expect them to appear warm when compared to other devices. Also, there's some visible noise in some of the images below, otherwise they look pretty decent and can be deemed worthy of social media status.
Galaxy A30 packs an ultra wide-angle sensor, something which now seems to be creeping down to new multi-camera phones. It gives you another mode to play around with, which means having the leeway to experiment. Here are some of the samples that we captured and you can easily notice the "fish-eye effect" on the edges some of the ultra wide-angle pictures:
The Galaxy A30 sports a 16MP (f/2.0) sensor on the front, which is the same one that we have already seen on the Galaxy M30, and the image quality is okay-ish at best. In true Samsung fashion, the selfies do have details but they're usually soft (check out George's selfie below) and the edge detection is finicky. The device can recognize multiple subjects in the frame, but it doesn't guarantee a perfect picture (part of Durgesh's hair blurred).
Galaxy A30 vs Galaxy M30: Camera Comparison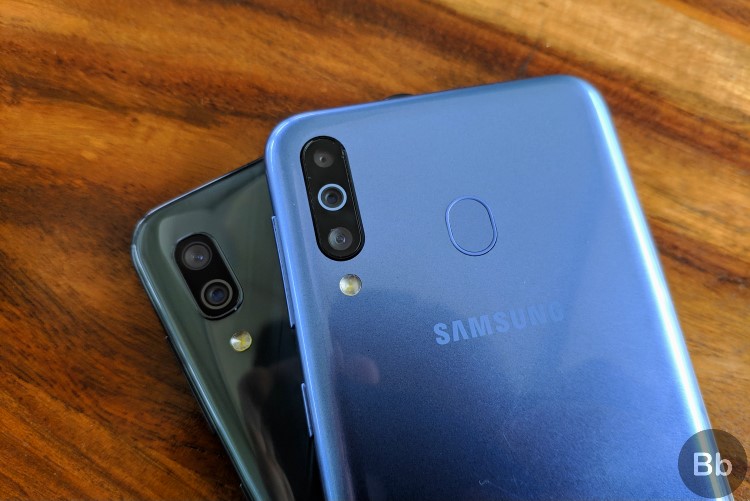 The camera module on the Galaxy M30 isn't a whole lot different from the one on Galaxy A30, except for that it comprises a third sensor as well. In contrast to the 16MP(f/1.7) + 5MP (f/2.2) dual rear camera module on the Galaxy A30, Samsung has included a 13MP (f/1.9) + 5MP (f/2.2) + 5MP (f/2.2) setup on the Galaxy M30.
It's difficult to gauge why Samsung decided not to include the depth sensor on the more expensive A-series device, but here are some of the camera samples we captured using both the devices:
You can clearly see in the images above that Galaxy A30 may capture a little more detail and pull in a little more light, however, the Galaxy M30 isn't too far behind. The pictures captured via both of these devices are pretty alike, with the A30 being on the cooler and M30 being slightly on the warmer side. There are times like the bicycles tire collection & selfie portraits, where I feel the Galaxy M30 trumps the A30, however, the latter will offer more detail in low-light situations.
Galaxy A30: Video Recording
The Galaxy A30 is capable of recording videos up to 1080p resolution at 30fps from both the front and rear cameras, which is saddening to see at a time when several affordable phones are offering 4K recording capabilities. We have attached sample video recordings down below, one in standard and second in wide-angle, to show you how A30 performs:
While the colors reproduction is great, there's no stabilization on board and videos from Galaxy A30 look pretty jittery and shaky. It would be great if Samsung adds support for EIS via a software update else the videos are pretty average, well, at least for now.
Galaxy A30: Software
Samsung is offering its latest software experience, One UI, with its A-series offerings. The Galaxy A30 also runs Android Pie-based One UI, out-of-the-box and it's a refreshing upgrade over the bloatware and clunky Samsung Experience UI days. I don't think I need to dwell into the feature set offered here as you can read about it right here, but I would add that Samsung still needs to tone down animations to offer a smoother experience on its lower-specced offerings.
Note: I would like to point out that Samsung has been good with updates on Galaxy A-series phone so far, with the A30 receiving the March security patch this week. Hope it continues down the line as well.
Widevine L1 & Camera2 API Support
The Galaxy A30, as you can see below, packs Widevine L1 certification, meaning you can watch Netflix or Prime Video in HD, and a limited Camera2 API support, which means you cannot use Google Camera mod without doling out the necessary permissions via ADB. It, however, comes as a relief that the native camera performance is pretty decent.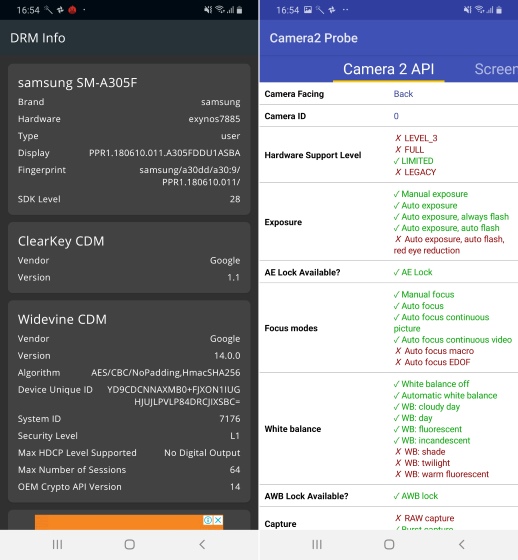 Galaxy A30: Battery Life
The Galaxy A30 sports a 4,000mAh battery and a 15W fast charger, similar to the elder sibling – Galaxy A50, and that's easily good enough to last a whole day on a single charge, especially for low and medium usage customers. If you're going to be using the smartphone for a moderate volume of calls, texting, surfing the Internet and consuming videos on the daily, well, then you'll get a screen-on-time of around six hours.
While we do get a fast charging brick in the box, the smartphone doesn't really juice up that speedily. It takes around 1 hour and 30 minutes for Galaxy A30 to go from 0 to 75 percent and that's just okay-ish.
Galaxy A30: Should You Buy This Over Galaxy M30?
The Galaxy A30 is a pretty good device for the price segment it's sitting in, offering an AMOLED display, modest internals, and a dual-camera module with an ultra wide-angle lens. There's also a better software experience, with the latest flavor of Android, and a massive battery as well.
However, Samsung's mid-range Galaxy M30 smartphone offers almost exactly the same specifications, but with a triple rear-camera module that's comparable to the Galaxy A30 and a larger 5,000mAh battery. It even offers a similar build, with a gradient plastic rear and a bit more heft, something I grew used to after carrying around the device for a few days.
Well, there's a catch. The Galaxy M30 is an online-only offering and starts at Rs. 14,990 whereas the Galaxy A30 (starts at Rs 16,999) is available both online and offline. If you happen to be reading this, then the Galaxy M30 is undoubtedly the better bang-for-the-buck choice over the Galaxy A30 for online buyers.
I know you can also push your budget a little higher, say maybe closer to Rs 20,000, to obviously get the Poco F1 (starts at Rs 19,999). Offline sellers will still see an influx of buyers for the Galaxy A30 because of the brand trust Samsung has built over the years.
PROS:
Beautiful AMOLED screen
Lightweight & comfortable
Above average cameras
One UI sure is refreshing
Fast fingerprint sensor
CONS:
Glasstic panel scratches quickly
Overpriced, even for offline users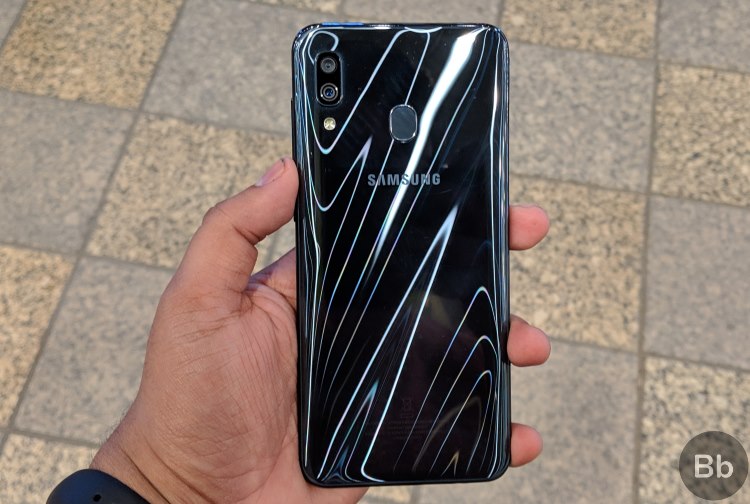 SEE ALSO – Samsung Galaxy A50 Review: A Worthy Mid-ranger
Samsung Galaxy A30  Review: Thank You, Next
Samsung has cleverly made a mid-range smartphone which might not undercut its own online-only Galaxy M30 for modern e-commerce-friendly users, however, those who still prefer to try out a device and buy them offline will only have the Galaxy A30 on offer. It surely is a pretty relevant offering for the specs, features, and the retail price and would surely attract a ton of buyers – I've already met a couple.
What are your opinions on the Samsung Galaxy A30? Do you think this smartphone has what it takes to beat mid-rangers offline? Let us know in the comments below.
 Buy Galaxy A30 from Amazon (starts at Rs 16,990)
---
Load More