Saying that Fortnite is a popular game is a huge understatement. Boasting a user base of over 125 million players, Fortnite is nothing less than a phenomenon, and it shows in the relentless speed with which it's being downloaded by more and more players every day. Recently Fortnite hit 15 million players on Android in less than a month, and now, according to numbers obtained by NintendoEverything, it seems like Fortnite is owning the Nintendo Switch as well.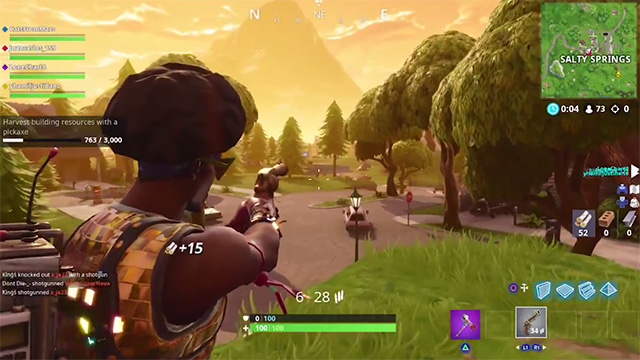 The report from NintendoEverything mentions that according to the download numbers released by Nintendo for the month of August, Epic Games' Fortnite is the most downloaded game on the portable console. The game's popularity is helped along by the fact that it's free-to-play, making it a very enticing prospect even for people who may not have tried the game earlier.
Other notable entries in the list include the likes of Monster Hunter Generations Ultimate, which is remarkable since it had a late month release in August on the platform. Popular titles like Legend of Zelda, Rocket League, Stardew Valley, and Minecraft also make an appearance on the list.
The complete list of the top 30 most downloaded games on the Nintendo Switch for the month of August is given below:
1.Fortnite
2. Hollow Knight
3. Dead Cells
4. Overcooked 2
5. Zelda: Breath of the Wild
6. Rocket League
7. Okami HD
8. Minecraft
9. Stardew Valley
10. Splatoon 2
11. Monster Hunter Generations Ultimate
12. Paladins
13. Octopath Traveler
14. Mario Kart 8 Deluxe
15. Arcade Archives Vs. Super Mario Bros.
16. Mario + Rabbids Kingdom Battle
17. Into the Breach
18. Sonic Mania
19. Salt and Sanctuary
20. Fallout Shelter
21. Dragon Ball Xenoverse 2
22. Mega Man X Legacy Collection
23. Mario Tennis Aces
24. Enter the Gungeon
25. Super Mario Odyssey
26. The Messenger
27. Human: Fall Flat
28. Shovel Knight: Treasure Trove
29. Xenoblade Chronicles 2
30. Nine Parchments
---