Final Fantasy XV Pocket Edition has been in the 'Coming Soon' section of the Play Store for a while now. The game has now been released on both the Play Store and the App Store, and obviously, I played it.
First, let me make a disclosure, I have never played any Final Fantasy game, so my thoughts on this 'Pocket Edition' of a game that has been otherwise around for a long time are based completely and solely on my personal opinion of the game.
At 360MB on my OnePlus 5, the game seemed to not really be as large a download as I expected it to be. I soon found out that in order to play at the best resolution, I had to download around another 500MB of game data, so yeah, it's a respectable size now.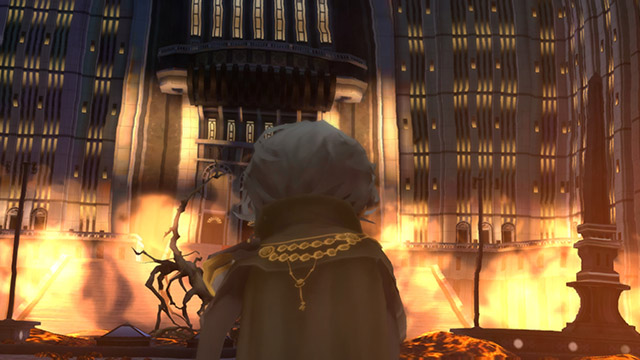 Since I am playing on a flagship with the Snapdragon 835 and more than ample amount of RAM, I decided to set everything to max: full HD, best graphics, and 60FPS. However, depending on the phone you have and its hardware capabilities, I'd recommend you set your graphics and FPS limits accordingly unless you want the game to crash and/or freeze.
FF XV starts off like most story-based adventure games do: cutscenes with a lot of dialogue, trying to make the player understand the basic backstory behind the game. I watched them all, even though there is an option to skip because they are well made, not too long, and the voice acting is great. Plus, not having played any Final Fantasy game in the past, I thought the backstory could come in handy.
In Episode 1, my car broke down and I pushed it all the way to a garage, which is where I got the first taste of the actual gameplay and controls that Square Enix has implemented for FF XV, and let me just say: they are great.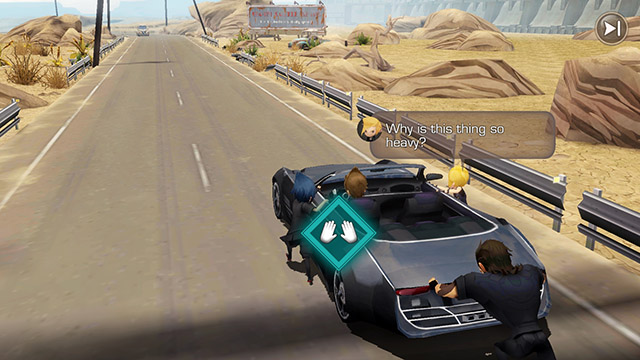 Open world games are usually difficult to play with the joystick controls covering up a lot of the screen. However, Final Fantasy uses an extremely easy set of controls for navigation and interaction. Simply tap where you want to go, tap on objects and people you wish to interact with, tap on creatures and people you want to attack. Everything gives the distinct feeling of having been designed for the touch experience, and I love it.
Every thing gives the distinct feeling of having been designed for the touch experience, and I love it.
The gameplay is awesome, my phone handles 60FPS with no issues at all so the gameplay is also very smooth. The graphics are well done, with a casual yet good to look at feeling which I like. Character voices are spectacularly well done, and the voice acting is pretty great too. Sure it could've been better, but that'd be nitpicking, and this game doesn't deserve nitpicking.
So far, I've yet to encounter an aspect of the game that I dislike or am unhappy with, which is great. There's also a tie-in game (there may be more, but I've only come across one so far) that's a separate download on the Play Store. I haven't played it yet, though I have downloaded it, and it's a pixel-art game that looks like it'd fit in perfectly on a Gameboy.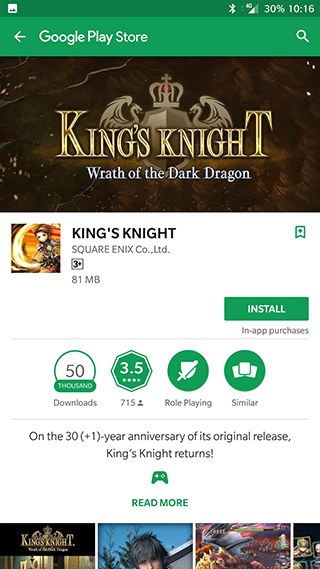 The game is also incredibly addictive — something I don't say for games often. I only put my phone down because I just felt the need to write something about it, and I'm getting back to it once I'm done here.
While the game itself is free to download, you'll have to pay for episodes 2 and the rest, which is fine by me. In fact, I think this is a much better way of successfully getting consumers to pay for a game. I'm more likely to purchase Episode 2 since I've played Episode 1 and I like it. If this was a paid download, I'd have had second thoughts on whether or not it's worth my money (I really hope Leo's Adventure dens read this).
If you're a fan of open world games, I'd suggest you give Final Fantasy XV: Pocket Edition (Android, iOS) a shot, even if you've not played Final Fantasy games in the past. It's a great one to have on your phone, and you'll most likely end up paying for the rest of the episodes. I take your leave now because Noctis is waiting for me to complete the latest quest I'm on, and I'm too interested to let it go.