With more than 2 billion users actively using Facebook each month, it is the biggest haven for social media interactions. It is easy to get lost in all the commotion and identify theft is one of the many problems that Facebook has to tackle to provide you a safe and fun social experience. To make the platform even safer, the social media giant is now expanding the use-cases of its facial recognition technology to find users in photos uploaded to Facebook.
In an official blog post, Facebook has today announced the launch of a facial recognition-powered feature called Photo Review, which will notify you when someone uploads a picture or video with your face in them. This photo or video will show up under the Photo Review section, where you can choose to tag yourself, remove an existing tag, ask the uploader to take down the photo or report the same to the social media giant.
This is one of the better features to have been launched for the platform of late. It has been designed to empower users by handing down control of their online identity over to them. You can use Photo Review to keep your online privacy in check and remove any unwanted photos of you posted online. You'll receive a notification every time a profile picture with you in it is uploaded, so identity theft us also solved with this facial recognition feature.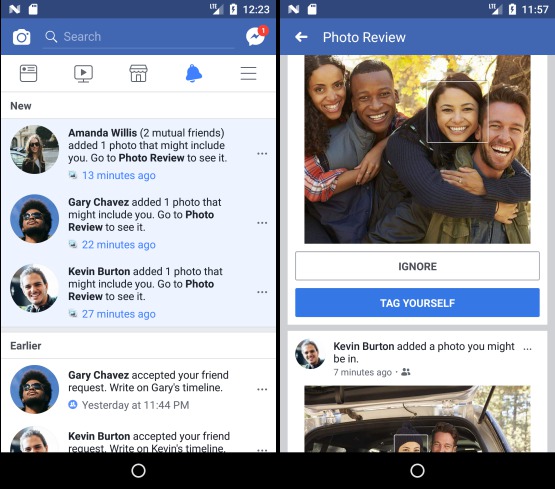 The facial recognition and notification system is quite intricate and Facebook has worked out every little detail of the said feature before launching it to the masses. It'll honor the privacy of your media uploads and people will only be notified of their faces in the photos only if they appear in the audience of the post. This means if you share your posts with a limited audience then people, who're in the photo but not in the audience, won't receive a notification.
In addition, Facebook also plans to use this feature to make their platform easier to access for its users with visual disabilities. It will improve the automatic alt-text tool, which describes photos to users with screen readers, by now telling them the name of all the people who're appearing in that photo. It's not necessary for you to be tagged any of the photos since it'll be taken care by Facebook's facial recognition tech. Wouldn't this be such a relief for visually impaired Facebook users?
While the results may be positive, there are always some people who're overly concerned with their data and privacy. If you're one of them, you needn't worry as Facebook plans to provide you a single toggle to opt out from the facial recognition program right on the settings page of the app. Once the facial recognition is turned off, the social media giant will not recognize and notify you of new photos or videos that you may be present in.
This simply means that you will no longer be notified if anyone uploads a picture of you to Facebook without any permission. So, are you willing to take that risk? Or do you plan to let the company do its thing to keep you protected? Share your opinions in the comments down below.