No matter how many steps Facebook takes to counter fake news and propaganda in posts, there's always bound to be some gaps in the measures it has taken so far. And the company is looking to plug some of those with an 'About this Article' button.
Facebook started testing it last year to better inform people about the credibility of the authors, sources and publications on the News Feed. The feature is now being rolled out to everyone in the US with immediate effect. It's not yet known whether it will be brought outside the US and for different languages.
About this Article was piloted last October and is meant as a way to inform users about where the news has come from. Not only will it show the publisher's Wikipedia entry so you can verify its legitimacy, it will also show related articles to help you get the full picture as far as possible. You can also see which parts of the world the news has spread, which could give away any foul play. Finally, you can also see how many times an article has been shared and an option to follow the publisher's page.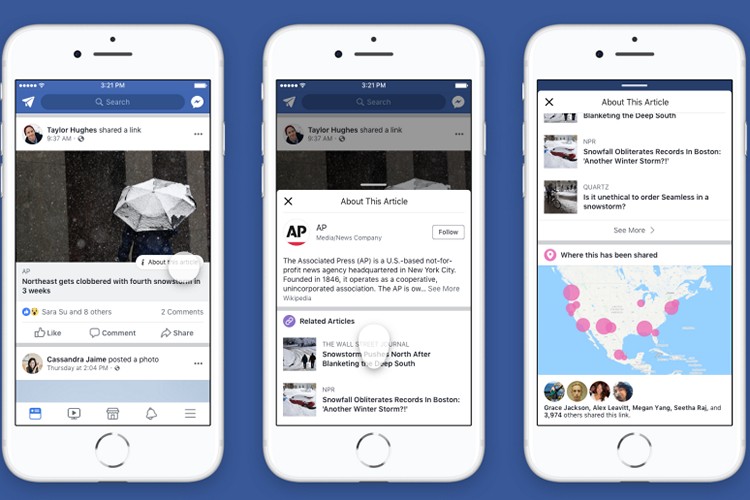 The company is actually adding two more pieces of info that weren't included in the original test. Firstly, there's 'More from this Publisher', which will present a collection of other recent stories posted by the publisher. Then there's also 'Shared by Friends', which, as the name suggests, will inform people whether any of their friends on the platform have shared the article.
Facebook believes that presenting users with all the info will help them evaluate the credibility of a story for themselves, and decide whether an article is from a writer and a publisher they can trust.
As part of its endeavor to help users better evaluate the legitimacy of news sources, Facebook is also starting a new test that will enable people to tap on an author's name in Instant Articles to see additional info about them and their previous work, including their Wikipedia entry, a button to follow their Page or Profile, and other recent articles they've published. The company says that this will start as a small test in the US, but there's no word if it will also be rolled out at a larger scale going forward.