While the Windows operating system has a lot of features implemented well to satisfy most of its users, the file search engine present by default has never been one of my favorites. Search results take quite a lot of time to show up and even after getting the search results, the accuracy might often be compromised. That is when I found a new application called "Everything", a search engine designed for Windows machines to find all the files and folders in the system.
The user interface of the app is pretty minimal and clean. You get a search bar on the top below the menu bar where you can search for literally anything present in your PC. All you have to do is enter the relevant name or search keyword to find what you're looking for.
The best part of "Everything" is undoubtedly the fact that all the processes take place blazingly fast. There is no wait time involved like the default search mechanism baked into Windows. The app builds a database index containing all the files and folder names to quickly fetch the results. The initial index will take a few seconds to complete based on your PC's hardware resources.
Everything also supports boolean operators for increased efficiency. If you need results from either of the search terms, you can add "|" symbol in between them. For example, if you need to return results with particular extensions, you may do so like this: android .png | .jpg. Take a look at the below image to see the search result of this query.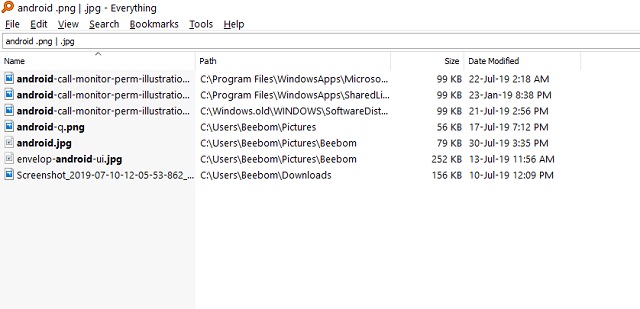 In the details view, there are a lot of fields like Name, Path, Size, Extension, Type, Date Created, Date Modified, Date Accessed, Attributes, Date Recently Changed, and Run Count. These fields provide almost all the information about the file. One can also sort the results based on these fields by clicking on the field.
The app allows remote searches by connecting through HTTP, FTP, or ETP (Everything Transfer Protocol) by entering the host, port, user name, and password. You can also perform the searches from your command prompt or terminal by making use of the CLI. So, check out the app from the link given below and let us know your experience in the comments.
Download Everything for Windows (Free)
---