We recently reviewed the Epson L485 printer and we were quite impressed with its quality. That printer made me fall in love with the Ink Tank printers so much that I went out and bought one for my personal use. After using Epson's printer for a few months, I can comfortably say that the company makes high-quality printers. However, just because I had a good experience with one of Epson's printers, it doesn't necessarily mean that all of their printers are of the same quality.
That's why when we got our hands on a brand new printer from Epson, we decided to do a full review on it. The printer that we will be reviewing today is the Epson L4160 (₹17,799) which is yet another all-in-one Ink Tank printer from Epson that looks really promising on paper. However, does the printer repeat the success story of the Epson L485 or does it fall short of our expectation? Let us find out as we do a full review of the new Epson L4160 all-in-one Ink Tank Printer:
Epson L4160 Printer Specifications
Before we start our review, it's good to get the paper specs out of our way. While I don't care for specs when it comes to a smartphone review, it makes sense to see what all things a printer is offering. After all, you will only buy a printer which meets your needs and specific criteria. With that point in mind, here are all the specifications that you need to know about the Epson L4160:
Name
Epson L4160
Dimensions
187*347*375 mm
Weight
5.5 Kg
Print Method
On-demand inkjet (piezoelectric)
Photo Default
Print Size
10 x 15 cm / 4 x 6 inches
Max Copies
99 copies
Printing Resolution
5760 x 1440 dpi
Connectivity
USB, WiFi, WiFi Direct
Other Supported
Printing Technologies
Apple AirPrint, Google Cloud Print, Mopria Print Service
Compatibility
Windows and macOS
LCD Screen
1.4 " Colour LCD Panel
Ink Tank Life
7,500 pages for Black Ink
18000 pages for colors (3 tank combined)
Warranty
One year or 30,000 print
Design and Build Quality
The Epson L4160 printer is very compact and on the first look it feels like as if it is built like a tank. My first impression of the printer was carried through even when I started using it on day-to-day basis. I mean, I have only had this printer for a few days but boy do I like its build quality. Believe it or not, I shook this printer to see if any part of it was loosely assembled, however, the printer was rock solid. Needless to say that I am in love with the printer's build quality.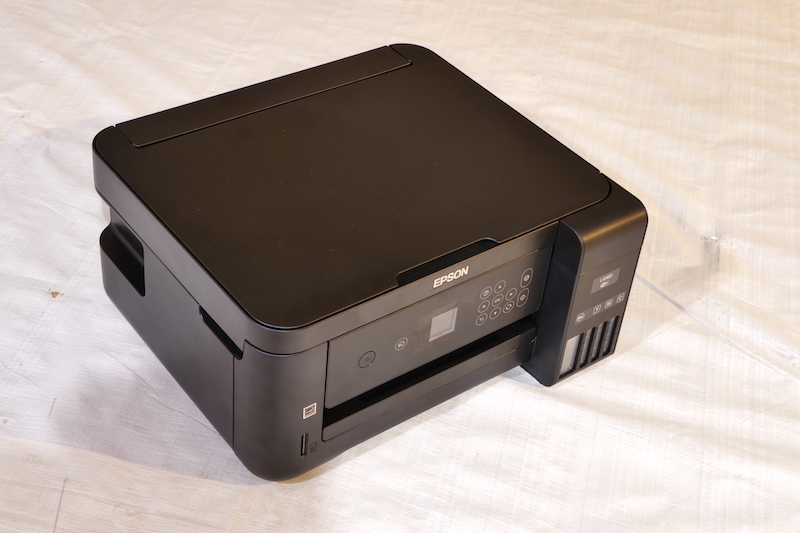 I also love the design choices made by Epson by considering the usability of the printer in mind. I mean, there's only so much you can do with a printer's design, regardless, I love what Epson has done here. Firstly, I really like the printers that has paper intake at the top-back as it just makes life so much easier. Thankfully, the Epson L4160 uses the same mechanism. I also love that when not in use, the paper intake can be closed which prevents the printer from eating unwanted dust.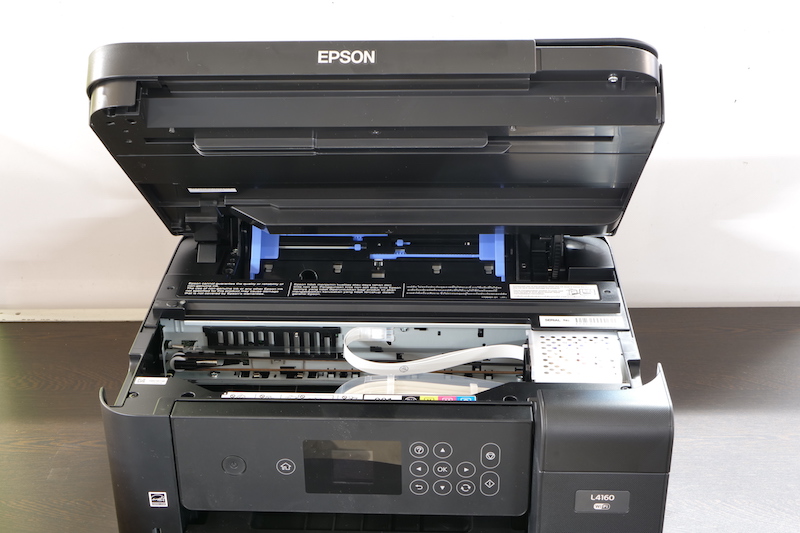 Coming to the front of the printer, it's the place where all your printer controls are housed. The buttons are easily accessible and they also have nice click to them which I certainly like. There's also a 1.4-inch color LCD panel which comes in really handy when selecting printing or copying mode, changing the settings, or accessing any other feature that you need. You can also easily see the printer's ink level from the front which is a small but very nifty addition.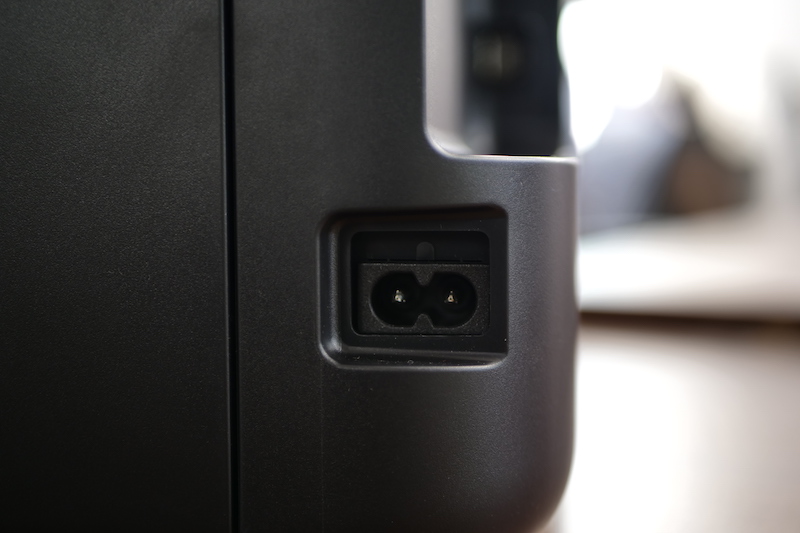 Since there's nothing important going on the sides, let us take a look at the back of printer. The back of the printer houses both the power port and the USB connection, both of which are easily accessible. To conclude, I am really happy with the printer's design and build quality. I am also impressed by the fact that Epson was able to cram so much in such a compact body which only weights 5.5 Kg which is even lighter than the Epson L485 printer that we reviewed earlier.
Connection and Compatibility
Just like other Epson printers, the Epson L4160 can be connected to your PC or Mac using a number of different connections. The first and the most obvious way to connect the Epson L4160 to your device is by using the USB port at the back. Just connect the printer to your laptop or desktop and your are good to go. The best part is that you don't have to install any drivers. As soon as you connect the printer to your PC or Mac, you are good to go.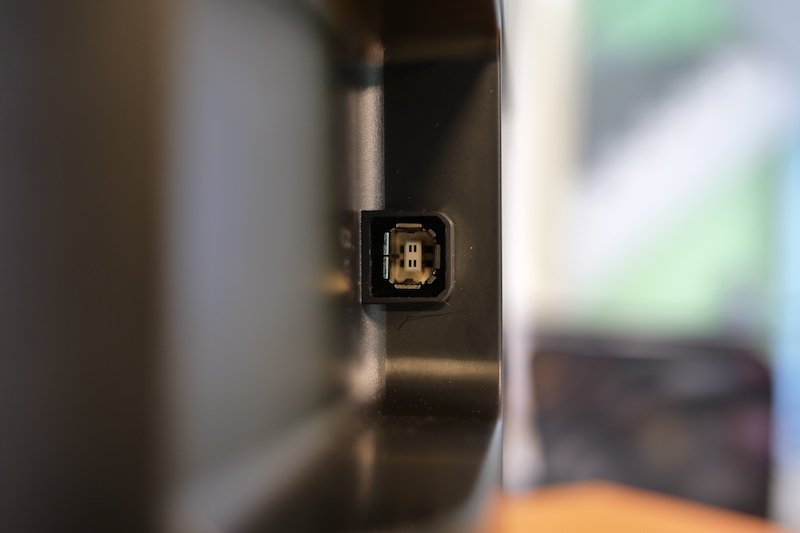 If you want to use the Epson L4160 with multiple devices in your home or office, instead of connecting the printer using a cable, you can connect the printer to your home or office WiFi and all the devices connected to the network will be able to use the printer. This is one of my most favorite features of this printer as it allows me to easily use the printer no matter where I am in my office. If you want the benefit of going wireless but don't want to make the printer publicly available on your WiFi, you can use the WiFi Direct feature which ensures that the printer is only available to the devices you manfully set it up with. Apart from the above three connection modes, the printer is also compatible with Apple AirPrint, Google Cloud Print, and Mopria Print Services technologies.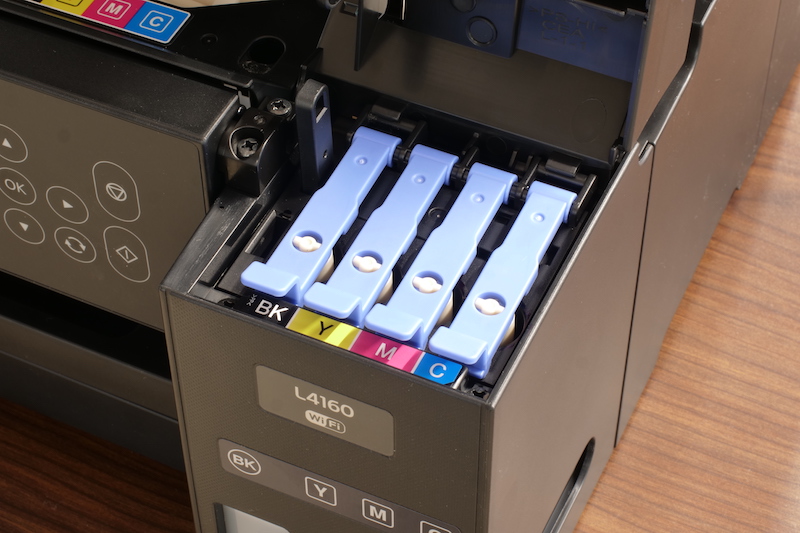 The Google Cloud Print and Apple AirPrint all you to print documents directly from your Android or iOS devices which is really good if you want to print something quickly and don't want to turn on your desktop devices. You really have a lot of options to connect the printer to a device of your choosing and I don't think that anyone will find it hard to connect and use this printer.
Printing and Performance
For testing the print quality of the Epson L4160, I tested the printer using a number of different pictures, texts with different fonts along with multiple scanned documents and IDs. After putting the printer through its paces, I am happy to report that the I was really happy with the print quality. The text prints were sharp and legible while the pictures had great detail. That said, I used the normal A4 size to print the pictures so I cannot comment as to how the printer will perform when you use the glossy photo paper. However, seeing how good the pictures looked on the normal A4 size papers, I can only assume that they would only look better on the photo paper.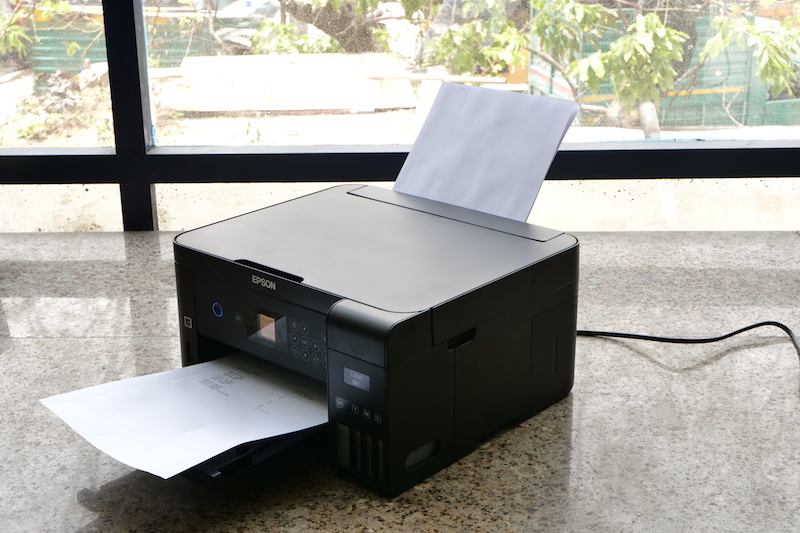 When it comes to the performance capacity, the Epson L4160 can print about 33 pages per minute for black and white prints. If you are using color printing, the printer can churn out 12-15 pages per minute minute. As you can see the printing speed is one of the best in the market and can easily fulfill all your home or office needs. Do note that both these speeds are tested using the A4 size paper as the printer only supports borderless printing up to A4 size. That is probably the only caveat I could find with this printer. If your official needs require a paper size of A3 or above, please do not buy this printer.
Scanning and Copying
Since the Epson L4160 is an all-in-one printer it means that not only it can print documents but it also allows you to scan and copy documents. In my testing, it took the printer anywhere between 10-20 seconds to scan a document which is at par with other printers in the price range. When it comes to copying, the printer has the ability to produce 99 copies of a document at once which is more than enough for most of the users.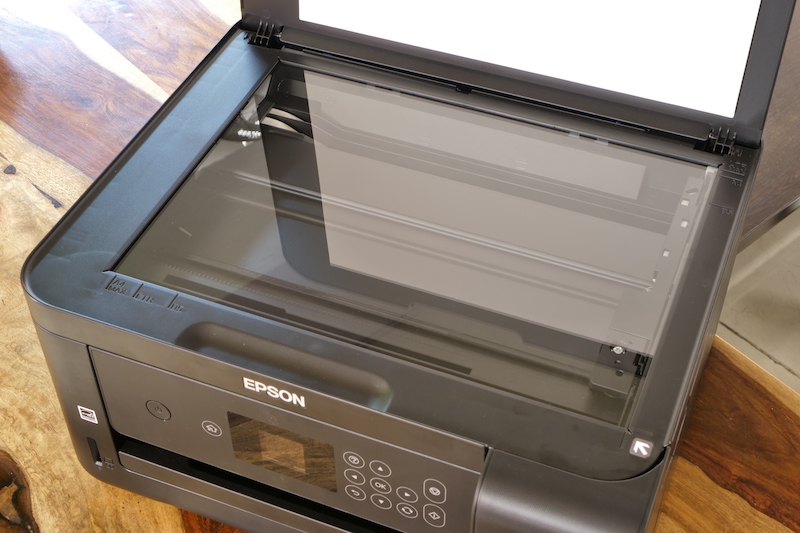 Epson L4160: Great Build with Exceptional Print Quality
When I first started testing the Epson L4160 I had really high hopes for it and I am happy to report that the printer delivers on its promises. The build quality of this printer is exceptional and it looks like a device which would last you for years. The printer also excels at printing both black and white as well as colored documents and images. The ability to accept both normal and photo paper means that it is enough to meet the needs of a normal consumer. That said, the restriction of the paper size (only accepts papers up to A4 size) may be a deal breaker for some users.
Epson L4160 vs Competition
Since Epson L4160 is quite a costly printer, we thought of comparing it with other printers in the same price range to see how much more value this printer brings over its competition. However, I encountered one tiny problem while doing that. The problem is that if you want to get a printer with Ink Tank technology, you won't find anything other than Epson's printers in this price range. That makes it really hard to compare it with its competition because it has no competition. That said, if you don't care about Ink Tank technology much, there are a lot of good options out there.
The three best printers that I could find were the HP LaserJet M1005, the Canon MF-4750, and the Brother DCP-L2541DW printers. They all are good printers, however, none of them is so good that I can without any hesitation put it above the Epson L4160. Do let us know if you want to see a battle of the best printers, but for now, know that Epson L4160 is one of the best in the market for its price.
Pros:
Good build quality
Print quality is exceptional
Multiple connection options
Fast printing speed
Cons:
Only accepts up to A4 size paper
Buy From Amazon: ₹17,799
Buy from Epson: ₹17,299
SEE ALSO: Smartron t.band Review: Fit Enough?
Epson L4185 Review: Ink Tank Printing at Its Finest
As far as all-in-one Ink Tank printers go, Epson L4185 is one of the finest printers in the market in its price category. I have used this printer extensively and I can say that neither its speed nor its print quality bothered or hampered my work. If you are in the market for all-in-one Ink Tank printers, I definitely urge you to check this one out. I am sure that you will be happy with the purchase.
REVIEW OVERVIEW

Design and Build Quality

9.5

Printing and Performance

8.5

SUMMARY

Epson L4180 is a great all-in-one Ink Tank printer which makes printing documents and photos very easy. The build quality of the printer is exceptional and it looks like a device which would last you for years. Overall, there's nothing in this printer that I don't like and I wholeheartedly recommend this to anyone who is looking for a new printer in the market.