Smartron is an India-based tech company which first made its name by releasing a budget version of the Microsoft Surface Pro called the t-book. The company followed that by releasing its own line of budget Android smartphones under the t.phone brand. Now, the company is back with a brand new product with which it is trying to break into the fitness wearable market. The new product, called the "t.band", is a fitness band and it's very promising on paper. The fitness band not only tracks your steps, exercise, and sleep, but it also promises to monitor your blood pressure and heart rate, and give you an overall health indicator. Priced at just ₹4,999, the t.band is making a lot of bold claims. But can it deliver on those claims or not is the real answer that we are after. That's what we are going to find out as we do an in-depth review of the Smartron t.band:
Smartron t.band Specifications
Before we get into our review, let us first get the paper specifications out of our way. In the table below, you will find everything that you need to know about the Smartron t.band:
| | |
| --- | --- |
| Name | Smartron t.band |
| Weight | 25 grams |
| Display | OLED panel - 128*64 pixels |
| Processor | MediaTek MTK2523 Processor |
| Memory | 4MB |
| Battery | 100 mAh |
| Water Resistant | IP67 |
| Sensors | 3-axis Accelerometer, ECG, Optical Heart Rate Monitor |
| Compatibility | iOS 8.3 and above / Android 5.0 and Above |
| Connectivity | Bluetooth 4.1 |
| WiFi | No |
| Strap Width | 18 mm |
What's in the Box
As we always do, we will start our review by taking a look at the content of the box. Here is everything that comes inside the box:
Smartron t.band
USB charging cable
Charging dock
1 additional strap
User manual
Design and Build Quality
When it comes to the design of Smartron t.band, it seems that the company has not put much thought into it as it looks exactly like every other fitness band out there. I am not saying that it's a bad thing, however, a modicum of originality would have been nice. Getting past my design gripe, the build quality on this thing is great. The brains of the device are housed inside a stainless steel tracker which is rectangular in shape. The tracker also houses tang buckles with quick release pins on both sides which makes it easy to change the straps.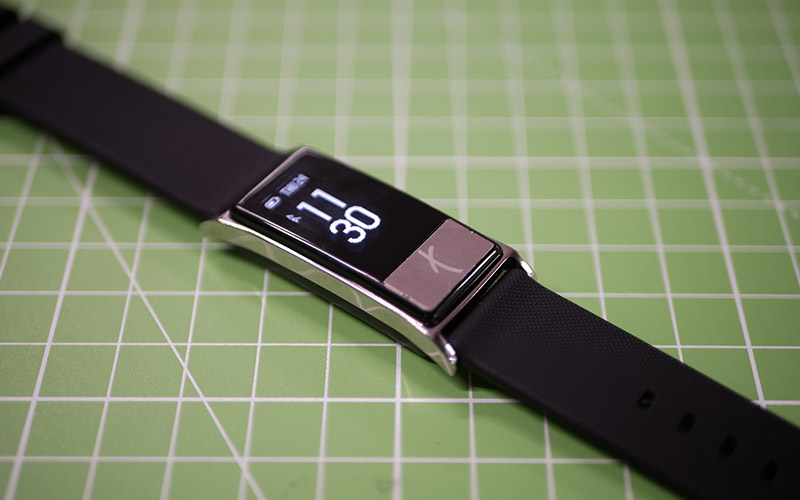 The face of the tracker features a 0.96-inch OLED display with a resolution of 128 x 64 pixels which is certainly ideal for a tracker of this size. The display could have been bigger if not for the metal touchpad at the bottom, but more on that later.
Out of the box, the tracker comes with two pairs of straps, both of which are comfortable to wear and use for a long time. I found the t.band to be very comfortable in all situations including when I was sleeping. I also love the fact that the t.band comes with IP67 water and dust resistance which makes it an ideal fitness band as you can wear it in almost any weather condition. Overall, I am pretty happy with the build quality of this device.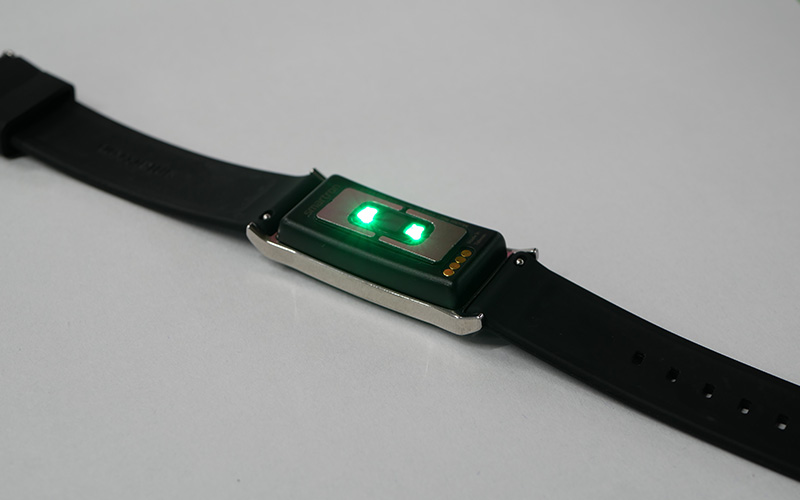 Display and Touchpad
As I mentioned above, the Smartron t.band brings a 0.96-inch OLED display. The display size is not small, however, seeing the size of the tracker itself, it could have been bigger. The reason why the display is smaller is because Smartron made a decision to include a steel trackpad at the bottom of the display which eats up a big chunk of the space. I mean, Smartron could have easily used the tracker's stainless steel frame as the touch panel. I have seen Fitbit doing the same and there's no reason why Smartron could not have done the same.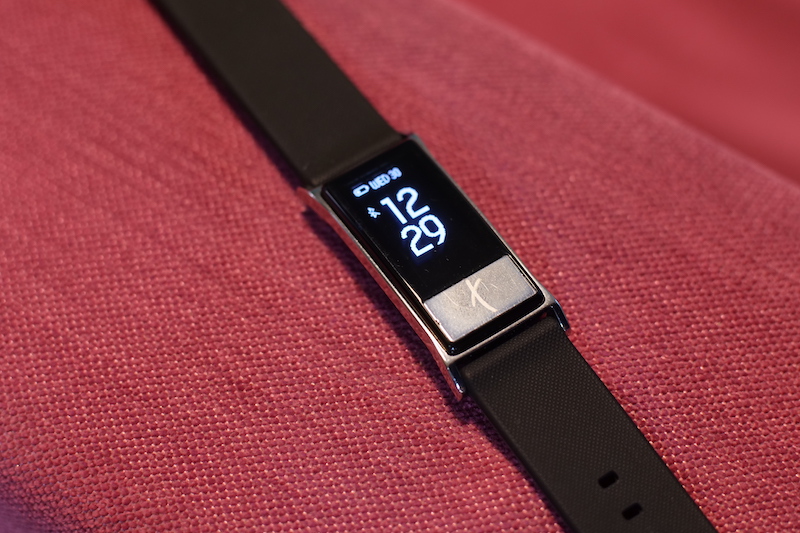 Coming to the touchpad itself, since it's the only thing that lets you interact with your t.band, I was hoping that it would work flawlessly, however, that was not my experience. More often than not I had to tap the touchpad multiple times just to register my input. Also, since the only way to switch between different screens is by tapping on the touchpad, it was quite frustrating to see either my taps not registering or taking too long to register. This caused a lot of confusion. Many times I thought that the device has not recognized my taps thereby making me tap it again, only to find out that it registered two taps at once. The whole experience is quite frustrating.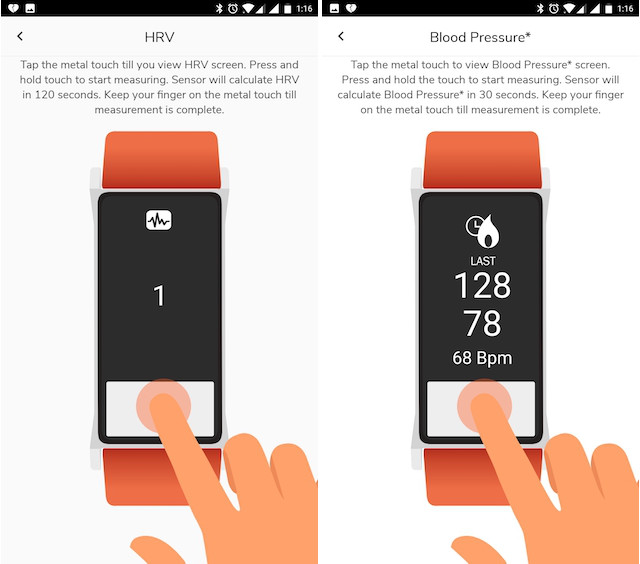 There are also a myriad of tap and tap & hold gestures which perform different actions, which are really confusing. It will take you a few days to get used to this device and even then you will perform wrong actions from time to time. Thankfully, there is a raise to wake feature which means that I don't have to tap the device if I just want to see the time. That said, that feature is disabled by default and you have to manually enable it. In conclusion, the display on t.band is good enough however the touchpad is not up to the standard.
Performance and Fitness Features
The Smartron t.band does everything that a good fitness band should do. It records your steps, calories burnt, distance traveled, heart rate, sleep patterns, and blood pressure. There's also an option to record exercises, however, it doesn't allow you to customize which workout you're recording which makes this feature useless. That's why I mostly used the t.band to keep a record of my steps and the calories that I burnt. In my experience, the t.band was able to record my steps fairly accurately and I was happy with how it performed. The t.band even gave me gentle reminders to stand up if I was sitting for too long, a feature which I really appreciate.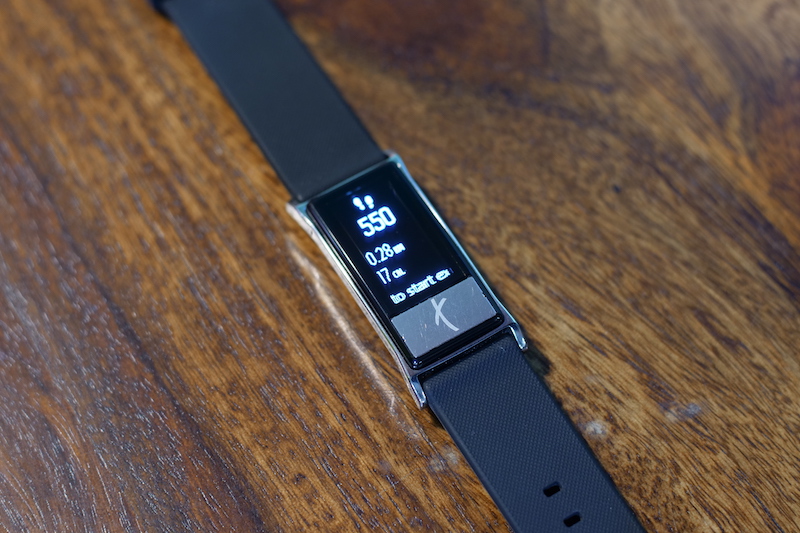 That said, other than the regular step counting and distance traveled, the t.band failed to impress me. First of all, the heart rate and blood pressure monitoring results were inconsistent, to say the least, despite the fact that it comes with a medical grade ECG sensor. I am saying this because I tried to take multiple readings just to check its consistency, however, the t.band gave highly contrasting results. For instance, heart rate readings went from 60 to 140 in a matter of minutes while I was just sitting on my chair. I mean, even before you get the results you know they are going to be wrong as it took multiple attempts to just get it to record those stats. Even the sleep tracking was not up to the mark as even after a good night's sleep, it would show that I had insomnia which is just nuts.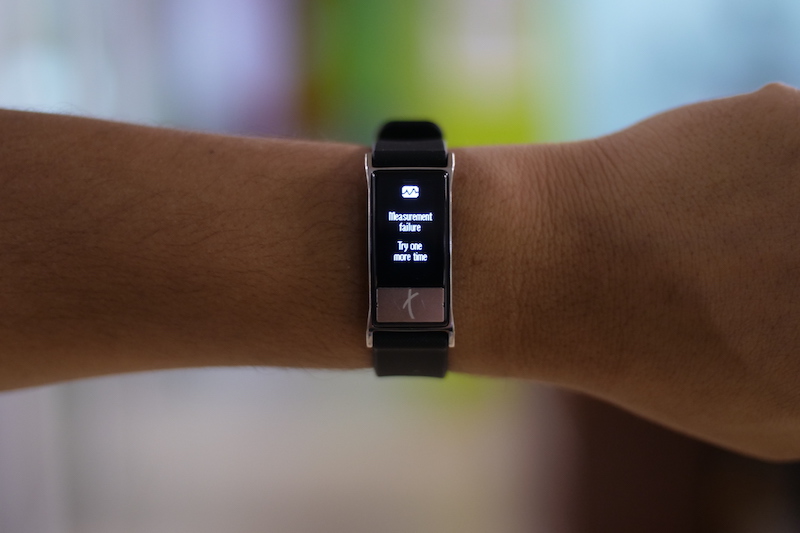 The bottom line is that t.band is good for tracking your walking and running stats but not very good enough for anything else. If you want to monitor your heart rate and blood pressure, you need a better and more capable fitness band. And, if you need to measure those stats for medical purposes, I would suggest that you get a dedicated monitor which has been medically certified to perform those tasks.
Compatibility and Apps
Just like most of the fitness bands out there, the Smartron t.band is compatible with both Android and iOS devices. Smartron has released t.band's companion app called the "t.health" for both iOS and Android devices, which you will need to install if you want to get a better understanding of your health. The app is fairly easy to use and it displays all the data in a very legible and easy to understand manner.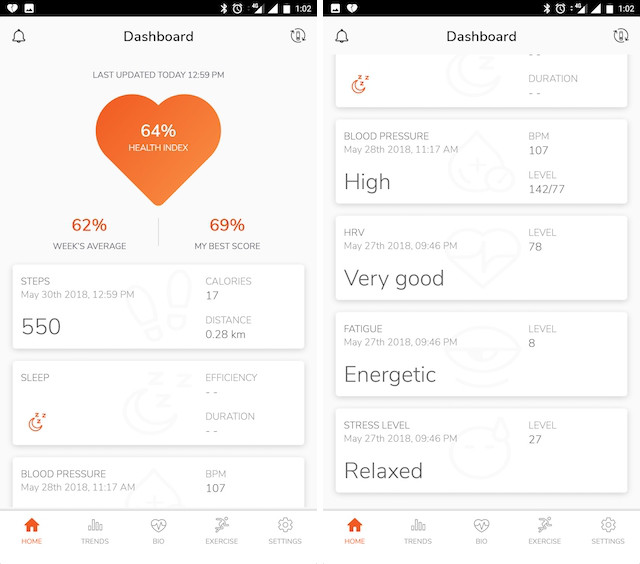 The app also generates a Health Index Score by taking into account all your fitness parameters including activity tracking, sleeping patterns, heart rate, blood pressure, calorie count, stress, and fatigue levels. I don't know how true this Health Index Score is as I have been only using the t.band for a week or so, however, I can see the usefulness of this stat over time. The best part about t.health app is that it allows you to sync the data with both Google Fit and Apple health app. This is very helpful if you keep all your fitness data in one place regardless of the fitness device that you are using. Overall, I am pretty happy with the t.band's compatibility and companion apps.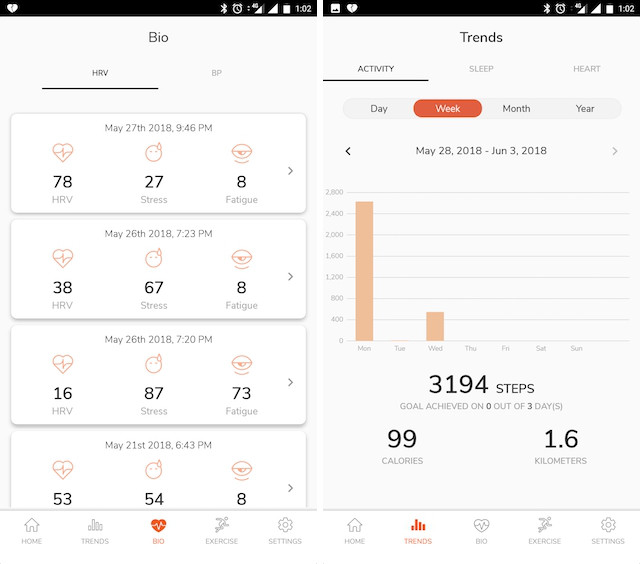 Connectivity
The Smartron t.band uses Bluetooth 4.1 to connect to your device. In my experience, the pairing process is fairly easy. You just double tap on the watch screen to get the pairing code. You enter the code on your smartphone, and you are good to go. The actual connectivity, however, has been finicky at best. The t.band drops connection on a regular basis and although you don't have to pair it again and again, you do need to open its app to establish the connection again.
Battery Life
Smartron t.band brings a 100 mAh battery and promises two days of battery life. I am happy to report that the t.band's claim of 2-day battery life is true, that said, I am not happy with the battery life itself. Two days battery life is just not enough for a fitness band, especially for one which promises sleep tracking. Smartron should have met the market standard which is about a week of battery life. The last thing you need is a dead fitness tracker which cannot track your activities.
This problem is compounded by the fact that t.brand uses its propriety charger which you will need to carry if you are planning a trip for more than two days. But on the plus side, the 100 mAh battery charges fairly quickly and takes just around two hours to get it fully juiced up.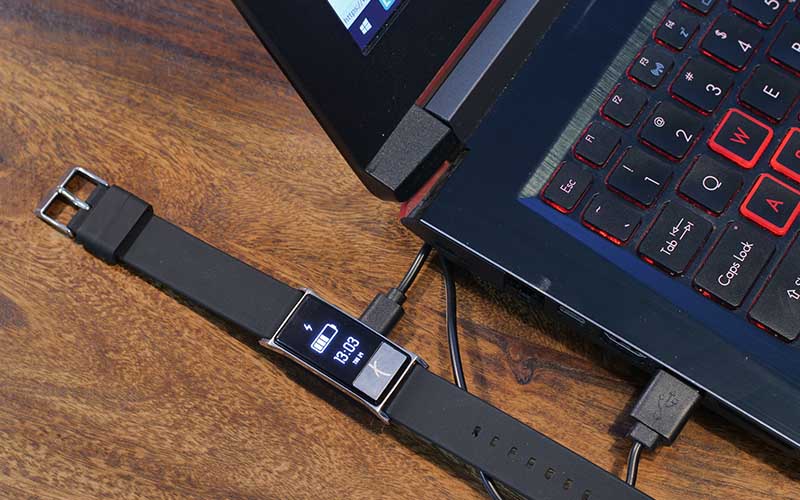 t.Band vs the Competition
The pricing of t.band has put it into a very weird space. On one hand, there are cheaper options like the Mi Band 2, which does everything that t.band does minus the blood pressure measurement at less than half the price, while on the other hand, we have offerings from Fitbit which start at double the price but can give you a lot more reliable readings. So, where does the t.band stands?
Well, in my opinion, if the heart rate monitor and blood pressure sensor on the t.band worked reliably, it would have blown the competition out of the water, however, the fact is that they don't and there are a lot of cheaper options out there which can track the rest. Also, with the Mi Band 3 just around the corner, I would suggest that you wait a bit before making the final purchasing decision.
Smartron t.band Review: An Unfulfilled Promise
Smartron t.band makes a lot of promises but sadly it fails to deliver on them. Don't get me wrong, the device is really well built and is really comfortable to wear. However, it is also affected by a myriad of problems. For starters, the connectivity is finicky, the touchpad doesn't work at times, and the heart rate and blood pressure monitoring is not reliable. In conclusion, the Smartron t.band is a good fitness band, however, it's not the great fitness band that it was hoping to be.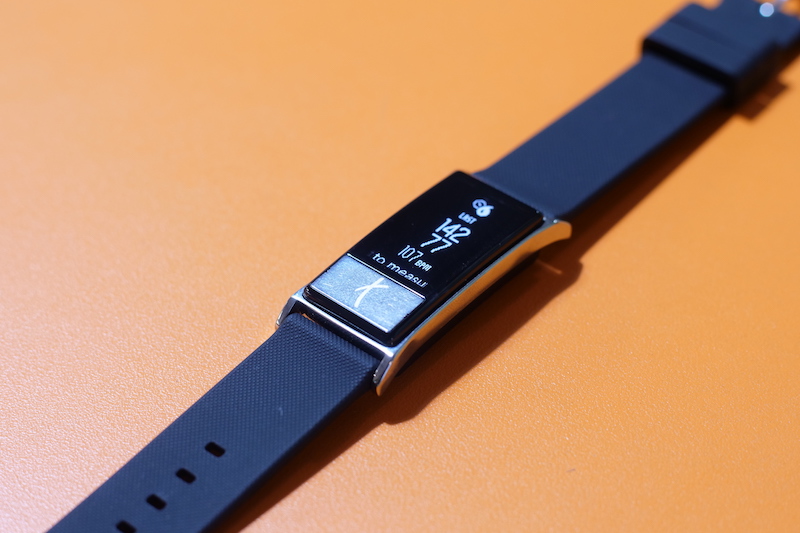 Pros:
Great build quality
Good looking OLED display
Beautiful and functional companion apps
Comfortable to wear
Cons:
The trackpad is not consistent
Connectivity is not reliable
Average battery life
Heart rate and blood pressure sensor do not work properly.
Buy From Flipkart: ₹4,999
Smartron t.band Review: Could Have Been Better
When I first got the t.band, I was really hopeful for it, as it promised to do a lot of things at a very reasonable price. However, after using it for over a week, I can surely say that Smartron needs to improve a lot if it wants the t.band to become a successful product. Thankfully, most of its flaws are software related so hopefully, Smartron can improve on it with software updates. However, in its current state, I don't think I can recommend this product to our users.
REVIEW OVERVIEW

Design and Build Quality

9

Blood Pressure Monitoring

6

SUMMARY

Smartron t.band makes a lot of promises but sadly it fails to deliver on them. The device is really well built and is really comfortable to wear, however, it is also affected by a myriad of problems. The connectivity is finicky, the touchpad doesn't work properly, and the heart rate and blood pressure monitoring is not reliable. Hopefully, Smartron can improve on it with software updates, however, in its current state, I can't recommend this product to our users.