TikTok is one of the most popular video sharing platforms out there right now; boasting over 732 million monthly active users. It's also one of the places where trends are born, and a lot of fun content is available to view and enjoy. So, whether you want to keep a TikTok saved on your phone because you're trying to replicate it, or just because it's a fun video that you want access to, here's how to download TikTok videos using Qoob Clips.
Download TikTok Videos Easily
First things first, I know TikTok has a built-in feature to allow downloading videos. However, that feature only works if the creator of the video has enabled downloading. So, a lot of TikTok content can't be downloaded using that method.
What's more, if you want to download the entire catalog of videos from a creator, or if you want to download all the videos for a particular trending hashtag, that's not possible natively on TikTok. That's where Qoob Clips comes into play. It lets you download TikTok videos easily in bulk.
Download All TikTok Videos from a Creator
Say you follow a particular TikTok creator and you want to download all of their videos on your computer. With Qoob Clips that's really simple and easy. Here's how you can download TikTok videos from any account:
Install Qoob Clips (download) on your computer and launch the program.
Type in the username of the creator. For this example, I'm going to download videos from Will Smith's account. Once you've typed the username, click on the 'Download' button.
Qoob Clips will take some time to load up all the clips from the user you selected, and it will download them automatically as they load up.
Download All TikTok Videos from a Hashtag
Downloading a TikTok creator's videos is fine, but if you're looking for ideas on following up on a new trend, chances are you're more interested in looking at hashtags for the trend. Well, Qoob Clips can easily let you download videos from hashtags as well. Here's how to do that:
In Qoob Clips, type in the hashtag you're trying to download the videos for. In this example, I'm searching for dogs because dog videos make everything a million times better.
Choose the relevant hashtag from the drop-down list that shows up, and click on Download.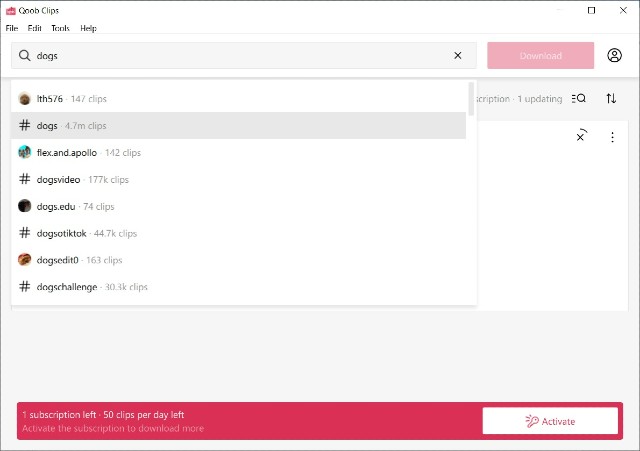 Qoob Clips will add the hashtag to your subscription, and will automatically start downloading videos from that hashtag.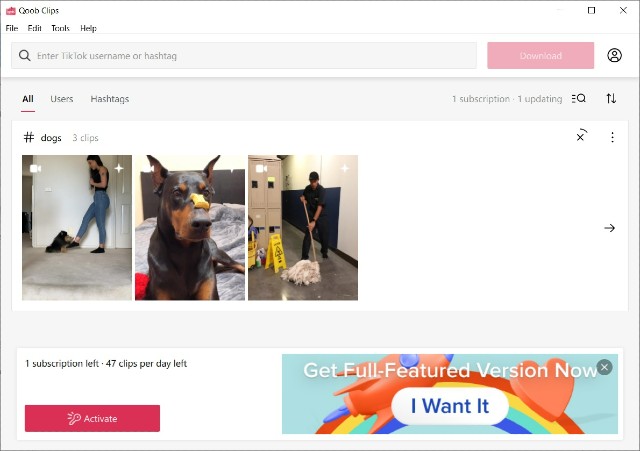 Backup Your TikTok Videos
Lastly, if you're a TikTok user or a creator on TikTok looking to download your entire TikTok library, you can do that with Qoob Clips as well. That's especially important in countries like India where TikTok has been banned, and many creators would have loved to download their TikTok creations.
In the Qoob Clips homepage, type in your name under the section that reads "Save all media from your TikTok account", and click on the download icon.
Qoob Clips will automatically add your account to the subscription list and start downloading all the videos available on your account.
Do note that this process is basically the same thing as downloading a creator's videos, so you can just type in your username in the main search field and it will download your videos anyway.
Pricing
Now that you know everything you can do with Qoob Clips, you must be wondering what's the catch? Well, there isn't one. The app is available for free and it works, but with some limitations.
Basically, in the free version of Qoob Clips, you can only add up to 2 subscriptions, and download only up to 50 TikTok videos in one day.
For the most part, that should be good enough. However, if you want more features and no limits, you can subscribe to the premium version of Qoob Clips which is priced starting at $10 per month.
Use Qoob Clips to Easily Download TikTok Videos
As you can see, Qoob Clips is one of the best software to download TikTok videos. Whether you want to download videos from your favourite TikTok creators, or just all the videos for a particular TikTok trend, Qoob Clips is the way to go about it. It can easily let you download videos without having to manually select them or click download buttons for each video.
Download Qoob Clips Clips (Free)