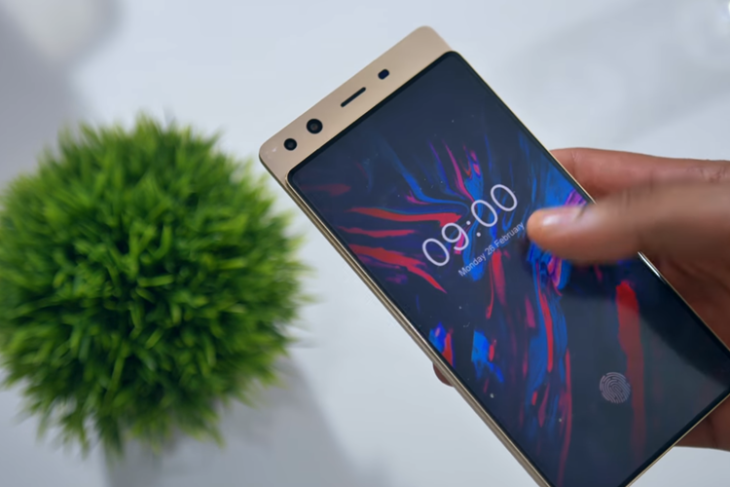 Most smartphone users in India and around the world would not have heard about Doogee but the Chinese smartphone brand is looking to change that in a big way. Well, it has certainly got our attention with its latest concept smartphone.
After the Vivo Apex smartphone showed the way by introducing an all-display front with a hidden camera, there were bound to be pretenders. But Doogee's take on it is refreshing and also reminds us of a time when slider phones were all the rage.
The concept is being called the Doogee Mix 4 and it was unveiled in an exclusive video by YouTuber Arun Maini aka Mrwhosetheboss.
As you can see it's quite a novel concept and it reminded a few in our office of a Sony Xperia phone with its squared-off aesthetics. Instead of hiding just a single camera on the top edge, the phone's full display slides down to reveal dual selfie cameras, an earpiece as well as the front sensors. Besides that the phone would supposedly have an under-display fingerprint scanner as well as dual rear cameras. Even though the unit is a dummy phone, Maini revealed a few details about possible specs, such as a Qualcomm Snapdragon SoC, which really would make this a more attractive option than the usual Mediatek chipsets. As for a release date, Maini speculates that it would be sometime in December this year, based on past Doogee Mix releases.
It's interesting that brands which were once labelled copycats are the ones who are presenting some radical concepts when it comes to bezel-less phones. It would be interesting to see whether such sliders and hidden cameras will become the norm going forward or whether other technology – such as Apple's under-display cameras – will win in the market. Whatever it is, we must commend Doogee for not simply slapping on a notch to accommodate the cameras – even though people are starting to like them.
So what did you think of the Doogee Mix 4? Love the design and can't wait to try it? Or are you not convinced, and prefer traditional camera placement? Leave us your thoughts below.