When it comes to drones, only a few can match the level of sophistication that DJI brings to the table. This time around, the world's leading consumer drone manufacturer managed to outperform themselves, as the company launched their first ever mini-drone, which is even smaller than last year's revolutionary Mavic Pro drone. It's called the DJI Spark and it's packed with innovative smart features that make it the easiest drone to fly.
Although the DJI Spark is a game changer, the asking price of $499 might disappoint some consumers who are looking forward to buying a mini-drone that's affordable. That price tag is more suited to professional drones rather than a mini drone. So, you might be interested in looking elsewhere for a much more affordable mini drone. Well, we're going to help you with that. Let's take a look at the 7 best DJI Spark Alternatives you can buy
1. Yuneec Breeze 4K
At first glance, the Yuneec Breeze looks like a heftier version of the DJI Spark. It might not have all the smart features of the Spark, but it performs where it matters the most. Yes, as you can guess from the name, the Yuneec Breeze is capable of 4K video recording at 30 frames per second. Well, that's something which the DJI Spark completely lacks, as it's capable of recording only up to 1080p. The Breeze features an impressive 13 MP camera that's capable of snapping higher resolution pictures than the 12 MP camera on the Spark.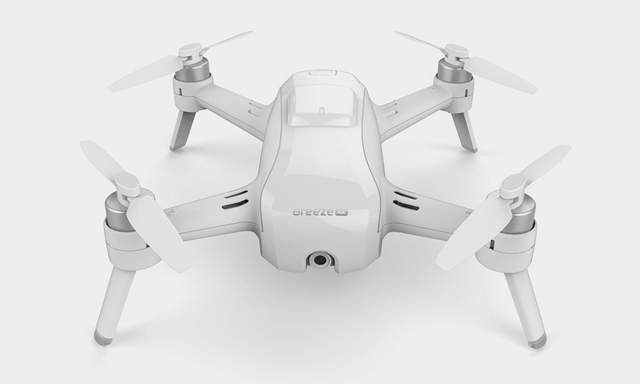 The Yuneec Breeze has its fair share of smart features as well. These include five automated flight modes like Pilot, Selfie, Orbit, Journey and VisionTrack, so you can sit back and relax while the drone is doing all the heavy lifting. Just like the DJI Spark, the Breeze features Propeller protectors that can be considered as the last resort just in case of a crash. Breeze can assure you with a flight time of up to 12 minutes, which is noticeably lower than the 16 minutes flight time offered by the Spark. However, wind can affect the Spark's flight time.
The drone carries a price tag of approximately $375 which is considerably lower than what DJI asks for their latest drone, and this is exactly why we consider the Breeze as the best alternative to the DJI Spark.
Buy from Amazon: ($374.99)
2. Holy Stone F181
While the Holy Stone F181 might not boast any smart features like the DJI Spark, the sheer compact size keeps forcing us to compare it against the newest and smartest mini drone on the market. Do not underestimate the drone though, as it boasts a camera capable of recording at 720p HD with 6-axis gyro stabilization that's good enough for the asking price.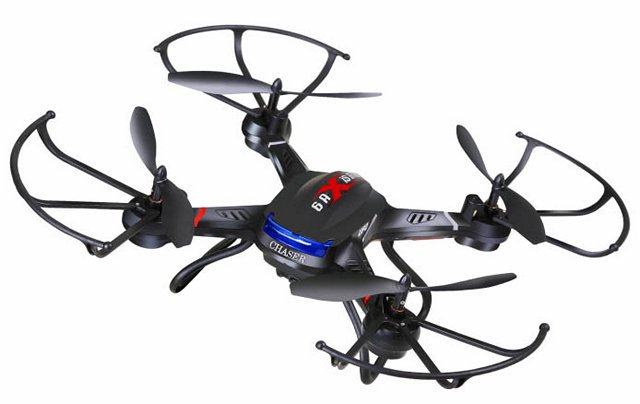 Aimed at beginners, the Holy Stone F181 is equipped with a key return and headless security system that prevents the pilots from losing their drones. It has a decent flight time of 8 minutes and a maximum range of 100 meters which is impressive for the price tag of $110. The drone was recently upgraded with an altitude hold function, which makes it an even more tempting deal. If you're a beginner who's just interesting in trying out drones, the Holy Stone F181 is definitely one of the best you can start with.
Buy from Amazon: ($109.99)
3. Hubsan H501S X4
This is certainly one of the most tempting drones in this list, especially for the features it packs in its price range. The gold accents on this drone, especially on the black color variant can definitely turn some heads when you take it out for flying. The drone boasts several smart features like Headless Mode, Follow Me Mode, Return to Home, GPS Position Hold and Barometer Altitude Hold, which you cannot expect from a drone in this price range.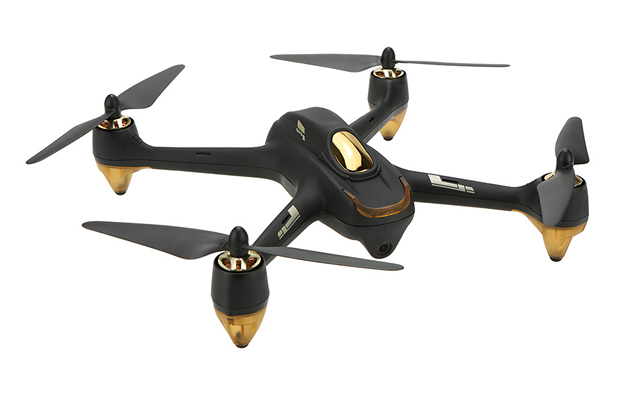 It's not just the smart features that we're impressed about, as the Hubsan H501S X4 is capable of 1080p Full HD video recording at 30 frames per second, just like the DJI Spark. With a flight time of up to 20 minutes, it clearly outperforms the 16 minute flight time offered by DJI's latest drone. Additionally, the flight range tops out at approximately 300m, which cannot be matched by several other drones in this segment. With a price tag of approximately $265, there's no doubt that the Hubsan H501S is a mouth-watering deal for almost all of the beginner pilots who are looking forward to purchase a new drone.
Buy from Amazon: ($264.81)
4. Parrot Bebop 2
Parrot is one of the leading manufacturers of mini-drones, usually targeting the budget segment, where people are looking forward to purchase their first drone. The Bebop 2 is certainly one of the best beginner drones you can buy, featuring an impressive 14 MP camera, capable of taking higher resolution stills than the DJI Spark's 12 MP camera. The camera is capable of recording video footage at Full HD 1080p, just like the Spark. The 3-axis image stabilization on the drone is a welcome addition to ensure that your footage is steady.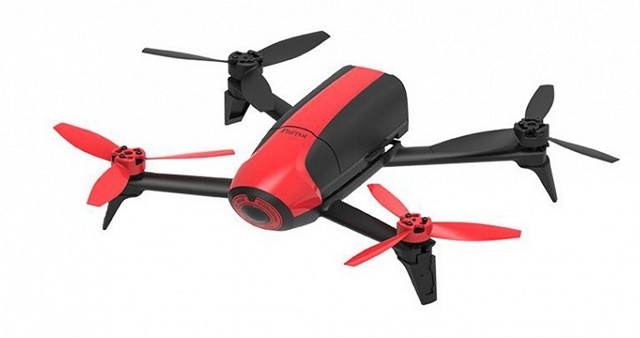 The unreliable Wi-Fi connection, which frequently drops, is one of the major downsides of the Bebop 2. That being said, it offers a maximum range of 300 meters and a flight time of over 20 minute, which easily outshines the Spark. At $499, sure it costs as much as the DJI Spark itself, but keep in mind that the Bebop 2 comes with a controller and FPV headset. If you wanted to purchase DJI's FPV Goggles, you'd have to shell out another $449 which is almost the cost of the drone itself.
Buy from Amazon: ($499)
5. DJI Mavic Pro
Seriously, what could be a better alternative to the DJI Spark than their own flagship drone from last year? At launch, the Mavic Pro wooed the entire industry and completely changed the way how drones were supposed to be used. Sure, the Mavic Pro is bigger than the Spark, but its foldable design puts the Spark to shame. In spite of being bigger, you could cram the Mavic Pro into your pocket, which is something that you just cannot do, with the Spark. Apart from this, it easily outperforms their latest drone in terms of video quality, but that's to be expected, considering it's more of a professional drone for the price point.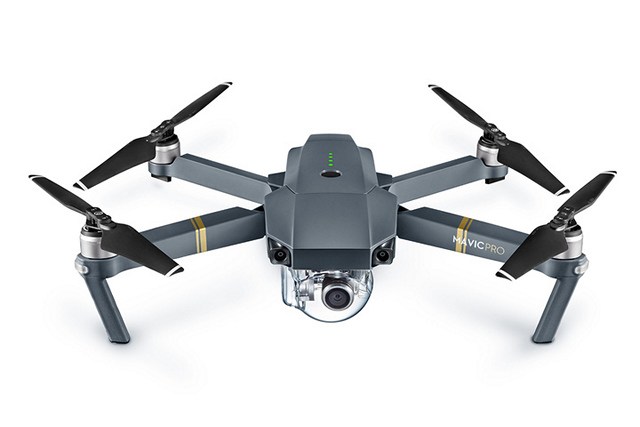 The Mavic Pro boasts a 12 MP camera capable of recording footage at 4K resolution. The gimbal on the Mavic provides 3-axis stabilization whereas the Spark is restricted to just 2-axis stabilization. Considering this is a DJI drone, you can expect almost every single smart feature that the company's latest Spark drone packs, like the ability to avoid collisions and return home automatically by making use of the GPS signal.
With a flight time of approximately 27 minutes, it's significantly more than what's offered by the Spark. All in all, the Mavic Pro outperforms the Spark in almost every aspect, except for the size and price. For a price tag of nearly a grand, you could buy two Sparks for the price of one Mavic, but keep in mind that you're getting a much better drone in terms of functionality. So, if you have the cash and you're looking for a more professional mini drone, the Mavic Pro is the best, by far.
Buy from Amazon: ($978)
6. AirSelfie
A drone which is smaller than today's smartphones. How cool can that be? Well, the AirSelfie, as the name suggests, is primarily a drone for taking selfies, but we wanted to compare it against the likes of DJI Spark due to its sheer tiny size. Aimed at replacing selfie sticks in the near future, the AirSelfie drone is capable of shooting 5 MP stills, but it can also shoot 1080p Full HD video. Now, we're talking. Sure, DJI Spark can do it better, but can you carry it in your pocket? Absolutely not.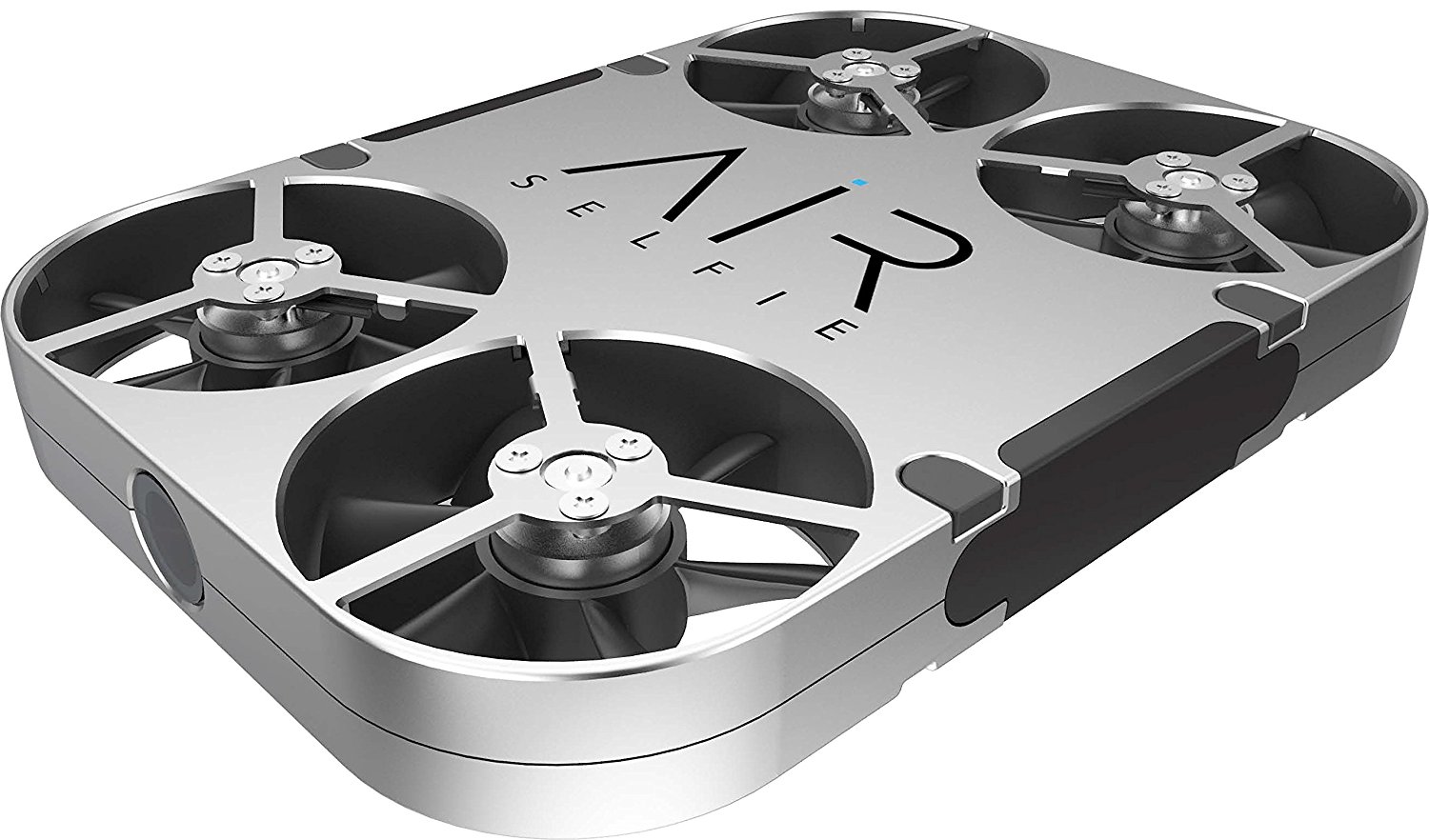 On the flip side, the flight time of 3 minutes will disappoint most of the users, but that's the price you're paying for a drone that can sit right on top of your smartphone with a case. That being said, this case doubles as a portable charger as well, so once you run out of juice, you can snap it right into your case to start charging right away. As far as usage is concerned, you can connect your drone to your phone and completely control what it shoots via Bluetooth.
Buy from Amazon: ($319)
7. Parrot Mambo
It's about time you guys meet the least expensive drone in this list. This is pretty much a toy drone, which is primarily aimed towards children who're interested in flying drones. We are pitting it against the DJI Spark, because of two reasons, size and price. As you might expect, the drone is even tinier than the DJI Spark. It features a maximum flight range of approximately 60 meters and a flight time of 9 mins. It makes use of Bluetooth 4.0 LE to connect to your smartphone for complete control over the drone flight.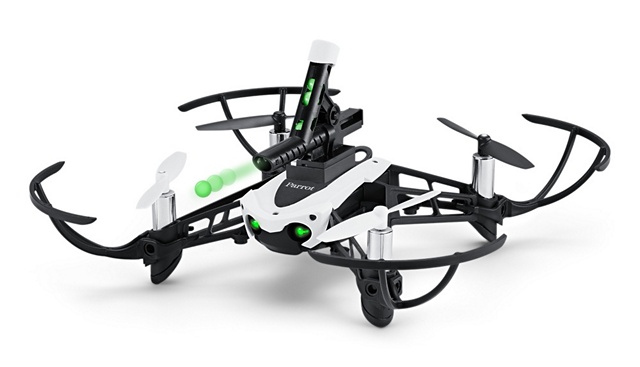 Since it's a toy drone, it features autopilot technology, so the drone will remain stable and hover in the air, even if you don't have the controller in your hands. Apart from this, the toy aspect of this drone include the ability to shoot cannon balls and lift light weight objects with the help of a holder attachment. On the flip side, it features a disappointing 0.3 MP camera that can only shoot stills. That being said, for a price tag of approximately $98, this is probably one of the best mini drones you can buy for your children.
Buy from Amazon: ($97.12)
SEE ALSO: 10 Best Drones Under $100 You Can Buy
The Best DJI Spark Alternatives You Can Buy
As we mentioned before, the DJI Spark is arguably the best mini drone you can buy at the moment, but it's asking price will disappoint most of us, because it costs as much as DJI's own professional-grade Phantom 3 drone which comes with 4K capabilities. With several competitors offering similar features in a compact size for a much more affordable price, we're bound to take a look at those alternatives. So, if you think the DJI Spark is out of reach for you, and you want to purchase a drone on a budget, these are the best ones you can go for. So, do let us know once you make your decision, by simply dropping a few words in the comments section down below.