DJI, the leading brand behind some of the best drones in the industry launched their least expensive and tiniest drone earlier this year. It's called the DJI Spark, and it competes against certain other mini drones like the Yuneec Breeze and Parrot Bebop 2 Power. The Spark features all of DJI's signature technologies, including intelligent flight controls like ActiveTrack and TapFly, that were also seen in the company's Phantom 4 professional drone. In addition to being able to shoot stabilized footage with ease, what's great about the DJI Spark is that it's extremely smart when it comes to avoiding collisions and you'll be able to use gestures to control the drone in any direction. All of these features for a price tag starting at just $499 is what makes the DJI Spark a worthy investment. So, if you're keen on shelling out your hard-earned cash on DJI's latest mini drone, make sure you take your drone flight experience to a whole new level by purchasing one of these 13 best DJI Spark accessories:
1. DJI Spark Remote Controller
The $499 variant of the DJI Spark doesn't come with a remote controller. Instead, you'll have to make use of the DJI Go app that's available for smartphones to control the drone. However, you could purchase the DJI Spark remote controller separately for a full-fledged drone-flight experience. You could attach your smartphone at the bottom of the controller and have the best of both worlds. The controller provides a video transmission range of up to 2 km, which is quite impressive to say the least.
Buy from Amazon: ($129)
2. Additional Batteries For DJI Spark
DJI Spark comes with a battery that provides you with 12-16 minutes of flight time before running out of juice, which is not good enough for the most of us. Well, unless you're casually flying around for fun, nobody would be satisfied with the battery life of this mini drone, especially if you're planning to shoot some high quality aerial footage. So, the only way to resolve this issue by purchasing as many additional batteries as you can, and swap them out easily once they run out juice.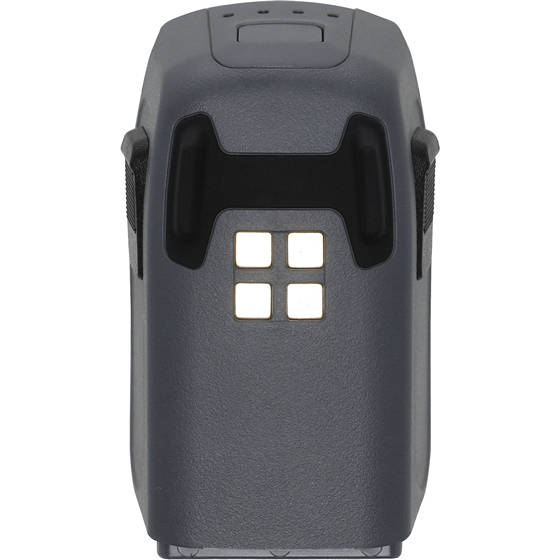 Buy from Amazon: ($49)
3. Battery Charging Hub For DJI Spark
So, you bought additional batteries to make it up for the drone's sub-par flight time, but how are you going to charge them? Are you going to charge those additional batteries one by one? In my opinion, that's a total waste of time. Well, not to worry, as DJI offers a battery charging hub that lets you charge up to 3 batteries at once. The battery hub optimizes the charging process depending on the power-levels of the batteries and the cell voltage. When the temperature of a battery is low, the hub has an intelligent feature which will restrict the charging current to prolong its lifetime and avoid battery hazards.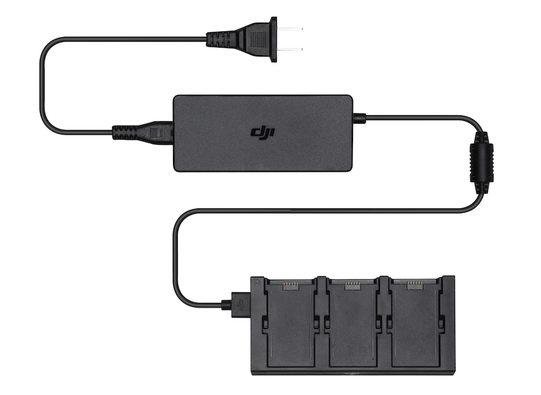 Buy from Amazon: ($68.99)
4. DJI Spark Propeller Guards
Despite being a smart drone, DJI Spark could suffer a collision in certain scenarios, and you need to be prepared for that. Since, the most vulnerable part of this mini drone is its propellers, you will need to find a way to protect them. There are 4 propellers on the DJI Spark that needs to be protected and kept intact, and therefore we highly recommend you to purchase propeller guards for your new drone. These guards aid flight safety, protecting both people and soft objects from the spinning propellers. They are lightweight to make sure that your drone flight isn't affected.
Buy from Amazon: ($18.90)
5. DJI Spark Propellers
A propeller of a drone is its most vulnerable part, and also usually the first part that gets damaged due to even the slightest collisions. It can even get damaged due to dust and debris during its flight. Therefore, you need to make sure you have an extra set of propellers ready in place, so that you can easily swap them out if you need to. Thankfully the propellers come cheap, and a pair of them can be purchased for under 10 bucks.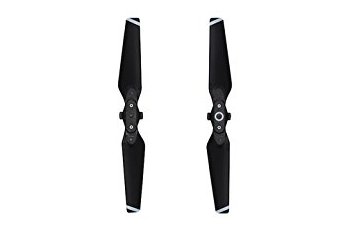 Buy from Amazon: ($9)
6. DJI Goggles
If you currently own a DJI Spark, you're probably making use of your smartphone and the DJI Go App to see what the DJI Spark is actually shooting in real-time. However, you can take the experience to a whole new level by purchasing DJI Goggles, the company's own FPV goggles that give you a real-time first-person view of what your new mini drone is actually recording. At first glance, the DJI Goggles look like one of the several VR headsets that are available today. It has two Full HD screens and has a head tracking feature that literally lets you control the DJI Spark with your head. Users can view the real-time footage in either 720p/60 fps or 1080p/30 fps depending on their preferences.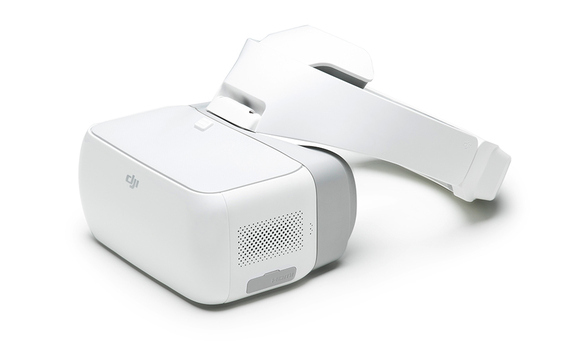 Buy from Amazon: ($449)
7. Fstop Labs Landing Gear Legs For DJI Spark
Being one of the smallest drones in the market today, unlike almost all other drones manufactured by the company, the DJI Spark doesn't include a landing gear by default. Sure, it does have padding at the bottom that aids in landing, but that's simply not good enough. Depending on the usage of the drone, the bottom part may undergo wear and tear over time. In order to avoid this, we highly recommend you purchase landing gear legs manufactured by Fstop Labs. These are much longer and they can prevent wear and tear on the base of the drone as well as the gimbal camera for just under 10 bucks.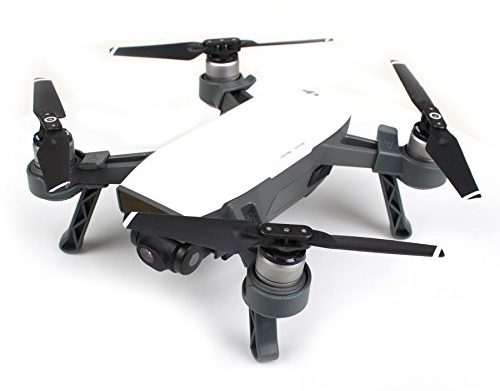 Buy from Amazon: ($9.99)
8. Helistar DJI Spark Camera Gimbal Cover
Unlike the Mavic Pro, the DJI Spark doesn't come with a cover to protect the camera gimbal by default. As a result, its performance can be affected due to the dust and debris that it collects over time. Therefore, we highly recommend you to purchase this cover that can protect the camera gimbal from dust, scratches and water. It's made from strong ABS material with transparent grey color, so we're not worried about its quality. It can also help in avoiding gimbal wobbling and prevent accidental damage during transport.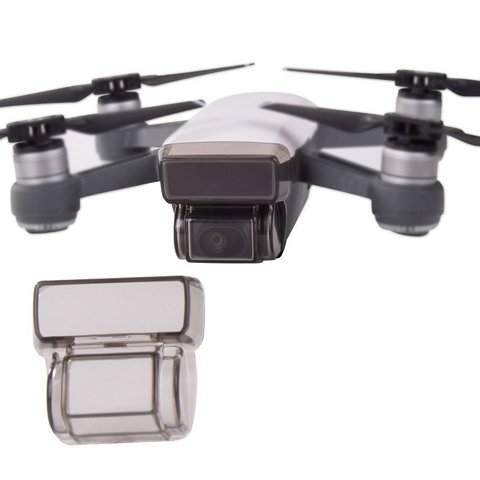 Buy from Amazon: ($5.99)
9. MC-Cases Professional Carrying Case For DJI Spark
If you're planning to use the new DJI Spark for your professional work like shooting stabilized high-quality footage for a long duration, you need to get your hands on a good carrying case that can fit all the equipments that you'll need. Although the MC-Cases professional carrying case for the DJI Spark is significantly larger than the drone itself, it has compartments to carry almost all your necessary accessories, including ability to fit 6 batteries, to make sure you never run out of juice during your shoot. The case isn't much expensive either, it's currently available on Amazon for under 80 bucks.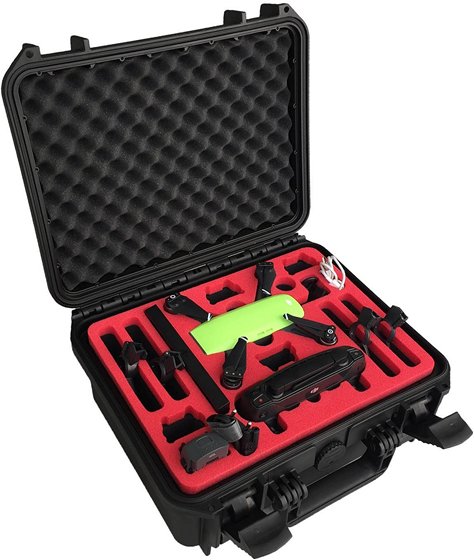 Buy from Amazon: ($79)
10. STARTRC Waterproof Hardshell Shoulder Backpack For DJI Spark
If you travel around with your DJI Spark quite a lot, you might be interested in this shoulder backpack that lets you carry your drone and all its accessories wherever you go with absolute ease. It's also waterproof, so you can be less concerned about the weather conditions. It's made of a hard polycarbonate shell which makes the backpack quite durable and as a result, it's able to protect the drone and all the accessories that's packed inside, from impacts resulting due to accidental drops. It's huge enough to fit a remote controller, charger, drone and up to 5 batteries, in addition to extra space for other minor accessories.
Buy from Amazon: ($57.99)
11. PGYTech Drone Landing Pad For DJI Spark
The take-off as well as landing of a drone is absolutely crucial, and doing this in rough terrain require some skill, because there are potential chances that you might damage the camera gimbal. If you're a beginner drone-pilot, you'll have to make use of a dedicated landing pad to ensure smooth and safe landing. Manufactured by PGYTech, this landing pad is made of waterproof nylon material to ensure that both the gimbal and camera is protected from landing damage. That being said, pegs are also included for securing the pad to the ground.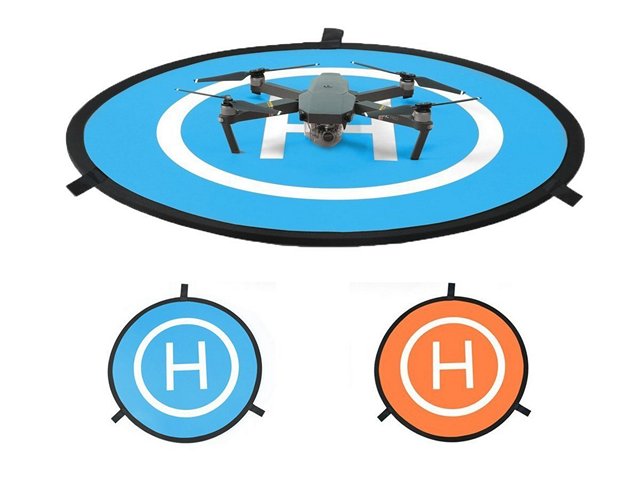 Buy from Amazon: ($15.99)
12. StarRoad DJI Spark Range Extender
The maximum video transmission range provided by the DJI Spark's remote controller is 2 km, which is impressive to say the least. However, if this is not good enough for you, we highly recommend you to purchase a range extender like this one that you can attach to the controller in order to improve the connection range and stability. It consists of a remote signal expansion board which is made of an aluminum material, which acts as an idealized radar antenna. The metal sheet used here faces outward and generates a fan beam because of its oval shape. This range extender is far from expensive as it can be purchased for just under 10 bucks.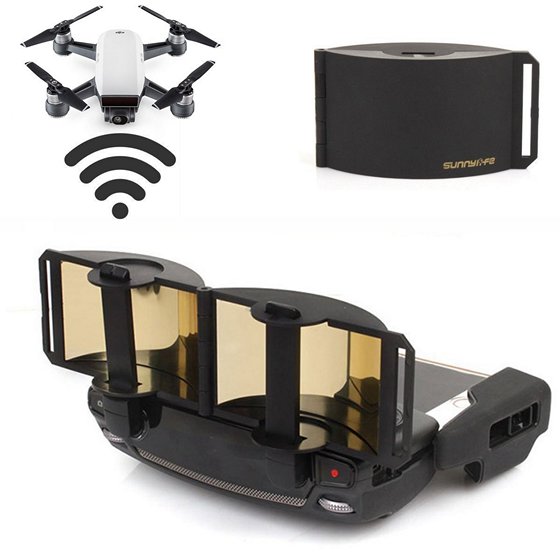 Buy from Amazon: ($9.50)
13. Fstop Labs DJI Spark Car Charger
If you have a car and you travel quite a lot with your DJI Spark drone for aerial shoots, you'll be able to take full advantage of this car charger manufactured by Fstop Labs. That's right, you can charge the drone as well as the remote controller and make sure they don't run out of juice while you're on the move. The USB port that's used to charge the remote controller can also be used to charge any other device, like a smartphone. If the manufacturer's claims are to be gone by, you'll be able to charge your drone in about 40 to 60 minutes, which is impressive to say the least.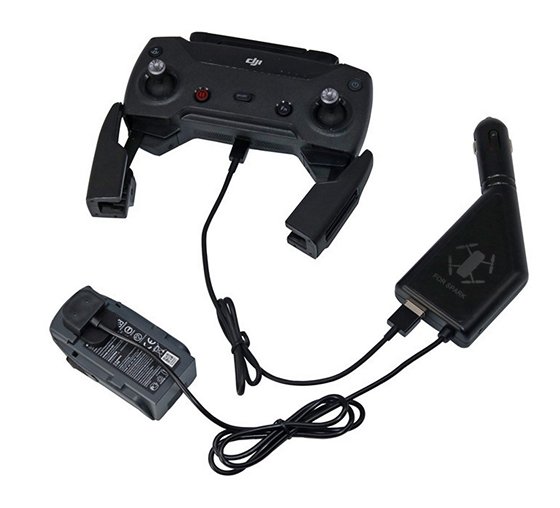 Buy from Amazon: ($15.99)
SEE MORE: How to Set Up and Use DJI Spark (Guide)
The Best DJI Spark Accessories You Can Buy
DJI has a great reputation in the drone industry, and the company's latest DJI Spark mini drone lives up to the brand's name with its compelling set of features. If you've recently purchased the Spark, especially the $499 variant, you'll have to purchase some of these additional accessories to enhance your drone-flight experience. From additional batteries to range extenders, there are plenty of options to choose from. So, which of these DJI Spark accessories are you planning to buy? Do let us know, by dropping a few words in the comments section down below.