YouTube is shutting down its direct messaging service from September 18. The announcement was made Tuesday by a Google employee on the company's official support pages, but she didn't seem to cite any particular reason for the decision.
According to Googler Hazel: "We're constantly reevaluating our priorities and have decided to discontinue YouTube's native direct messaging feature while we focus on improving public conversations".
As can be seen in the embedded screenshot, Google is also notifying users of the impending change via a notification on the Inbox page in the YouTube app, saying, "Messages on YouTube will be going away after September 18, 2019". While most users seem to be outraged at the prospect of losing the much-loved feature, some others are apparently more nonchalant, claiming that they never used it that much in the first place.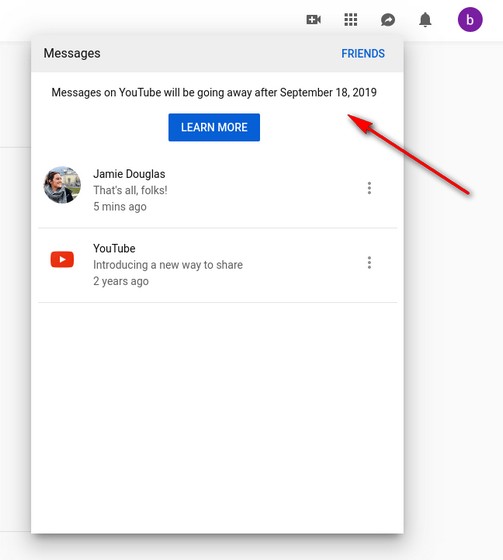 YouTube's direct messaging feature, which was originally introduced back in 2017, may no longer exist in exactly four weeks from now, but the company says users will still be able to share YouTube videos on social media by clicking/tapping on the 'Share' option and then selecting the appropriate social network icon from the available options. However, that doesn't seem to be satisfying die-hard users, who are still urging the company not to go ahead with its plan.
Direct Messaging on YouTube is yet another feature that now seems destined for the graveyard, alongside many other services from Google, including, most notably, Google+, Google Allo, Google Trips, and Reader. While this is just a (relatively) small feature in the larger scheme of things, it will still be interesting to hear why the company is scrapping it, since it still seems to have many loyal users.