Dell recently released a new mid-range laptop, the Dell Inspiron 15 5575, and it has a lot of things going for it. Priced at Rs. 49,999 (available at Amazon for Rs. 45,500), the laptop brings the new AMD Ryzen APU processors with Vega graphics which is something we have not seen in many laptops in India before. In this article, we are going to put the laptop through its paces to see if the new AMD Ryzen APU brings enough power and performance to justify the laptop's price. So, if you were looking for a good mid-range laptop, check out our review of the Dell Inspiron 15 5575:
Note: We have the Dell Inspiron 15 5575 with AMD Ryzen 5 for the review. There is also a AMD Ryzen 3 version of this laptop which is cheaper. 
Dell Inspiron 15 5575 Specs
Before we get into our review, let us get the paper specs out of our way. While in the smartphone reviews specs really don't matter much, in the laptop reviews, it's quite the opposite. So, without taking much of your time, here are the Dell Inspiron 15 5575 specifications:
Name
Dell Inspiron 15 5575
Dimensions
22.7 x 380 x 258 mm
Weight
2.221kg
Display
15.6-inch FHD (1920 x 1080)
Anti-Glare LED-Backlit Display
CPU
AMD Ryzen 5 2500U Mobile Processor
GPU
Integrated Radeon Vega8 Graphics
RAM
8GB - expandable upto 32GB
Storage
1TB
Ports
2x USB 3.1 Gen 1, 1x USB 2.0, 1x HDMI
1x Noble lock, 1x SD Card Reader
Battery
42 WHr
Operating System
Windows 10 Home
Design and Build Quality
When it comes to the design and build quality of the laptop, I believe that Dell has gotten almost everything right with the Dell Inspiron 15 5575. The laptop is well built with little to no flex in the body. Although the laptop is made from plastic, it feels high quality. I also love the matte finish Dell has gone with. Not only the matte finish gives the laptop a stealthy look, it also helps a lot in the looks department.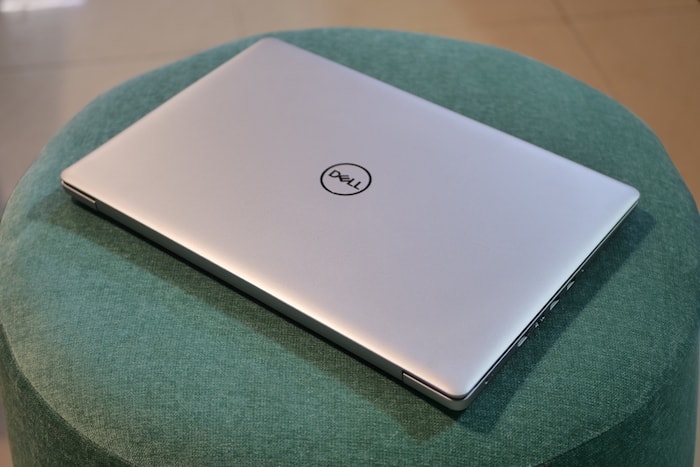 The laptop also sports a strong hinge which can keep its large 15.6-inch display in its place. There is no display wobble whatsoever even when you are using the laptop in bumpy situations. I also love the fact that Dell has made it very easy to get into the laptop. All you need to do is to remove a few pentalobe screws and the back-panel comes just right off. This is great for future upgradability of the laptop.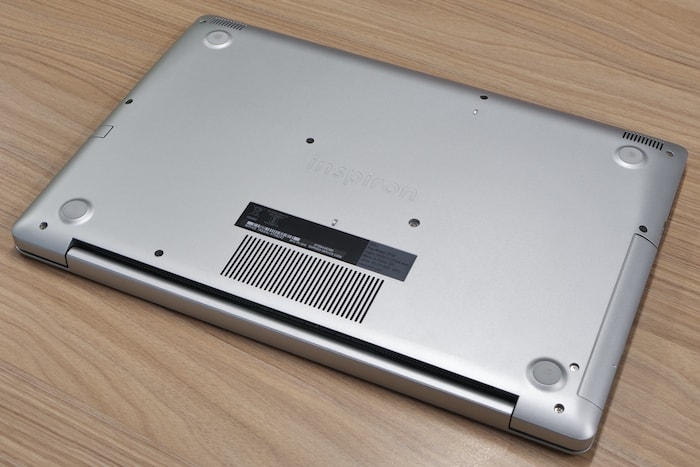 Lastly, even though the laptop brings a huge 15.6-inch screen along with 1TB hard-drive and an optical drive, Dell has managed to keep the weight of the laptop around 2.2 kgs which is great. The weight of the laptop might seem a little on the higher side considering thin and light is all the rage today. However, when you compare the Dell Inspiron 15 5575 to other similar feature-packed laptops, you will find that Dell has done quite a good job in shaving off the weight.
All in all, I am pretty happy with the laptop's overall design and build quality and apart from some minor nuances, there is nothing to complain here.
Ports and Connectivity
One of the best things about the Dell Inspiron 15 5575 is its selection of ports. Dell has included every possible port that a user might need. On the left side of the laptop, you will find a charging port, an HDMI port, an ethernet port, 2 USB 3.1 ports, and a headphone jack. I also love the fact that even though Dell has included so many ports on the left side of the laptop, it doesn't feel crowded.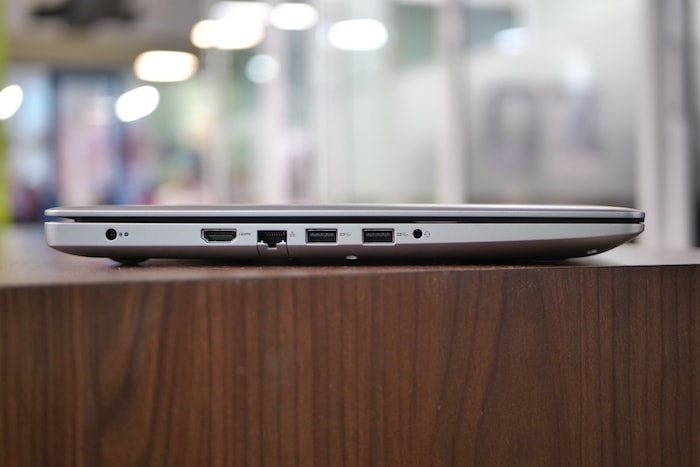 Going to the right side of the laptop, there's a Noble lock, an optical drive, a USB 2.0 port and a full-size SD Card reader. I am happy with the fact that Dell went with a full-size SD card reader and not the microSD card port. Also, the fact that the laptop features an optical drive, something which is becoming a rare commodity these days, is also a good news for people who are still using it.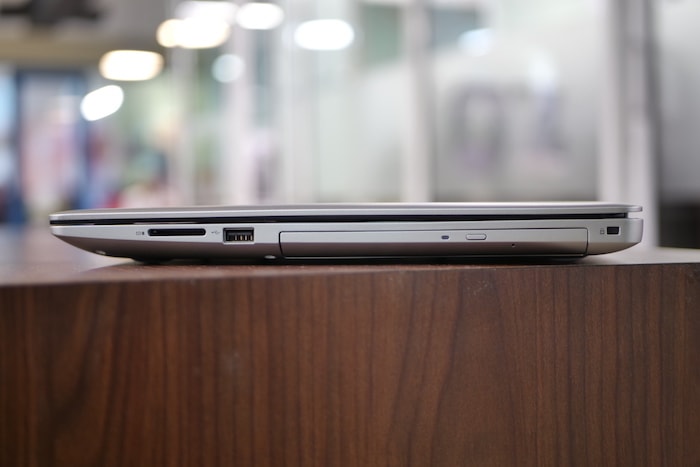 All in all, I am pretty happy with the laptop's port selection here. I only wish that Dell had also included a type-C port with it, but I guess we cannot have everything.
Apart from the missing Type-C port, Dell has knocked it out of the park as far as the port selection on Dell Inspiron 15 5575 is concerned.
Display
Dell Inspiron 15 5575 features a 15.5 full HD display (1920*1080) which is pretty good for a laptop in this price range. When it comes to the display panel itself, the laptop uses a LED-backlit display panel with an anti-glare coating which makes it possible to use the laptop even in the brightly lit environments. The screen also gets sufficiently bright which is a big plus. I do wish that the bezels around the displays were a little smaller, however, it's a compromise I am ready to make seeing the quality of display which is packed with the Dell Inspiron 15 5575.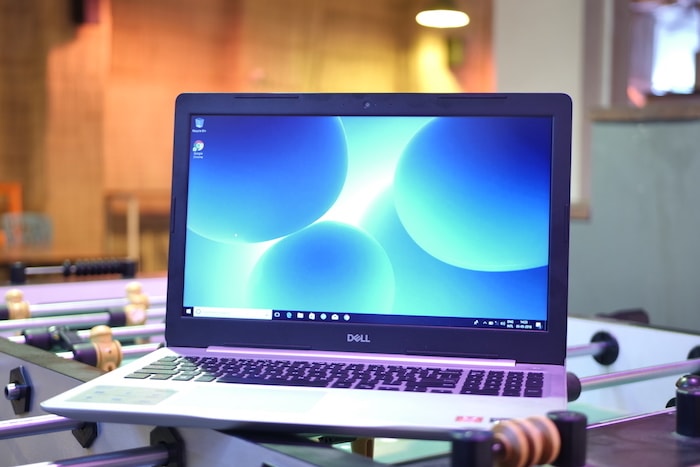 If there is one thing that I would have liked to change about the display, it will be the viewing angles. The viewing angles on this thing are not great. If you look at the display from the sides, it looks pretty washed out. Dell should have done a better job with the panel to improve the viewing angles. I mean it's not a problem for a single user, however, if you like to watch a lot of movies with your friends, you will have to constantly change the display orientation to get it right for everyone.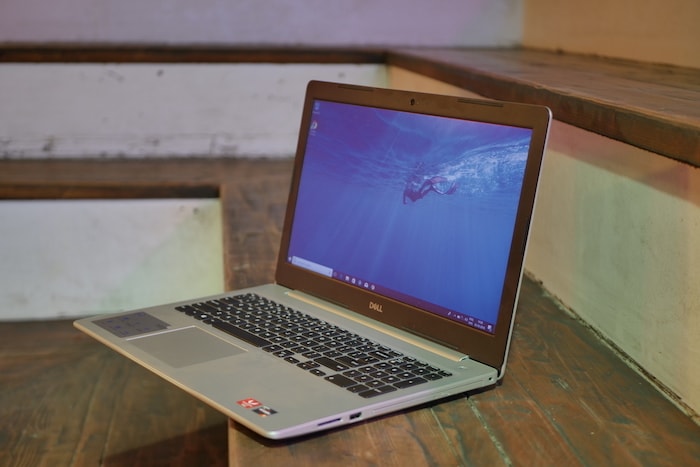 Overall, the display on the Dell Inspiron 15 5575 is sharp, bright and good looking but there's one problem and that's the viewing angles.
Keyboard and Trackpad
Dell is famous for making great keyboards and they have done it again with the Dell Inspiron 15 5575. The laptop features a full-blown keyboard with well-spaced and ergonomic keys. Typing on this laptop has been a joy. The keys provide ample feedback and don't make a lot of noise. Even after typing for hours on this laptop, I never felt any kind of fatigue on my fingers.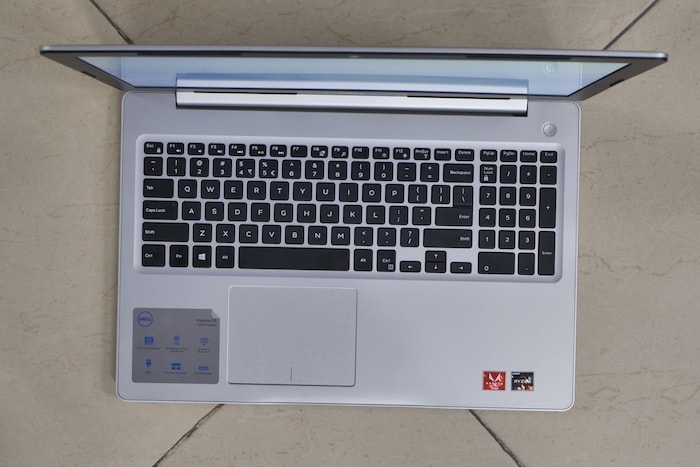 I also had the keyboard tested by other members of our team to get a bigger sample size and I am happy to report that most of them liked the keyboard experience. That said, some of them did say that the lack of audible feedback was a problem for them. So, if you also like clickity-clackity keyboards, it will take some time to get used to this. However, once you use it for a few hours I am sure that you are going to love it.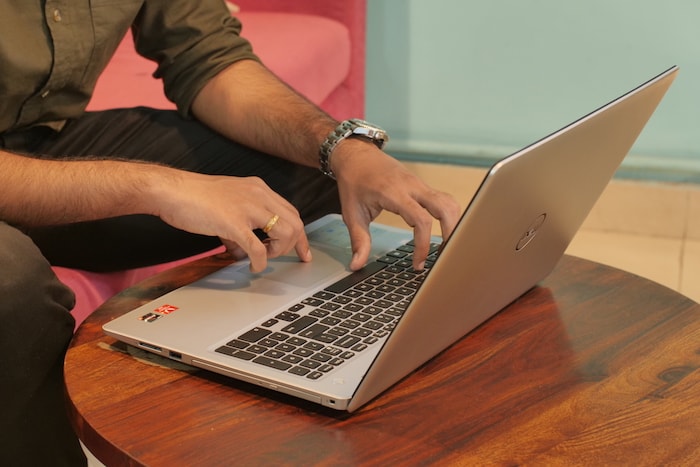 Let's talk a little bit about the trackpad now. Functionality wise, it's great. Since the trackpad uses Windows Precision drivers, you have access to all the Windows 10 trackpad gestures along with the precision tracking. Even the clicking mechanism works great as the trackpad provides a big clickable area with nice feedback.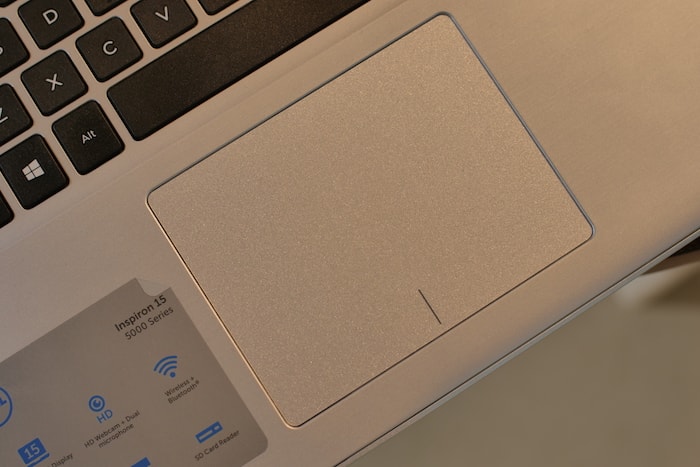 What I don't like about the trackpad is its surface. The surface has a sort of rough finish which makes it hard to use the trackpad for a long period of time. I understand that I cannot get glass trackpads at this price range, however, Dell could have gone with the glossy finish on trackpad to make tracking smoother for your fingers.
Audio
While writing this review, my main thought was to omit this part. The kind of speakers that the Dell Inspiron 15 5575 brings, Dell might as well have sold the laptop without them. The speakers on the laptop sound just plain terrible. First of all, they are bottom firing which is possibly the worst place to put speakers on a laptop.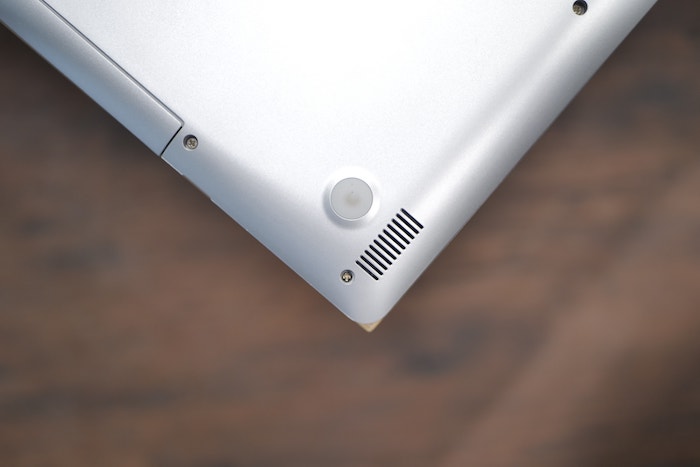 However, even if you let go of that mistake and focus just on the quality of sound that comes out of those speakers, you will be disappointed. Don't get me wrong, the speakers get very loud, however, they also crack like thunder. There is a software feature built-in called the Wave Max Audio Pro which can help you manage the audio quality, however, it can't perform any magic and can only improve the sound quality by a little bit.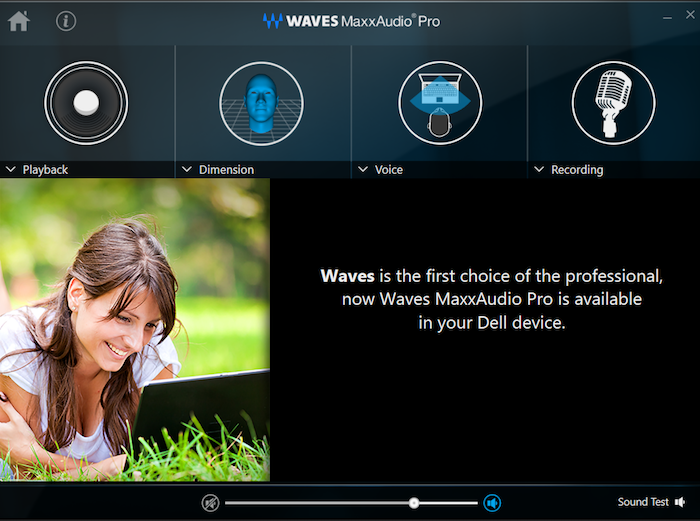 Software Experience
The Dell Inspiron 15 5575 comes with the full-blown Windows 10 Home operating system, so if you have ever used a Windows 10 machine before, you know what you are getting. Sadly, you also get a ton of Dell's software, 90% of which is not useful. Thankfully, they are removable so you don't have any problem there. Once you remove the undesired software what you are left with is pretty useful.
I especially love Dell's new Mobile Connect feature which the company is including on all its laptops which are being sold since January 2018. If you have never heard of Mobile Connect before, it's basically a Universal Windows Platform (UWP) app and allows you to seamlessly connect your Android or iOS device with the laptop. Dell Mobile Connect works with any phone running Android 5.0 or iOS 10 and higher. As such, you can use the software to make and receive calls through the Dell Inspiron 15 5575, use it as a file manager for your smartphone, and even mirror your device on the laptop.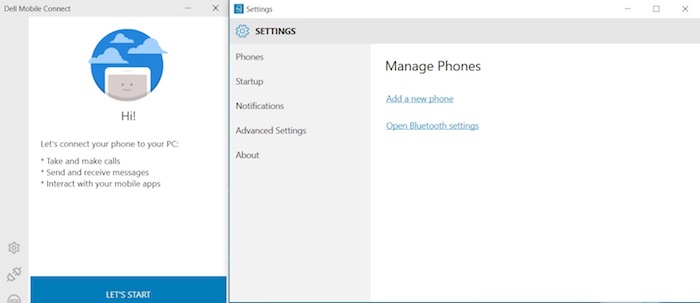 Another good piece of software that comes with the Dell Inspiron 15 5575 is the Dell CinemaStream. It basically lets you manage your internet bandwidth and allows you tot prioritize your tasks. For example, you can set it up in a way that whenever you are on a video call or streaming movies online, the Dell Inspiron 15 5575 will direct most of the network bandwidth to those tasks while supplying only a small portion to other tasks like the files being downloaded in the background. Overall, the software experience on Dell Inspiron 15 5575 is the same as it's on any good Windows 10 device and you will feel right at home here.
Camera
The Dell Inspiron 15 5575 packs a 720p camera at the top to handle all your video calling needs. The camera which is included in the laptop is average. Your video calls will go smoothly if you are in a brightly lit environment, however, the picture quality decreases exponentially as soon as the ambient light start decreasing. That said, every laptop in this price range packs a similar camera so you cannot complain much.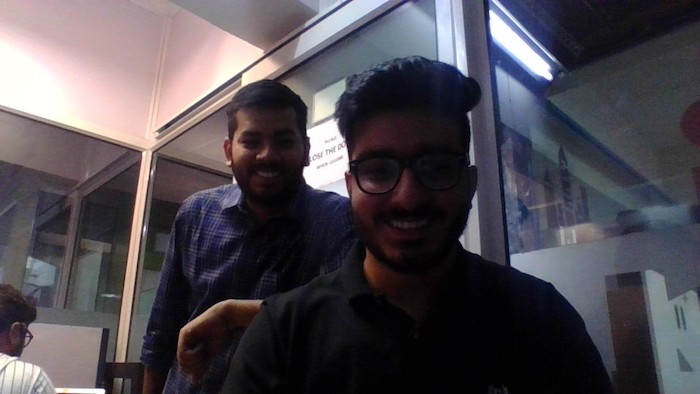 Performance and Gaming
The performance of the Dell Inspiron 15 5575 is really great. The laptop blazed past everything that I threw at it. The AMD Ryzen 5 2500U Mobile Processor paired with integrated Radeon Vega 8 Graphics and 8GB of RAM make this laptop a screamer. The day to day performance is just fantastic. I could easily open and run multiple apps without seeing any stutters. I mean even after constantly running more than 10 tabs on Chrome, the laptop was able to keep up with me without any problem.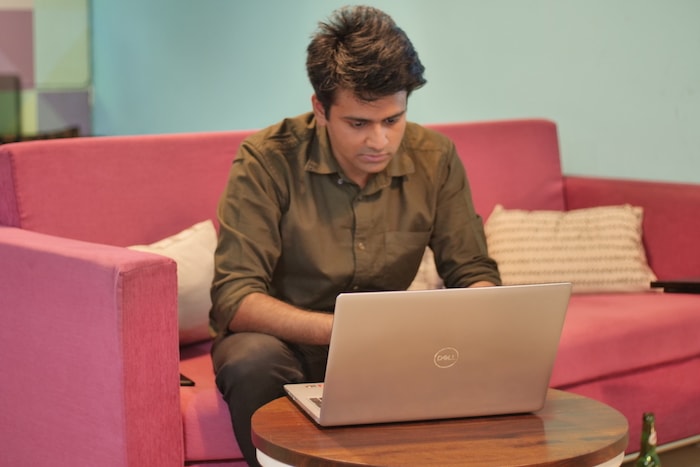 I even tried photo editing in the Adobe Lightroom and the laptop was able to handle that without any problem. For a normal user who is going to use this laptop for web browsing, consuming media, working with Office365 apps, or light to medium photo and video editing, this laptop is great. The Dell Inspiron 15 5575 brings more than enough power to tackle all these tasks without breaking a sweat. For its price, the laptop performs quite remarkably.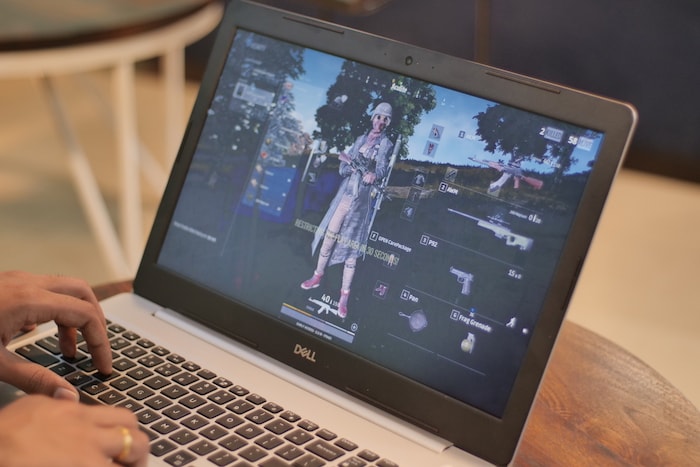 Before we end this section, I wanted to touch a little bit on the gaming aspects of the Dell Inspiron 15 5575. While Dell has not positioned this laptop as a gaming laptop, since this laptop brings the AMD APU with Radeon Vega graphics, I wanted to see if the laptop was any good for gaming or not. In my testing, while playing CS GO and Rocket League I was able to get around 45-50 FPS at 1080p and medium settings. While you are not going to win any tournaments with that performance, the games were playable. However, when I tried to play PUBG, I was only getting around 20 FPS at 720p and very low graphics settings. These numbers clearly prove that the Dell Inspiron 15 5575 is not at all made for gaming, however casual gamers can enjoy a few games which are not that demanding.
Thermals
Seeing how big the laptop is, I thought Dell would have had ample space to include proper cooling system with the laptop. However, the temperature rose around 67 degrees when I was pushing the laptop which is way more than the acceptable standards. That said, the higher temperature neither affected the performance of Dell Inspiron 15 5575, nor I was able to detect any heat while using the laptop. You probably won't even notice the extra heating. However, I would have liked if Dell had managed to install a better cooling solution inside the laptop.
Battery
The Dell Inspiron 15 5575 packs a 42WHr battery inside which is a little on the lower side so don't expect anything spectacular here. In normal usage I was able to get anywhere between 3-4 hours of battery life, however, push the laptop a little harder and the battery life will drop significantly. Seeing how much space Dell had to play with, the company should have packed a larger battery inside.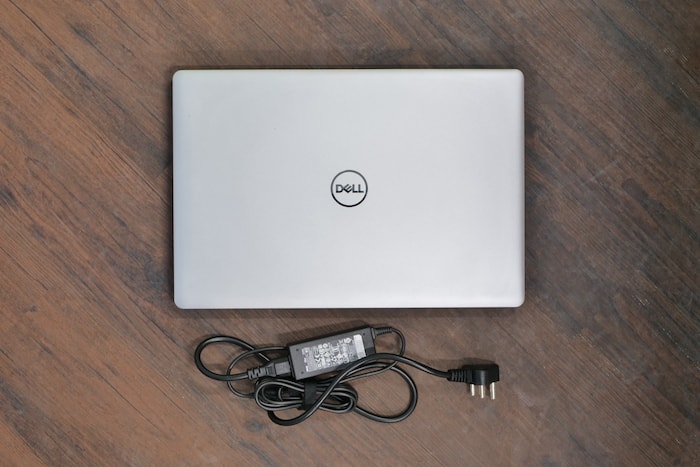 Dell Inspiron 15 5575 Review: An Excellent Mid-Ranger Laptop
I have used the Dell Inspiron 15 5575 for quite some time and I have to say that I like it. The AMD Ryzen APU is very impressive and I can see the Dell Inspiron 15 5575 becoming one of the best productivity focused laptop in its price range. The laptop brings good build quality, a decent display, a great keyboard and trackpad, and exceptional performance. Yes, there are a few things that I wish were different. However, the pros far outweigh the cons, and that's why I can recommend this laptop to anyone who is looking for a laptop which costs below INR 50,000.
Pros:
Amazing day to day performance
Good design and build quality
Great port selection
Cons:
Speakers are bad
Display viewing angles could have been better
Buy Dell Inspiron 15 5575: ₹45,500
SEE ALSO: Asus VivoBook X507 Review: The Budget Game Changer
Dell Inspiron 15 5575 Review: A Good Laptop for Productivity Needs
Well, if you are thinking of buying the Dell Inspiron 15 5575, you are taking the right decision. The laptop brings a very good build, awesome performance, and great keyboard and trackpad. This is one of the best productivity focused laptop in its price range and you are going to love it once you start using it.
REVIEW OVERVIEW

Design and Build Quality

9

SUMMARY

The Dell Inspiron 15 5575 is a great mid-range laptop which packs great processing power inside a well-built body. The laptop also brings awesome keyboard and trackpad. Apart from its abysmal speakers and average battery life, the Dell Inspiron 15 5575 hits all the right checkboxes.