Budget laptops have a reputation for being a slouch when it comes to performance. They are usually build to attract, well, nobody, and people just buy them to save up on cash and still be able to browse the web in a desktop mode while being on the go. Don't you think it's time things changed a bit in this segment?
Well, that's what the Asus VivoBook X507 is – a real game changer. The Asus X507 offers a variety of CPU options– from Intel Celeron to Intel Pentium, up to 6th generation Intel Core i3 processors, starting at Rs. 21,990. Furthermore, the laptop packs in some amazing features, all inside a super light package. So, do you want to see what's so great about this new budget laptop? Read on, as we take an in-depth look at the Asus VivoBook X507:
Note: We had the X507UA-EJ180T variant with us, available at Rs. 24,990 (after a cashback of Rs. 3,000) for our reviewing. The performance on the higher variants should be an improvement.
Asus VivoBook X507UA-EJ180T Specs:
Before starting off with the actual review of the device, how about we discuss the kind of horsepower that the VivoBook comes with. The Asus VivoBook X507 packs in the 6th-gen i3 processor, coupled with up to 8GB DDR4 RAM. There's 1TB of HDD storage, and the higher variants also pack in an MX110 GPU as well, for advanced graphics performance. Below is the detailed list of the hardware powering the Asus VivoBook X507:
| | |
| --- | --- |
| Dimensions | 365 x 266 x 21.9 mm |
| Processor | Intel® Core™ i3 6006U Processor |
| Memory | DDR4 2400MHz SDRAM, 1 x SO-DIMM socket , up to 8 GB SDRAM |
| Storage | 1TB HDD 5400RPM |
| Display | 15.6" Full HD 60Hz Anti-Glare Panel with 45% NTSC |
| Graphics | Integrated Intel HD Graphics 520 |
| WiFi | Integrated 802.11b/g/n |
| Ports | 1x USB 3.0, 2x USB 2.0, HDMI Output, microSD Card Reader |
| Weight | 1.68 Kg |
| Operating System | Windows 10 Home |
Now that we've got that out of the way, let us get into the actual review of the device.
Design and Build Quality
When I first got to hear that I was going to be reviewing a 25K budget laptop, I was expecting a device with a mediocre build quality. However, to my pleasant surprise, the Asus VivoBook X507 offers a stunning design and a superb build quality, that puts most laptops under the 50K price tag to shame as well.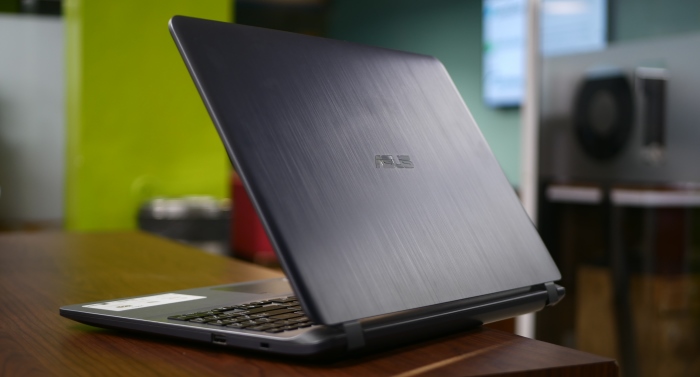 The Asus VivoBook X507 features a premium plastic body, with absolutely zero flex. The palm rest offers a brushed metallic finish while the keyboard comes with a textured metallic finish underneath. Thanks to the plastic build, Asus has managed to keep the weight of the laptop down to 1.68 kg. Yes, that's right, a 15.6-inch full-fledged laptop that weighs just 1.68 kg.
Unlike most laptops in the same price tag that feature a linear box design, the Asus VivoBook actually looks pretty good with nice strokes and an exquisite design language. I won't deny the fact that there are some issues with this near-perfect design language. For instance, there are some issues with the keyboard, and the location of the ports, but those are minor flaws that one can get accustomed to.
On the whole, as someone who has seen plenty of laptops, trust me when I say that the Asus VivoBook X507's design language is up there with the best in the game.
Ports and Connectivity
The left side of the laptop houses the DC port, a USB 2.0 port, a USB 3.0 port, LED indicators for power and charging, followed by an exhaust, a surprising microSD card slot, an HDMI port, and finally, the 3.5mm jack. As you can see, the left side is heavily "slotted".

I genuinely wish that Asus would have moved a USB port from the left side to right side since we only get a Kensington Lock followed by a single USB 2.0 port on the right side of the laptop. The left side is quite clustered, and Asus could have really made things easier for the user by pushing a USB port to the right side.

Now, considering the fact that the laptop was launched this year, I really wish Asus would have added a USB Type-C port. However, considering the really low price tag, I don't really have any complaints. The microSD card slot comes as a nice addition, and lets users to get some more mobile storage, should the 1TB HDD fall short.
Apart from the rather congested left side of the laptop, the Asus VivoBook X507 packs in almost every port you can expect from a laptop at this price.
Display
The display on the Asus VivoBook X507 is pretty darn good, and really sets a benchmark for most devices out there. The display comes with nano-edge bezels, but it is worth pointing out that this is only true for the side bezels. Speaking of the bezels, the Asus VivoBook X507 packs in a thin 8.1mm bezel and 75.4% screen-to-body ratio. However, there is still a significant amount of top and bottom bezel, to accommodate the webcam and the Asus logo. That being said, the display still looks stunning.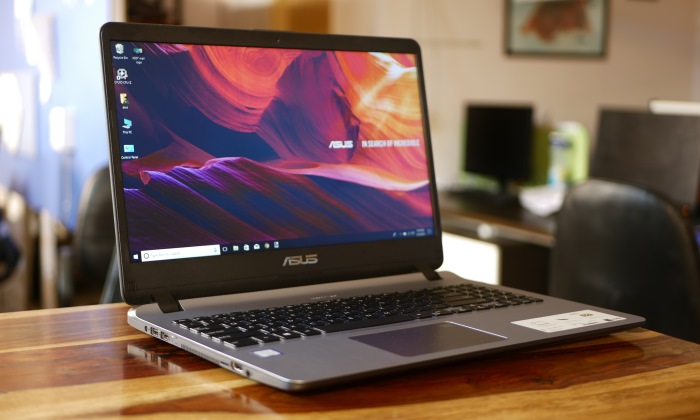 The panel in itself is a 1920x1080p Full HD resolution display, which again is quite great, considering most laptops in this price segment pack in a 1336×768 HD display. The screen offers pretty high levels of brightness along with a matte finish, so outdoor usage shouldn't really be an issue. Additionally, Asus has included the company's Splendid visual optimization technology, which provides the very best visuals for different kinds of content. It features four display modes – Normal, Vivid, Eye Care, and Manual.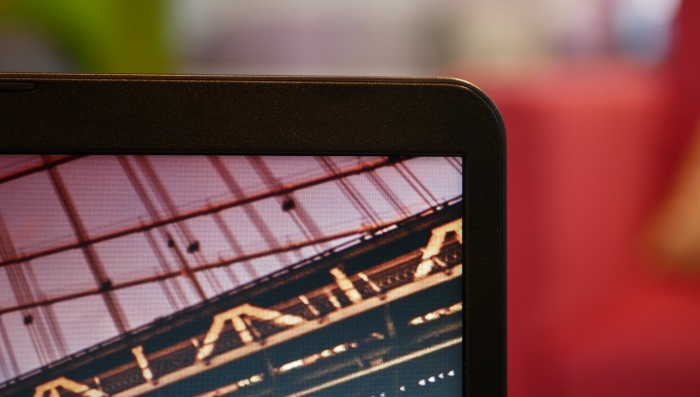 However, there is one thing that I didn't like about the display. Theoretically speaking, the Asus VivoBook X507's display offers a whopping high 178° wide viewing angle display. That being said, in my usage, I could notice significant discoloration when tilting the display or trying to view it from the side. Also, I know that Windows doesn't really require a dedicated GPU, but the integrated Intel HD Graphics 520 can only do so much, and there is a slight lag here and there when a lot of Aero elements are loaded onto the display.
On the whole, the Asus VivoBook X507 offers much more than what you'd expect from a laptop in this price segment. The display is a steal, and despite its few flaws, it is still the best you can get from a 15.6-inch laptop at this price.
Keyboard
Okay, so before starting off with my analysis of the keyboard, let's get a couple of things straight. From as far as I can understand, I feel there are practically two types of users who would be looking to buy this laptop. One, the casual user who wants a lightweight, portable laptop with a big display, for web browsing and entertainment. The other being someone like me, who doesn't want to spend big but wants a laptop for some serious word processing. Now that we've got that clear, let's talk about the laptop.
Well, if you're someone who's interested in this laptop simply for casual usage, the keyboard is something that won't really affect your choice. However, for serious users who do a lot of word processing, the keyboard is a mixed bag of good and bad. Nonetheless, let's discuss the good things first, shall we?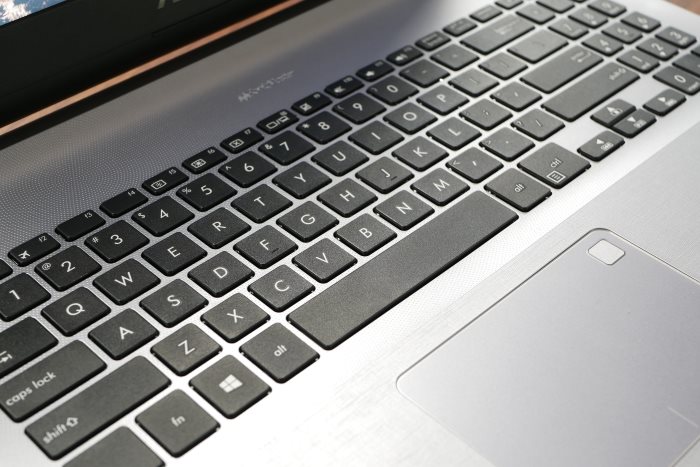 The keyboard on the Asus VivoBook X507 is pretty darn good, with well-spaced keys throughout. The chiclet keyboard features just the right amount of key travel, and it is a pleasure to type on this keyboard. The sturdy, single-piece keyboard construction offers ergonomic and comfortable typing experiences. Additionally, Asus has managed to squeeze in a numpad on the right side as well, which, isn't as good as you'd expect it to be.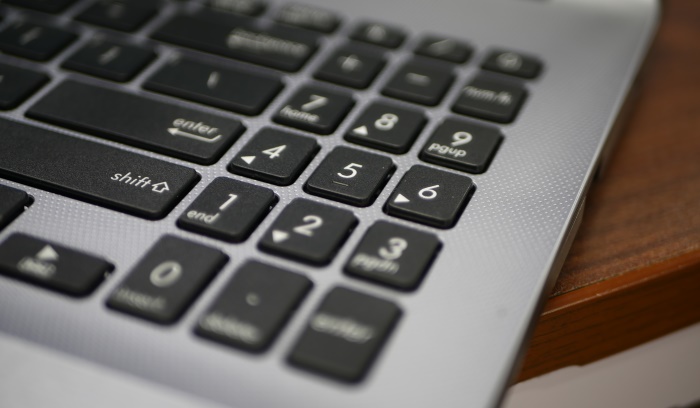 Right off the bat, you can see that the numpad is cramped onto the laptop, and doesn't feature the same key spacing as the other keys. I rely a lot on my numpad, but the numpad on the Asus VivoBook is just plain bad. I've lost count of the numerous times I thought I was pressing "0", but instead I would have pressed on the ".". There is a chance that you might be able to get used to it, but for me, the numpad is a serious letdown. At the end of the day, it is a 15.6-inch laptop, so the chassis had enough space for a full-sized keyboard. Instead, the cramped up numpad really spoils the experience. However, if you won't be interacting with the numpad, the keyboard is great. Another thing that has been common with the Asus laptops I've tested is the fact there is no LED indicator for the Caps Lock key. It's a minor flaw, but something that can really affect one's user experience.
There's one more thing that I'd like to point out. The home, end, and other related keys are rather absurdly located and can be used by pressing the Fn button. However, the major issue that causes is that you cannot use these keys with the Shift button to select text. Personally, as someone whose job requires a lot of text editing, this is a major deal breaker, because I rely on these buttons a lot. Your mileage may vary, but for me, this was something that I wasn't really fond of.
All things considered, typing on this keyboard is a breeze. It does take a while to get used to the layout, however, for specific users who rely on a lot of word processing, this isn't the keyboard for you.
Touchpad
The touchpad on this laptop is something that touched me, quite literally. It is one of the best touchpads I've used in recent time and offers an experience that no other laptop in this segment does.
First things first, the touchpad comes with Windows Precision Drivers. Yes, that's right. I've tested high-end laptops who still rely on crappy drivers from Synaptics or ELAN, and then there's this – a 25K budget laptop with Windows Precision Drivers. The touchpad is super smooth to use, and one can also make use of all the gestures to interact with their system.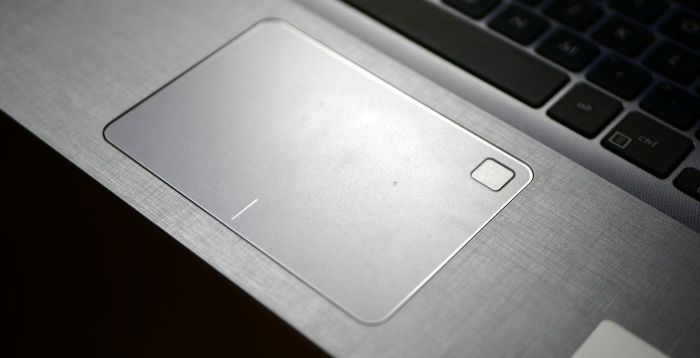 What's more is a rare feature at this price point – a fingerprint sensor. You read that right, the Asus VivoBook X507 packs in a fingerprint sensor placed on top of the touchpad's surface. And it's not like it just some fancy feature. In fact, it features a 360° recognition function which improves scanning accuracy, even if your hands are wet.
For me, the touchpad is literally one of the biggest USP of the laptop, one that even the company hasn't highlighted enough. It stands neck to neck with the best laptops out there and even the MacBooks.
Audio
The only issue that I've had with Asus' laptops in recent times is the audio department, and the Asus VivoBook X507 is no different. Boasting of a "SonicMaster" branding on top, the laptop attempts to fool customers with promises of superb audio quality, but sadly, disappoints on every level.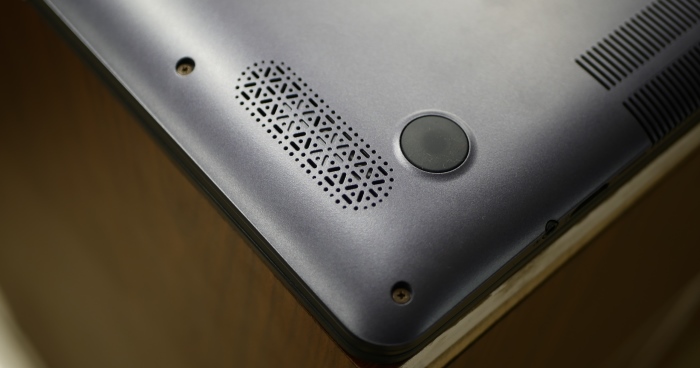 The speakers are awkwardly positioned at the bottom of the laptop, thus muffling almost all sound that it can output. Forget using the laptop on your lap, the sound is not even properly audible while using the laptop on a desk. Which makes me realize that the fault is not just with the placement, but the speaker itself. The actual sound coming from the speakers is mediocre at its best. There is no balance in the levels of the sound, and it feels like Asus just installed those speakers so that the average user could hear the Windows notifications sounds, that's it.
The audio department is a big disappointment, and I certainly wasn't expecting such a bad performance from it, especially considering all the other good things that the laptop has onboard.
Camera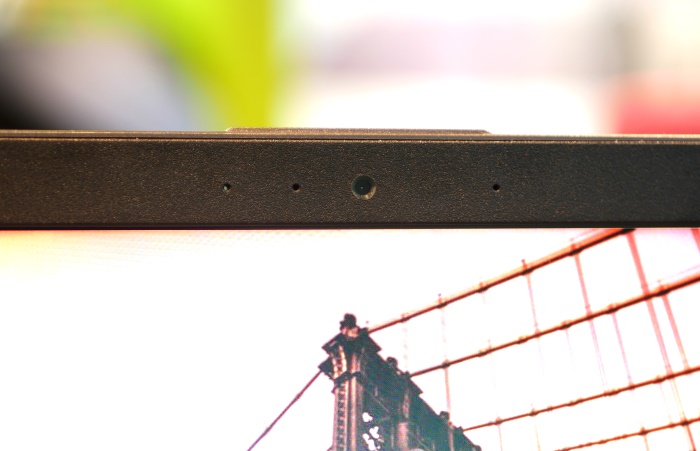 At this price point, you can't really expect a staggering camera. The spec sheet reads out a VGA Web camera on the Asus X507, and it performs just as you'd expect. The picture quality is sub-par in proper lighting conditions, and you just can't use the webcam in low-light settings.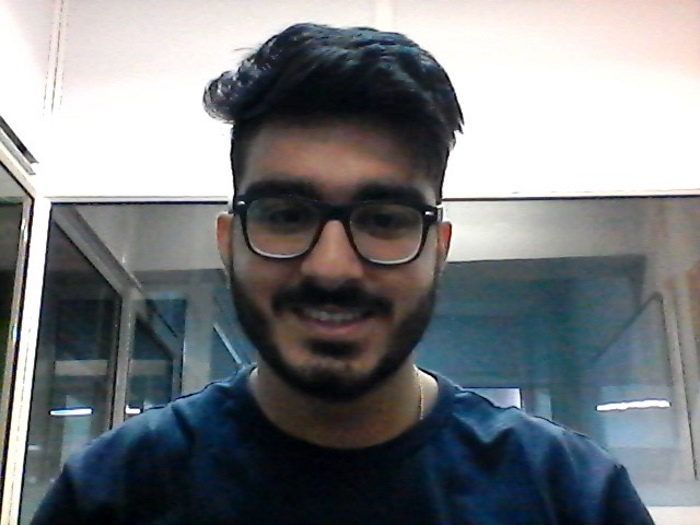 However, one thing that I'd like to point out is the fact that the refresh rate of the camera is actually good, and you can see your face on the camera in real time. While most laptops come with a webcam that offers stuttering while using the default Windows Camera app, the Asus VivoBook X507 works well in that aspect.
Asus' Bundled Software/Bloatware
A lot of companies include their own OEM software along with their devices, and Asus is no different. But what sets them apart is that some of that bundled software is actually good. For instance, there is the power management feature, that allows the user to configure till what levels would the battery be charged, in order to preserve maximum shelf life. Then there's the Smart Audio, which lets you configure levels for a better audio performance from the 3.5mm jack.
All in all, Asus' software has mostly been good, and while it is still bloatware, considering they still do take up unnecessary space, I still appreciate the company for keeping limited and useful features inside the software, and not overloading it with utter crap.
Performance
The performance on the Asus VivoBook X507 is just great. The laptop easily surpasses your expectations from the get-go. On paper, one might think that the Dual-Core Intel i3 processor, coupled with just 4GB of RAM and 1TB of 5400RPM HDD storage wouldn't really provide stellar performance, but trust me, it actually works quite well.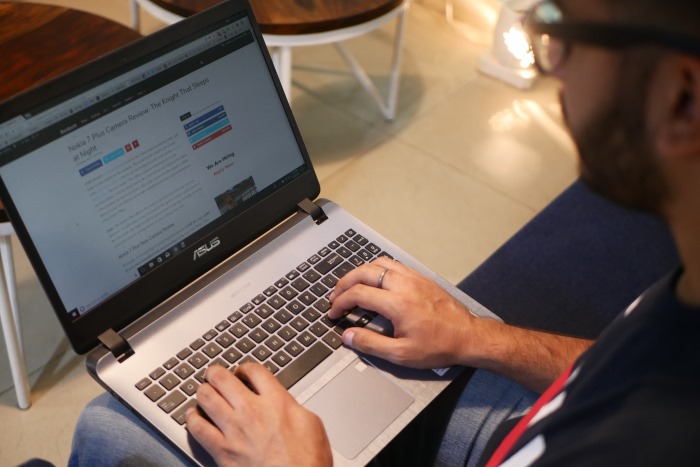 The i3 6th-gen processor is one of the best mobile processors out there, providing great battery life with superb performance. The 4GB DDR4 RAM is clocked at a 2666MHz frequency, which aids in providing a snappier performance. Also, you could invest a little more and get the 8GB variant as well, which would aid you in running apps such as Photoshop alongside your word processor.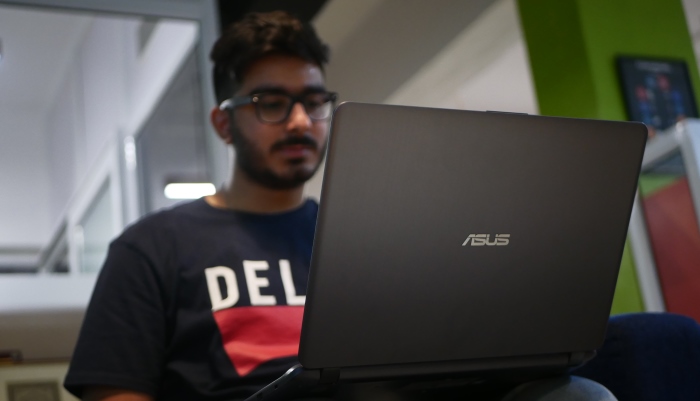 It goes without saying that the Intel HD Graphics 520 is not meant for gaming. However, I did try testing some casual games on it and managed to obtain 55 fps on Rocket League and 60 fps on Counter-Strike: Global Offensive.
The Asus VivoBook X507 offers absolutely great performance, and there aren't many competitors out there that would offer the same level of performance while maintaining the factor of portability, especially at this price.
Thermals
The laptop packs in decent hardware, which, like I said previously, does perform quite well. And despite all the great performance, the Asus VivoBook X507 manages to stay cool, like really cool! The placement of the internal devices is just right, and the single fan does its job perfectly.
The laptop comes equipped with Asus' IceCool technology which provides an ultimate computing performance and a comfortable user experience. In my experience, the laptop stayed well under the 40-degree Celcius mark, which is quite commendable, yet expected at the same time, considering it is not a heavy duty machine.
Battery Life
Battery life is a major concern for people, especially for those of you who are considering buying the device for using on-the-go. In my testing, I was able to squeeze about 4.5 hours of battery from the 3-cell 33 WHr battery, which, truth be told, is quite good for a laptop at this price.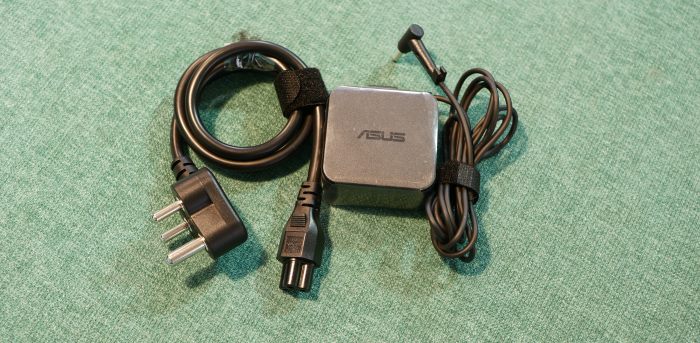 Oh, and if this is not enough, the Asus VivoBook X507 also supports fast charging. You can get up to 60% of charge in just 49 mins, which is just great. In my usage, if web browsing and word processing are all you're going to do with the device, a single charge should more or less suffice you for the day. That being said, I'd still recommend carrying a charger (which FYI, is super light as well), in case you want to push things to the high-performance mode.
Asus VivoBook X507 Review: Best Entry-Level Laptop Out There!
Starting at just 25K INR, the Asus VivoBook X507 offers a ton of features, a great hardware, all packed inside a beautiful looking package. The laptop is super portable, offers great performance, and most of all, it looks way better than your standard 25K budget laptop.
Apart from the disappointing audio performance and my personal disliking of the numpad, the Asus VivoBook X507 is a great laptop and makes itself a great first choice for consumers out there looking for a new budget laptop.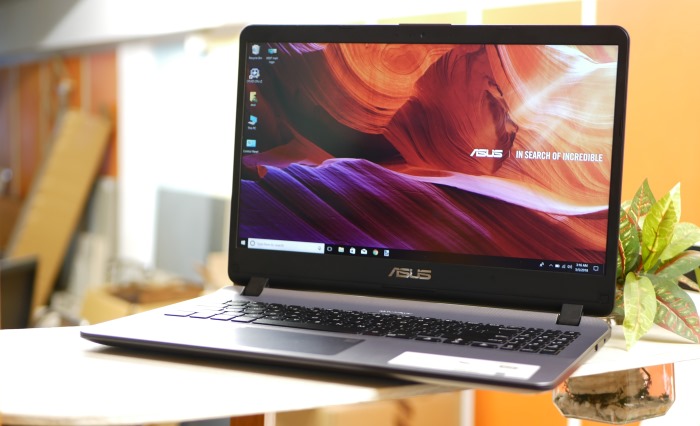 Pros:
Great display
Amazing and reliable Build Quality
Ultra portable
The touchpad is very good
Cons:
Numpad feels out of place
Speakers are disappointing
Left side ports feel congested
Buy Asus VivoBook X507 from Paytm Mall: (Starts at Rs. 21,990)
SEE ALSO: Asus VivoBook S15 S510UN Review: A Complete Package!
Should You Buy the Asus VivoBook X507?
So, would I recommend the Asus VivoBook X507 to you? Absolutely yes! The laptop is amazing, performs great, and looks way better than your standard budget laptop. Apart from the cramped up numpad and the muffled speakers, there isn't much to complain about. The performance is way better than what you'd expect, and the laptop offers a level of unmatched portability.
The Asus VivoBook X507 sets a new benchmark for all the budget laptops out there!
---
Load More