Six months ago, out of nowhere, Valve announced its next-gen tactical FPS game Counter-Strike 2. The game has been in beta testing since the surprise announcement and now, on September 27, the game has been released for everyone. Yes, CS is now available for all users, and it's ready to take the world of esports by storm once again. With the official release, we've learned the official system requirements for CS2, along with all the new features. Here is everything you need to know.
Valve Releases Counter-Strike 2; Free to Play
After a long-teased 'Summer 2023' release window, Valve has finally made fans happy by releasing Counter-Strike 2. The new CS2 game is utilizing the Source 2 engine with several new gameplay changes and features. The smoke grenades are quite dynamic now, the lighting system has been revamped, the UI is slightly different, the reflections look better, and the gameplay feels completely overhauled. We have talked about all the new features in Counter-Strike 2 here.
You can download Counter-Strike 2 from the Steam Store here. I have been playing CS2 beta for a long time, and I can tell you for sure that Counter Strike 2 feels different from its predecessor, CS:GO. Also, Counter-Strike 2 has taken cues from its rival, Valorant, and brought other major improvements in tow. Read about the new features CS2 seems to have borrowed from Valorant here.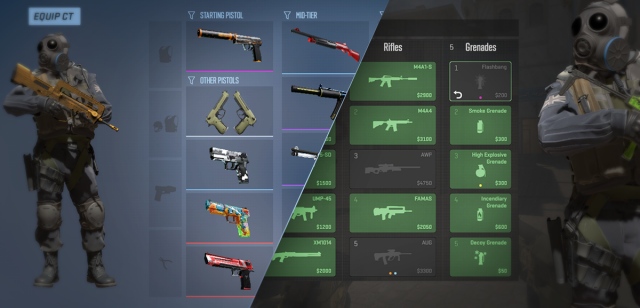 Moreover, Valve has confirmed that all existing CS:GO inventory items will move to Counter-Strike 2 with this release. The skins look even more beautiful now, thanks to Source 2's graphics overhaul. CS2 finally brings forward the developer's vision for the next generation of its tactical shooter in the Counter-Strike series. But what happens to CS:GO after the CS2 release? Find out in the linked article.
To run Counter-Strike 2, Valve has officially shared the minimum system requirements, which we have listed below. The game is definitely heavier compared to CS:GO. Furthermore, CS2 has only been released for Windows PCs, with no information on the Mac release right now. That said, check out the PC system requirements right here:
| Component | Minimum System Requirements |
| --- | --- |
| Processor (CPU) | Intel Core i5 750 or higher / Four Threaded CPU |
| Graphics (GPU) | GPU supporting DirectX11, 1GB VRAM, Shader Model 5.0 |
| Memory (RAM) | 8GB RAM |
| Storage Space | 85 GB |
| Operating System | at least Windows 10 |
Official CS2 System Requirements by Valve (Source: Steam)
There is a small chance that we will see a macOS version in the future. The previous game, CS:GO, did have a macOS version and it even ran on the new ARM-based M1/M2 architecture on Mac computers through the Rosetta ARM to x86 translation layer.
Counter-Strike 2 is set to light a massive fire in the esports gaming industry and become a breakthrough in multiplayer esports FPS games, again!? It is not often that a once-in-a-decade moment such as this one can be witnessed, and we thank the community for sticking by with us during the waiting period (and keeping an eye on our CS2 countdown timer). Are you excited to finally play Counter-Strike 2? Do let us know in the comments below.
---
Load More