Counter-Strike 2's latest update finally introduces workshop support back into the game. This was one of the features missing in CS2 that CS:GO used to have, and now we finally get it. There have been passionate developments in the Counter-Strike 2's workshop community already. We have dived into the workshop and explored it. To make your life easier, here are the five best CS2 workshop maps that will inspire nostalgia, let you aim-train, play bhop & surf modes, and more.
Note: Remember to ensure you are logged into your Steam ID already. Once done, it's very easy to learn how to play CS2 workshop maps.
1. Crashz Crosshair Generator for CS2
The Crashz Crosshair Generator workshop map in CS2 is truly the ultimate way to customize your crosshair. It was one of the most popular workshop maps in the CS:GO days, and now the creator has updated it for Counter-Strike 2 as well. As you can see, the map gives you tons of options to customize your crosshair & ultimately fine-tune it to your comfort.
Your monitor, resolution, and other things influence how the final crosshair will look. An excellent way to set the best crosshair in CS2 is to use this map to customize one of your favorite CS2 Pros & Streamers crosshairs or build your own using the tools provided in the map. Whether or not you choose to play with a pro player's crosshair, we recommend trying this map in Counter-Strike 2 right now.
Crashz Crosshair Generator Map (Download)
2. Aim_Botz Aim Training for CS2
Aim_Botz is an iconic aim training map in Counter-Strike. It's also relatively simple to warm up with it. All you have to do is get on the map and start shooting. The opponents do not shoot back, but they are far away and all around you. You can keep rotating your mouse around the whole map and practice your aim.
You can practice one-tapping, burst shooting, spraying, and even train your aim-tracking with this map. There are tons of customizable controls here. You can make the bots move around – this makes it way harder to kill them, so enable it for a more intensive aim-training session. You can also choose your weapon, so feel free to practice sniping with the AWP and learn spraying of guns used often like the Galil AR, AK47, M4A4, or Famas.
Aim_Botz Map (Download)
3. Surf_Rebel_Resistance CS2 Surfing
There is a slim chance you haven't seen CS players surfing in the game. If you also want to try it out, this map in CS2 is a good one. I'm no surfing expert, but I would say this course is difficult enough. To learn how to surf, you'll need to practice. But if you have played surf in CS:GO, or even Team Fortress 2, you'll be surfing here all the same.
After getting into the map, you do need to enable surf commands in-game. Select the Custom game mode when launching this map in Counter-Strike 2. Then, refer to this surfing commands guide and use the developer console of CS2 to enable surfing in your private server. You can even join community servers in CS2 now for surfing. So, for the times you feel like surfing, check out this CS2 map.
Surf_Rebel_Resistance_CS2 Map (Download)
4. Bhop_Water CS2 Bhop
Bhopping is also a popular custom game mode in many Valve titles. It is the art of learning how to air-strafe and timing your jumps to essentially bunny hop in Counter-Strike 2. If you know how to bhop from before, that's great, because it is quite tough to do so. Bhop_water is a fun-to-play, medium-length bhop map, and you will have fun practicing some surfing here as well
The bhopping scene in CS2 has just begun, so we will see more maps soon. Since there is bhopping as well as surfing in this map, you need to enter both the surfing commands, as well as the bhop commands to enable it. Refer to our developer console guide linked above to know how to enter it.
Bhop_Water (Download)
5. De_Dust2_Classic CS 1.6 Edition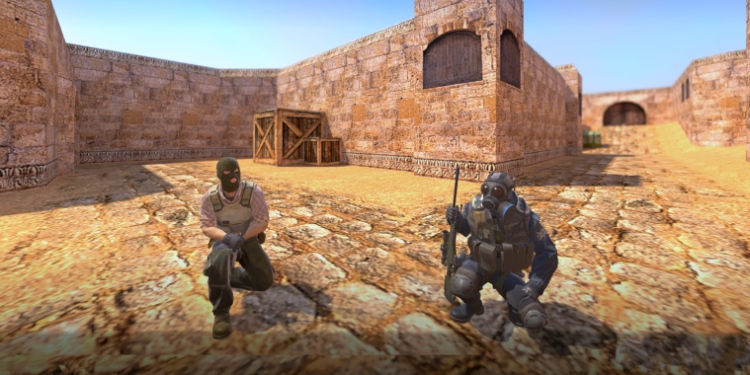 Feel like going back to the good old days? Before CS:GO came out, there was Counter-Strike: Source, but the gold standard for Counter-Strike remains the original CS 1.6. Wouldn't it be great if you got to play the original de_dust2 from 1.6 but running on the Source 2 engine on Counter-Strike 2? Well, we have just the thing for you with this CS2 workshop map.
Even though this is a legacy map, the baked-in Source 2 lighting, reflections, and shadows are all present here. It feels truly remarkable to be playing with this level of graphics on such an old map. It's really fun, too; simply download the map using the link below and select the Deathmatch mode when selecting it in-game.
De_Dust2_Classic (Download)
And these are the absolute best workshop maps in CS2 for us right now. However, do note that since the workshop has just come out, we should see more maps soon. As such, stay tuned, as we just might add a few more selections here. It will be wonderful to see this ecosystem grow in the future. Which is your favorite CS2 map among this lot? Drop your thoughts in the comments below!
---
Load More